For every 100 homes available in 2009, today there are only 3, Source: Depositphotos
Housing crisis: Only 300 properties available for rent in Dublin
While supply is becoming virtually nonexistent, rents are increasing faster than anytime in the last 16 years
One of Ireland's top property websites, Daft.ie, published an alarming report on the market trends in the rental sector of the country. According to the report, written by Ronan Lyons, Associate Professor of Economics at Trinity College Dublin, on 1 August there were just 716 homes available for rent in the entire country, with fewer than 300 in Dublin.
Today, by the time of writing this article, Dublin had only 335 available offers, while Ireland, as a whole, had 802.
The data also shows that advertised rental prices were 12.6% higher between April and June, compared to the same three-month period last year. This means that prices reached their highest rate of increase since the company's report was started 16 years ago.
During these three months, the average rent went up by 3.3% and reached 1,618 euros – more than double from the low point after the mortgage debt crash in 2011 – 765 euros.
The numbers into perspective
Dublin had fewer than 300 apartments advertised to rent on August first 2022. For perspective, the research compares these numbers with listings on the same date in the late 2010s, between 2015 and 2019, during the so-called Celtic Phoenix.
As the Irish economy started recovering from the crash and gathered pace, the available rental supply stayed rather low, but also stable, with an average of 1,450 homes available to rent on 1 August.
And this is not just a Dublin issue, as rental accommodation in the rest of Ireland seems to have collapsed. In the late 2010s, the country saw almost 2,100 homes available for rent at any given time, albeit with a slight downward trend. Now, that number is just 424.
However, in the report, Mr Lyons pointed out that going back to market levels from the late 2010s would amount to going back from an atrophying market to a starving market, far from the peak of 2009.
During August that year, at the high of the property boom, there were 23,400 properties available nationwide – 8,000 in Dublin and 15,500 in the rest of the country. This, he explains, means that for every 100 homes available thirteen years ago, today there are only 3.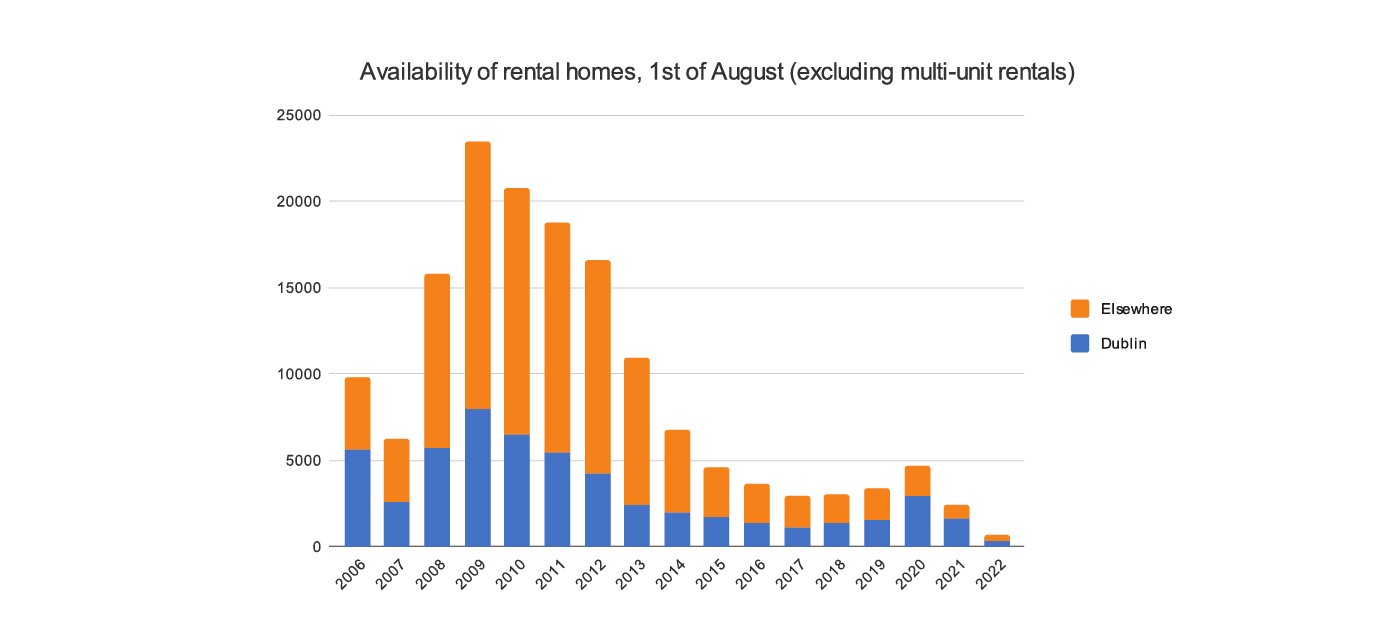 The availability of rental homes, Source: Daft.ie
Additional challenges
One important note in this analysis is that it is based on rental listings, which would exclude multi-unit rentals. These are buildings owned by one organisation, containing multiple homes, such as private market student housing, for example.
Mr Lyons explained that these were not included in the research, but do have their own separate study. At the same time, they are mostly present in Dublin and would not significantly affect the situation in the rest of Ireland.
According to that study, the 75 examined multi-unit rentals were full to 95% of their capacity – a share that has hardly changed over the last nine months.
Additionally, Ireland has been hit by a wave of Ukrainian refugees, with more than 40,000 people coming to the country since the Russian invasion began. Many of them have had to stay in emergency centres and student housing, but now as the university year draws close, housing could become even more precarious.
Netherlands / Amsterdam / Development / Public Spaces
It involves all the five senses, apparently
Germany / Mobility / Politics and Reforms
Germany's new approach has convinced hundreds of thousands of people to start using public transport for the first time
Bulgaria / Sofia / Mobility / Politics and Reforms
Drivers will be legally required to push their scooters manually in pedestrian areas and parks
Bulgaria / Greece / Athens / Sofia / Thessaloniki / Digital transformation / Mobility
Greece and Bulgaria are set to build one of the first 5G cross-border corridors in Europe
Finland / Digital transformation / Welfare and Health
The feline registry is expected to start operating in 2026
Luxembourg / Culture and Tourism / Innovation and Research
The team presented the final report about a year, which was supposed to put the Luxembourgish city on the cultural map of Europe
Netherlands / Amsterdam / Development / Public Spaces
It involves all the five senses, apparently
France / Lyon / Public Spaces / Social City
What you pay for having your car resting in the city will now depend on several different factors
Germany / Mobility / Politics and Reforms
Germany's new approach has convinced hundreds of thousands of people to start using public transport for the first time
France / Lyon / Public Spaces / Social City
What you pay for having your car resting in the city will now depend on several different factors
Denmark / Mobility / Social City
Fredensborg Municipality is inviting residents to take the bikes for a spin…lasting up to 3 months
Culture and Tourism / Mobility
After all, sleeping carriages are basically hotels on wheels
Estonia / Tallinn / Green City / New European Bauhaus
The practical art objects are competing for one of the 2023 New European Bauhaus Prizes
New European Bauhaus
Cast your vote before 24 May and do your part in promoting the NEB values
New European Bauhaus
The new itineraries are part of the DiscoverEU programme, which lets 18-year-olds travel by train between important European sites

Interviews / Read Twice
An interview with the president of the European Federation of Journalists

Interviews
A talk with the head of Mission Zero Academy on the benefits for municipalities if they go the zero waste way

Romania / Cluj-Napoca / Digital transformation / Interviews / Politics and Reforms
A talk with Nicolae Urs, one of the key figures behind the city's new data platforms and online services strategy