Alberto Mesquita, Source: Vila Franca de Xira Municipality
In Vila Franca de Xira history and tradition live hand in hand with modernity and innovation
Interview with Alberto Mesquita, Mayor of Vila Franca de Xira in Portugal
Alberto Mesquita was born on 26 August 1949 in Angola. He was a city councillor in Vila Franca de Xira between 1994 and 1998. From 1998 to 2013 he served as a full-time city councillor, being the Vice-President of the City Council between 2009 and 2013.
Mr Mesquita has been the Mayor of Vila Franca de Xira since 2013 and is currently serving his second term until 2021. He is also currently a member of the Board of Directors of the National Association of Portuguese Municipalities.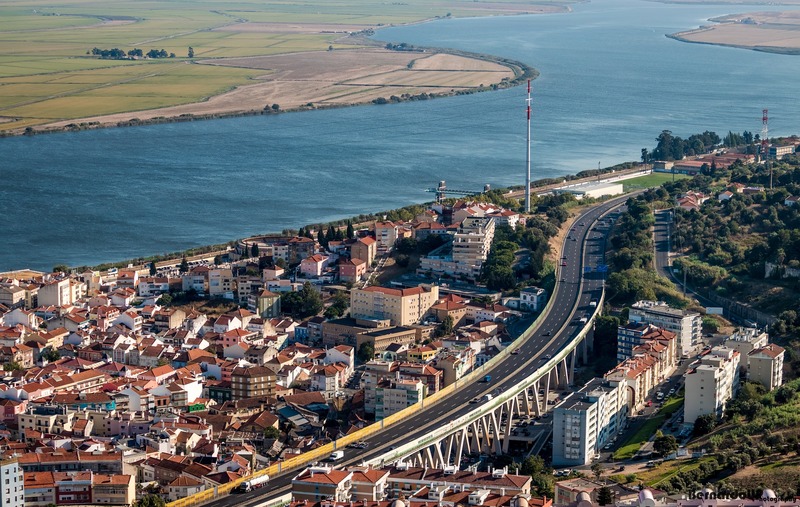 Vila Franca de Xira is situated on both banks of the Tagus River. It is located just 20 minutes away from Lisbon.
Mayor Mesquita, please describe the municipality of Vila Franca de Xira in a few sentences.
Vila Franca de Xira is a municipality with unique and vibrant characteristics, where history and tradition live hand in hand with modernity and innovation. Bathed by the Tagus river and containing part of the beautiful fields of Lezíria, only 20 minutes away from Lisbon, this is a territory with a privileged location, a huge diversity of tourist offerings and very heterogeneous landscape. Here, we can find both countryside and urban environments, mountains and plains, a high presence of industry and services, but also handicrafts, among many other things.
Vila Franca de Xira combines the advantage of being very close to the country's capital with a good quality of life for all those who live and work here, as well as for those who visit us. It has unique natural resources, for example, the Tagus Estuary, where tourists can go on trips on the Liberdade varino (traditional style) boat, visiting the EVOA - Visitation and Bird Watching Space (in Lezíria) or take walks on the riverside pedestrian paths, which have already received several international architectural awards (in 2015 and 2016).
In terms of events, there is a strong connection to bullfighting culture, which has the greatest expression in two big events named: Colete Encarnado (Red Waistcoat Festival) and Feira Anual de Outubro (October's Annual Fair), whose dimension is unparalleled within the Lisbon Tourism Region, where we operate. For these reasons, we contribute to an eclectic format, by composing a mosaic of tourist offerings in the Lisbon region, and we are strongly committed to its promotion and dissemination.
Along with all these options, there are many places of cultural, patrimonial and religious interest, so it is possible to find itineraries tailored to different audiences, with greater or lesser physical intensity, and a great combination between urban and rural areas.
What investments have been made in the municipality since you became mayor in 2013?
It would be exhaustive to list all the investments made by the municipality in the last seven years, always carried out in a context of great budgetary rigour and healthy financial management.
Among them, it is worth highlighting the work that started in 2000 and which we continued, with the renovation of the 22-km riverfront of our municipality. It is an initiative that greatly enhances the municipality, as it gives the river back to local residents and improves their quality of life. Nowadays, 12 km of that riverfront are requalified, and we are already working towards adding, very soon, a further 6 km of a pedestrian path along the Tagus river.
The creation of this riverside promenade and living areas represents today - and I have no doubt that it will continue to represent in the future - an important factor of tourist attractiveness, with substantial improvements in terms of environmental quality, and also as a factor with economic leverage. For this reason, it is a big project with high priority for the Municipality of Vila Franca de Xira, with positive impacts on improving the quality of life of our population.
There are also other major challenges in terms of urban requalification that we consider decisive for social and economic development. In this case, I would like to highlight the acquisition of the old facilities of the Navy School №1.
This is a large-scale conversion project, which can only be achieved over a 10-year period, but we have no doubt that it will be particularly important for the development of our territory. Several initiatives are already underway with a view to boosting that riverside space.
The anchor project for the urban conversion is the construction of the new Vila Franca de Xira Court House. Another project that we are developing and that brings profound changes to the urban mobility paradigm in our territory is the renovation of National Road 10 (EN10).
This is the main urban road crossing the municipality in a very dense area in terms of traffic and people. Deeply sensitive to environmental issues, our goal in renovating it is to provide a higher quality of urban life, greater and better options in terms of mobility and accessibility, and the reduction of carbon levels.
Currently, some excesses have been identified, namely high levels of pollution (atmospheric, noise and visual), car dependence and absence of pedestrian and cycling paths. Our intervention seeks to create a network of infrastructures that will enhance sustainable and environmentally friendly urban mobility.
The ongoing project is embedded within the Municipal Strategy for Sustainable Urban Mobility that will endow the municipality with a Network of Bicycle Paths totalling 100 km. What is at stake here is the shift of the urban mobility paradigm, and it is essential to call on civil society to aid in creating this new mobility culture, which will benefit everyone.
The municipality is implementing numerous socially-oriented initiatives, please tell us more about the most important among them.
As far as social inclusion is concerned, cross-cutting work has been carried out among diverse areas of activity within the municipality. Vila Franca de Xira is nowadays an example of good practices on a national level regarding its inclusion policies, a fact that naturally makes us proud and that also motivates us to do more and better. We have been making improvements in the Municipal Housing Neighbourhoods and the work around inclusion is embodied in many other measures, which aim to reduce social asymmetries and inequalities.
I am referring, for example, to the creation of accessibility in public spaces, to the creation of specific responses, in terms of municipal services for people with hearing impairment, strengthening of the network among the various agents of the Social Network and the Integrated Social Assistance and Monitoring Service. This comes in addition to several initiatives in the areas of Culture, Sports and Communication that expand the possibilities of access to culture, sports and information for any citizen.
For the senior population, Vila Franca de Xira has developed several types of responses, all aiming to promote active ageing. Examples of this are the Senior University, in which about 500 elderly people participate. In addition to this project, the municipality organizes annually two major initiatives, called The Flower Festival and Passerelle d'Ouro, which are entirely dedicated to seniors and involve a large number of elderly people, with a view to promoting their self-esteem, socialization, among other skills.
Also, the City Council develops its work with the elderly at risk and at a greater social disadvantage, making home visits and referrals to the appropriate responses, always in conjunction with social security, police forces, health institutions and the Public Ministry. In addition to this monitoring, the City Council has also implemented a teleassistance service that translates into an emergency response to elderly people under social isolation, who can activate the service for any medical emergency.
In the current pandemic situation, all these social support responses to the most vulnerable have been extended, through the creation of telephone support lines, reinforcement of food support programs, exemption from rental payments in cases of social housing, among many other measures.
Also, in Education, we have a wide range of activities that are worth highlighting. Investment in education, in its various aspects, was assumed by the municipality to be a strategic priority, with the Municipality acting as a facilitator of the relations established between the various members of the educational community, encouraging them to participate actively in the educational process.
The school park in Vila Franca de Xira has been substantially renovated and modernized in recent years, this being a process that is constantly ongoing and in which the Municipality invests significant amounts of resources annually. At the same time, we maintain daily communication with all the schools and we are responsible for many aspects essential to the good functioning of educational establishments.
School meals, transport, extracurricular activities, support for families, support for educational projects, acquisition of equipment and teaching materials, are part of our day-to-day work and investments, contributing decisively to the education and training of our children and young people.
What about the cultural and sports programming this year? How has the coronavirus pandemic affected the annual calendar of events?
As in the rest of the world, the COVID-19 pandemic brought negative impacts in all aspects of the social and economic life of Vila Franca de Xira. From the very first hour, the City Council has been committed to supporting, encouraging and involving various local agents to join a battle that concerns everyone.
Our priority has been to support families, with special attention to the groups living in situations of fragility and vulnerability, such as the elderly, the low-income residents, the homeless. We have also been supporting the associative movement, in a very wide range of areas of social intervention (solidarity, culture, sports, etc.), and the parishes, whose activities in the respective geographical areas represent a differentiated intervention and absolutely fundamental proximity.
Finally, supporting local businesses and commerce, thus seeking to provide conditions of sustainability for the maintenance of the largest possible number of jobs and as a consequence boosting the municipality's economic development.
Within the framework of these extraordinary measures, we decided to suspend the entire calendar of cultural, sports and recreational initiatives scheduled in the first half of this year, beginning in March. With total caution and taking care of all the safety measures imposed by the health authorities, we have since reopened some of the cultural spaces, such as galleries, libraries, and museums.
However, sports facilities will only reopen, partially, in October. As far as events are concerned, we have resumed some smaller cultural initiatives in terms of the number of spectators. But we made the decision not to hold our main annual festival, Colete Encarnado (Red Waistcoat Festival), which takes place on the first weekend of July, and which attracts around 250 000 people to the city of Vila Franca de Xira.
Until the end of September, all major events in public spaces were cancelled or postponed. We naturally hope that the pandemic situation in our region will continue to evolve favourably as it does now, which will allow us to resume the normality of our business plan in the last quarter of 2020.
What was the summer of 2020 in Vila Franca de Xira like? How has the local tourism industry restarted its work?
A gradual process of returning to normality has been underway since mid-May, naturally with the precautions and conditions determined by the Government and the health authority. We are all aware that the current situation will be part of our daily lives for a long time, but the restaurants have reopened their doors and our accommodation units are prepared to receive all those who want to visit us, complying for this purpose with the safety and health protection measures that the pandemic still imposes on us.
We offer a tourism product of excellent quality and with multiple points of interest, ranging from nature tourism to cultural and religious tourism, for example. This without forgetting, of course, our excellent cuisine, which brings to the table the delicacies of the fishing and the farming worlds.
Examples of this are the traditional Fried Shad with Açorda de Ovas (thick bread stew) and the Torricado com Bacalhau Assado (grilled codfish served with toasted bread, olive oil and garlic), which set the tone for the gastronomy campaigns promoted by the Municipality in March and November of each year.
So, the summer of 2020 was a little bit different compared to other years but, above all, it is important to underline that Vila Franca de Xira is a safe destination and that, as a municipality in the Lisbon Tourism Region, it appears as a viable alternative to the Lisbon-Sintra-Cascais axis, especially for tourists who are repeat visitors to Lisbon and are looking for places with cultural diversity and authenticity.
What are your thoughts on TheMayor.EU portal as a unifying platform for Europe's municipalities and how can it be useful to you and your citizens?
I consider TheMayor.EU Portal a praiseworthy initiative since it allows visibility to the multiculturalism that we find among the different territories within each country and, on a wider scale, in different European countries.
The knowledge of the characteristics of each region, of each country, as well as what they are doing in different areas, stimulates a union that is extremely important for the Europe that we all want to build, and of which we all form a part. In my view, the portal plays a fundamental role in this process.
In addition, I hope that this will be an opportunity to establish contact with all the Portuguese communities that are outside of our country and also, at the same time, find a way to increase the visibility of this unique territory which is Vila Franca de Xira across borders.
What are the main goals that you are planning to work on in the near future to make Vila Franca de Xira a better place to live in?
In Vila Franca de Xira we highly value our origins and we believe that this is what gives sense to our future projects. We are a genuine land that affirms without reservation its traditions and its history, marked above all by our connection to the countryside, the Lezíria and the river. These are aspects that characterize us well and that undoubtedly differentiate us, forming part of our natural, geographic, and cultural "visiting card".
At the same time, these are characteristics that continue to present today an enormous potential for development, which we are constantly seeking to achieve. This is the basis from which we start the work that we develop daily, and our intervention in the territory over the last few years has been guided by five fundamental strategic options: Social Inclusion, Sustainability, Cultural Identity, Entrepreneurship and Innovation. Areas such as Education, Environment, Urban Rehabilitation and Tourism Promotion have deserved our commitment, and these will continue to be our highest priorities in the coming years.
In this way, we intend to carry out the renovation of the entire 22 km of the riverside front of our municipality, and the ultimate goal of this renovation will be to connect the Vila Franca de Xira riverfront to the neighbouring municipalities in a continuous and uninterrupted manner, particularly to Lisbon and to Parque das Nações, thus contributing to the pedestrian and cycling interconnection of the perimeter of the northern crown of the Lisbon Metropolitan Area. To achieve this objective, it will also be up to the Municipalities of Loures and Lisbon to carry out their respective investments in this project and in their territories.
Regarding the connection to the countryside and Lezíria that I mentioned before, Bullfighting and Festa Brava will continue to be valued as characteristical of the identity and culture of our territory. We always recognize, at all times, in all places and in all of our actions, the importance that the Bullfighting Culture has for our territory.
The bullfighting events held in Vila Franca de Xira are of enormous importance in terms of tourist, social, cultural and economic aspects, and we have always seen very strong interest from many thousands of visitors to our two biggest events, both of which are associated with bullfighting.
Yet the tourist offerings in Vila Franca de Xira should not and cannot be limited only to municipal initiatives, so we have tried to find lines of convergence between tour operators, allowing the development of the industry, diversifying and consolidating the tourism product and thus improving our competitiveness vis-à-vis neighbouring municipalities. We have been working on involving local economic agents, as well as others who are operating throughout the Lisbon region, always with the perspective of doing more and better for our territory.
We will undoubtedly continue to make our contribution to improving the public transport network in the Metropolitan Area of Lisbon, since a large part of the population living in our municipality travels daily to neighbouring municipalities, especially Lisbon, to work or to study or even for leisure. At the same time, we will continue to invest in the development of smooth mobility in all its different modes, thus also contributing to a better environment.
Vila Franca de Xira has proved to be quite attractive for investment in areas as diverse as research, aeronautical, pharmaceutical or logistics industries. On the other hand, the demand for residential spaces in the municipality is also on the upswing, certainly because of the strong investments that we made in improving the quality of life in our territory. Urban rehabilitation is thus a strong bet that needs to be consolidated, as a lever for the establishment of more companies that will represent the creation of more jobs and, consequently, greater economic dynamism for our territory.
In all these areas of activity, as well as in others, the vision for the future and the development strategy go hand in hand with financial strength. Vila Franca de Xira is a municipality with very balanced and strict budget management, guaranteeing conditions of stability and sustainability that allow us to develop a daily work in which the only objective is to serve the public interest, serve the populations and always contribute to a territory with ever-better quality of life for everyone.
To find out more about Vila Franca de Xira, visit the profile of the municipality.
Ireland / Growing City
Despite the good news, preliminary data from the national census reveals a dire shortage in the housing market that will not go away anytime soon
France / Development / Public Spaces
The innovative project received funding from the participatory budget in Lille, France
Denmark / Copenhagen / Development / Social City
This was decided after an unprecedented agreement between the national and city governments
Croatia / Digital transformation
The town of Makarska has recently launched a new mobile service, aiming to cut down on paper use and stimulate citizens to go contactless
Finland / Vantaa / Green City / Innovation and Research
The invention promises to be revolutionary as it can decouple food production from agriculture and its environmental impacts
Spain / Innovation and Research / Mobility
Commercial unmanned aerial vehicles will far outnumber their crewed counterparts by the end of the decade and solutions are urgently needed
Finland / Vantaa / Green City / Innovation and Research
The invention promises to be revolutionary as it can decouple food production from agriculture and its environmental impacts
Finland / Energy efficiency
The country wants to become a leader in hydrogen production and export
Italy / Milan / Green City
The arid weather phenomenon is affecting the agricultural sector in Northern Italy to almost unprecedented levels
Lithuania / Vilnius / Culture and Tourism / Public Spaces
The splendid initiative that turns advertising spaces into art canvases is back for its third edition
Finland / Helsinki / Green City / Welfare and Health
Dust particle concentrations can still present a tough challenge to beat, though
Germany / Munich / Culture and Tourism / Mobility
The cancellation hits in the middle of the travel season and is caused by serious labour shortages coupled with a sudden rise of Covid cases
New European Bauhaus
These will be spread across 11 EU countries and will serve to support the EU Missions
New European Bauhaus
The European Commission has accepted to develop the idea
Portugal / Matosinhos / Interviews / New European Bauhaus
An interview about AYR, one of the 2021 New European Bauhaus Prize winners

Portugal / Matosinhos / Interviews
A conversation with the Mayor of Matosinhos, Portugal's first UN Resilience Hub

Interviews
An interview with Nigel Jollands and Sue Goeransson from the European Bank for Reconstruction and Development

Greece / Athens / Interviews / Welfare and Health
An interview with the President of the City of Athens Reception & Solidarity Centre