Matej Mostarac, Source: Kastav Municipality
Kastav was the first in Croatia to adopt the Smart City Development Strategy
Interview with Matej Mostarac, Mayor of Kastav in Croatia
Matej Mostarac was born on 18 November 1987 in Rijeka. He became politically active in the SDP Kastav City Organization, on whose list he was elected to the City Council in the 2013 elections. Mr Mostarac won the mayoral mandate in the 2017 elections.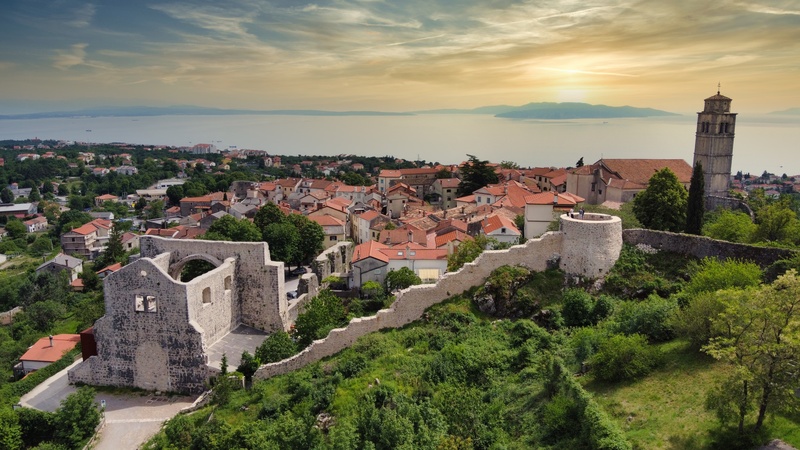 Kastav extends over 11 square kilometres and has more than 11 000 residents. Photo by Kastav Municipality
Mayor Mostarac, please describe the municipality of Kastav in a few sentences.
Kastav is known as an authentic coastal little town of art and joyful festivities, rich traditions and history and recently also as a town that boldly accepts contemporary trends and is becoming a place of progressive ideas and successful businesses.
The combination of tradition and modern life is seen at first sight and perhaps is reflected most in the fact that, even in the 21st century, Kastav remained a place where most of the town's life is taking place in the historic center, within the town walls. This is best corroborated by numbers, which show that the town of Kastav extends over 11 square kilometres and has more than 11 000 residents.
You are one of the youngest mayors not only in Croatia but also worldwide. What are the biggest challenges in your daily job?
It is true, I am the youngest mayor in our county and among the youngest in Croatia. There are not many young people who take over such a responsible job at the age of 29.
This is the last year of my mandate, and I can say that I do not regret it. At the same time, I also run a private business, so my day is really dynamic.
With my example, I would like to encourage young people to take responsibility and actively engage in the development of their communities. Simply criticizing is not enough, and the mayor's job is difficult because it is impossible to please everyone. However, at the end of the day, there are many more positive things that encourage you to do better and better.
Logically, your main focus is the children and the young people in Kastav. What are you doing to make their lives better?
We have marked a continuous population growth through attracting new residents and through an increasing number of new-borns. In Kastav there are more than a hundred apartments currently being built that have already been sold.
We are not proponents of populist measures but we try to find a measure which will ensure the quality of life for our residents, and at the same time, leave room in the town's budget for other things that are vital. For example, our kindergarten is not the cheapest in this area but its conditions are exceptional.
The kindergarten operates in five facilities based on the principle of diffusive growth and some groups, for example, those with English and Italian languages, are located in our old town center. In that way, we ensure life in the old town center as well as a beautiful area near the woods for the children, which provides them with unforgettable childhood memories.
Our school and the Music Department count almost a thousand children, and one of the priorities is building a new kindergarten and schools in the largest settlement of the town. A certified work program with talented children named European Talent Point is also implemented there, which we are also very proud of.
Please tell us about some of the smart solutions that you have implemented in the municipality.
We were the first in Croatia to adopt the Smart City Development Strategy, and we are working hard on the implementation of new solutions, making our residents' lives easier, and also bringing significant savings to the town's budget. With the project "Kastav smART city", Kastav covered the renovation of the public lighting system, which resulted in savings of more than 60 percent, and the installation of video surveillance cameras on streetlights.
The streetlights have Wi-Fi adapters for free internet, and the lighting itself is smart. We have additional sensors that intensify or fade the brightness when necessary. We are planning to install air quality sensors on streetlights, and when it comes to modern infrastructure, the town is participating in a project of installing optics for super-fast internet for the entire town, whose realization should start in a year.
We have installed smart bus stops, implemented digitalization of the town's administration and are also developing the town app…And we are not stopping with this, we will keep going forward with new solutions.
Croatia has been a member of the EU for only a few years yet your municipality has already managed to implement several very successful EU-funded projects. How have they improved the quality of life in Kastav?
When it comes to the utilization of the European funds, Kastav has around 160 million kunas reported on the EU projects, which is an amount that covers three of our town's budgets.
So far, we have managed to get from the EU a minimum amount of funds that the Town Council spends for its salaries, and now, these amounts should be several times higher. With the help of these funds, we are planning to restore the old town center, so we have applied for two exceptionally important projects aimed at renovating the main town square and a beautiful summer open-air stage.
Ecology is another topic that all of us have to strongly pay attention to. We have just completed the EU project called "Kastav - a town with an attitude towards waste disposal", through which we have educated the residents about the importance of waste sorting - from the youngest ones in kindergartens to retirees.
How would you like Kastav to look at the end of your first term?
We are developing the town in a way that will ensure a pleasant life for everyone. Many incentives and thoughtful policies are implemented to warrant the high quality of life with a nice and safe environment, and available content for each generation, all of which are baits for many of our new residents.
As an entrepreneur, I am personally glad to see success and a large number of entrepreneurs in our town. We are trying to make their work easier by providing many measures in these hard times caused by the coronavirus pandemic.
What are your thoughts on TheMayor.EU portal as a unifying platform for Europe's municipalities and how can it be useful to you and your citizens?
I am happy to see platforms that bring people together and enable the exchange of experiences for the residents of the European family. We will make an endeavour to promote your web portal among our residents, and I also believe that the experiences of other European cities will enrich us.
At the same time, I also believe that this story about Kastav will inspire some of our new friends to visit the town, enjoy the beautiful views, go for a walk in the old town centre and woods, visit our numerous quality restaurants with exceptional gastronomic offerings and try the local wine - the Belica - that we are known for. To honour it we have been organizing a big celebration every first weekend of October since 1400. You are all welcome!
To find out more about Kastav, visit the profile of the municipality.
Ireland / Growing City
Despite the good news, preliminary data from the national census reveals a dire shortage in the housing market that will not go away anytime soon
France / Development / Public Spaces
The innovative project received funding from the participatory budget in Lille, France
Denmark / Copenhagen / Development / Social City
This was decided after an unprecedented agreement between the national and city governments
Croatia / Digital transformation
The town of Makarska has recently launched a new mobile service, aiming to cut down on paper use and stimulate citizens to go contactless
Finland / Vantaa / Green City / Innovation and Research
The invention promises to be revolutionary as it can decouple food production from agriculture and its environmental impacts
Spain / Innovation and Research / Mobility
Commercial unmanned aerial vehicles will far outnumber their crewed counterparts by the end of the decade and solutions are urgently needed
Finland / Vantaa / Green City / Innovation and Research
The invention promises to be revolutionary as it can decouple food production from agriculture and its environmental impacts
Finland / Energy efficiency
The country wants to become a leader in hydrogen production and export
Italy / Milan / Green City
The arid weather phenomenon is affecting the agricultural sector in Northern Italy to almost unprecedented levels
Lithuania / Vilnius / Culture and Tourism / Public Spaces
The splendid initiative that turns advertising spaces into art canvases is back for its third edition
Finland / Helsinki / Green City / Welfare and Health
Dust particle concentrations can still present a tough challenge to beat, though
Germany / Munich / Culture and Tourism / Mobility
The cancellation hits in the middle of the travel season and is caused by serious labour shortages coupled with a sudden rise of Covid cases
New European Bauhaus
These will be spread across 11 EU countries and will serve to support the EU Missions
New European Bauhaus
The European Commission has accepted to develop the idea
Portugal / Matosinhos / Interviews / New European Bauhaus
An interview about AYR, one of the 2021 New European Bauhaus Prize winners

Portugal / Matosinhos / Interviews
A conversation with the Mayor of Matosinhos, Portugal's first UN Resilience Hub

Interviews
An interview with Nigel Jollands and Sue Goeransson from the European Bank for Reconstruction and Development

Greece / Athens / Interviews / Welfare and Health
An interview with the President of the City of Athens Reception & Solidarity Centre