Mario Rajn, Source: Križevci Municipality
Krizevci is a convincing champion of EU funds and a pioneer in the transition to green energy
Interview with Mario Rajn, Mayor of Križevci, Croatia
Mario Rajn has been active as a volunteer in the civil sector for more than a decade and is the former president of the Križevci Association P.O.I.N.T. through which he has carried out many charitable actions in addition to organizing various cultural-artistic festivals and projects. At the end of his term in the association, he decided to pursue a career in public policy.
He was a member of the City Youth Council of the City of Križevci from 2009 to 2013 and a member of the County Youth Council of Koprivnica-Križevci County from 2012 to 2014.
Mario Rajn was elected mayor of Križevci in the 2017 elections when in the second round, he won, as an independent candidate, 61.58% of the votes.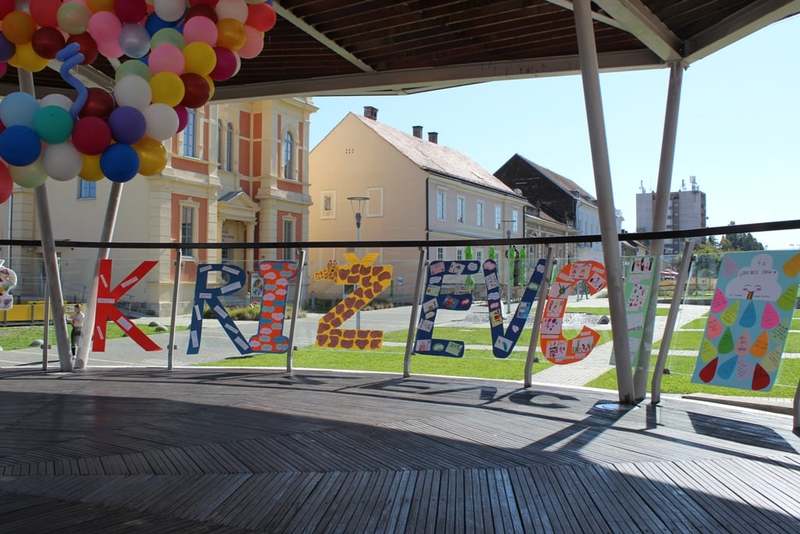 The City of Križevci is located in north-east Croatia with a total population of 21 122 (2011). Photo by Križevci Municipality
Mayor Rajn, please describe the town of Križevci in a few sentences.
Križevci is located in north-east Croatia and has a population of 21 122 inhabitants, of which 11 231 reside in the city proper (2011). The City of Križevci is located in the southwestern part of Koprivnica-Križevci County, 57 km north of Zagreb, and is a meeting point of roads connecting Zagreb, Koprivnica, Bjelovar and Varaždin.
One of the associations brought up by the name of the city, accidentally or intentionally, points to the crossing of roads, so since Antiquity, this area was a crossroads of traffic routes. Križevci covers a total area of 263.72 km2 and is the second-largest city in Koprivnica - Križevci County.
In 1225 it became the seat of the county and in 1252 a free royal city in which Croatian state parliaments were held. The College of Economics and Forestry was opened here in 1860, and soon after the city became a famous center for the education of agricultural professionals.
Today, Križevci is known as a city of culture, history and education. Symbols of the town are the Križevci Statutes, the "Veliko Križevačko Spravišče" event and Saint Marko Križevčanin. As a city with a rich and turbulent history, Križevci offers many interesting locations that are worth visiting.
Among the most important in the "City of Eight Towers" are the churches, such as the Holy Cross Co-Cathedral, St. Ana and the Greek Catholic Cathedral, and the remains of the forts of Veliki and Mali Kalnik in the mountains of the same name near Križevci. Of the more recent sights, attention can be drawn to the Croatian Home and the well-kept city cemetery, and city center.
By May 2021, Križevci will have a new sports hall. What will the facility have to offer and where did you find funding for it?
In the first place, the new sports hall is intended for students from the Elementary School of Ljudevit Modec, but also for sports clubs in Križevci. The total area of the new hall is going to be 2500 square meters and will contain one main basketball court, one main handball court, 2 smaller basketball courts and one smaller volleyball court.
A new parking lot with 41 parking spaces and a bus turnaround will be built on the premises, as well as an outdoor football pitch and a basketball court. The hall will accommodate a stand with about 600 seats. The hall annex will contain a library, kitchen and a large dining room. Located in the schoolyard of Ljudevit Modec Elementary School it will not be a school hall but the students of the school will use it for their P.E. activities.
Outside normal hours the school will be available for commercial rental to our sports clubs. The investor of the project is Križevci´s Entrepreneurship Center, a company founded by City of Križevci. The company provided funds through a loan and the total value of the investment is HRK 21.6 million.
Croatia has been a member of the EU for only few years, but your municipality has already managed to implement several very successful EU-funded projects. How have they improved the quality of life in Križevci?
The City of Križevci has always supported urban development by raising the quality and standards of communal infrastructure and services as well as the level of education and cultural life of all those who live in or visit the town. Our municipality is a convincing champion of EU funds – we have already won this title twice in a national contest and we are also a pioneer in the transition to green energy.
When it comes to EU funds, the city administration earned HRK 2210 per capita and almost five percent of the total EU funds in the country. The value of the 20 EU projects initiated and implemented is more than HRK 118 million.
We managed to provide a better educational condition for our students through the energy sufficiency restoration projects in elementary schools. Kindergarten Križevci was also renovated in that way. Likewise, we have used these funds to provide regular free meals for more almost 767 elementary school children at risk of poverty and to hire assistants for children with special needs.
Other important EU-funded projects are the expansion of the technology park, investments in waste management systems, general investments in communal infrastructure and many others.
We are currently implementing the largest project in the history of Križevci, which includes the upgrade of the water supply system, the upgrade and reconstruction of the sewage system, as well as the wastewater treatment system in the area. Under construction are a 53-kilometre sewage network and three new water reservoirs that will enhance the water supply.
Our city also uses EU funds to improve transport infrastructure in the urban and rural areas. We have done a lot in the last few years to improve the lives of our citizens.
We are on our way to an energy-independent and carbon-neutral city because we want a city that is tailored to its people and nature, a city for comfortable living, attractive to young people and families, resilient to crisis situations and climate change. A city that meets its needs for food and energy on its own, where life is safe, people have good jobs and which attracts new residents rather than chase away the ones who are here.
The Municipality is implementing several socially-oriented initiatives. Please tell us more about the most important ones among them.
We are supporting initiatives and projects implemented by citizens, NGOs and entrepreneurs in the city, and we also encourage citizens to get involved in making city policies. We are now working on the new City Development Strategy for the next 10-year period for which we have included various expert stakeholders from the city, divided in eight working groups.
We also included different citizens in online hackathons during the period of lockdown and in a workshop after it in order to gather their visions, initiatives and project proposals that will become part of the City Development Strategy. This way of cooperating with citizens has never been implemented here before and would not have been possible without any support from the Municipality.
The most important initiative implemented by citizens is setting up the first solar photovoltaic power plant in Croatia financed by the citizens through a crowdfunding campaign. In order to achieve our official vision: "Becoming energy independent by 2030", we at Križevci are investing into solar and geothermal energy, into deploying micro-grids, into modernizing public street lighting and transforming the unused brownfield sites.
The power plant was installed on the rooftop of the Municipal Development Center and Technology Park's administrative building for the total amount of €31 000 for a 30 kW PV plant crowdfunded in only 10 days. This has put Križevci on the public radar and improved citizen inclusion in the uptake and development of smart solutions. In 2019, the follow up crowd-investing campaign was launched for the second solar power plant on the rooftop of the City Library for a total amount of €23 000, raised in only 48 hours after the campaign started.
During the lockdown because of the COVID-19 pandemic, we realized how important it is to be resilient to such shocks, how important it is to have local supply chains (especially food supply chains), and how important it is to be solidary with the people in need. In the middle of the lockdown, we launched an online platform to connect citizens with local food producers - "Zdravo Križevci" which enabled citizens to have easier access to local and quality food without the need to go to the shops.
The platform has also helped local producers to sell their products in times of crisis and inability to place products on the market, thus directly supporting local producers, which will have a positive impact on the local community and the economy.
These developments made it possible that in a short period our city became a showcase of good practices for having a vision and involving public institutions and citizens in the process of urban, green and sustainable transformation. The city is as strong as its weakest building-block, thus it is critically important to strengthen all these crucial building blocks, such as the social infrastructure to serve citizens, economic structure to create value and income and natural resources preserved to ensure sustainability and resilience to the climate crisis. This is why we are involving citizens and mobilizing local resources into fostering local development.
What are the main goals that you are planning to work on in the near future to make Križevci a better place to live in?
We want to conclude our current infrastructure projects and start new ones to improve our citizens' daily lives. We want Križevci to be a great place to call home since it is a small city located less than an hour away from the capital Zagreb.
We see Križevci as an advanced, European city whose accelerated development keeps pace with the requirements of the modern age and the needs of citizens who live and work here to be satisfied through a high-quality community network. The goal of our municipality is to keep the city safe and perfectly suitable for people who want to set up a new home and raise a family here.
We are also working on the balanced development of rural and urban areas and intensively working to ensure that in the 2021/22 school year there will be one-shift attendance in primary schools. This is the quality of life that young families need, and until they feel it they are often unaware of what an advantage it really is.
To achieve this goal, we are making an extra effort to ensure good education in schools, kindergartens and sports facilities in order to keep our living environment safe, healthy and comfortable. This is something we work on today and will work on in the future.
What are your thoughts on TheMayor.EU portal as a unifying platform for Europe's municipalities and how can it be useful to you and your citizens?
This platform could be a solution for getting a good insight of how different municipalities work and what course of action they take. I believe it is a great way for municipalities and citizens to be informed and get to know different governmental practices. The platform could be used for direct exchange of different experiences and contacts and I am looking forward to that.
To find out more about Križevci, visit the profile of the municipality.
Ireland / Growing City
Despite the good news, preliminary data from the national census reveals a dire shortage in the housing market that will not go away anytime soon
France / Development / Public Spaces
The innovative project received funding from the participatory budget in Lille, France
Denmark / Copenhagen / Development / Social City
This was decided after an unprecedented agreement between the national and city governments
Croatia / Digital transformation
The town of Makarska has recently launched a new mobile service, aiming to cut down on paper use and stimulate citizens to go contactless
Finland / Vantaa / Green City / Innovation and Research
The invention promises to be revolutionary as it can decouple food production from agriculture and its environmental impacts
Spain / Innovation and Research / Mobility
Commercial unmanned aerial vehicles will far outnumber their crewed counterparts by the end of the decade and solutions are urgently needed
Finland / Vantaa / Green City / Innovation and Research
The invention promises to be revolutionary as it can decouple food production from agriculture and its environmental impacts
Finland / Energy efficiency
The country wants to become a leader in hydrogen production and export
Italy / Milan / Green City
The arid weather phenomenon is affecting the agricultural sector in Northern Italy to almost unprecedented levels
Lithuania / Vilnius / Culture and Tourism / Public Spaces
The splendid initiative that turns advertising spaces into art canvases is back for its third edition
Finland / Helsinki / Green City / Welfare and Health
Dust particle concentrations can still present a tough challenge to beat, though
Germany / Munich / Culture and Tourism / Mobility
The cancellation hits in the middle of the travel season and is caused by serious labour shortages coupled with a sudden rise of Covid cases
New European Bauhaus
These will be spread across 11 EU countries and will serve to support the EU Missions
New European Bauhaus
The European Commission has accepted to develop the idea
Portugal / Matosinhos / Interviews / New European Bauhaus
An interview about AYR, one of the 2021 New European Bauhaus Prize winners

Portugal / Matosinhos / Interviews
A conversation with the Mayor of Matosinhos, Portugal's first UN Resilience Hub

Interviews
An interview with Nigel Jollands and Sue Goeransson from the European Bank for Reconstruction and Development

Greece / Athens / Interviews / Welfare and Health
An interview with the President of the City of Athens Reception & Solidarity Centre