The trash can prototype will have a smart sensor and trash compacting mechanism , Source: City of Leuven
Leuven is experimenting with smart trash bins
Despite being emptied several times a day, some bins attract excessive amounts of waste
On 14 July the Belgian city of Leuven announced it will be implementing experimental smart garbage cans, that also have compacting functions. Tomas Van Oppens, Alderman of City Cleaning, praised the sustainable project.
After social distancing guidelines and pandemic restrictions have started to disappear, the city of Leuven faces a new problem: people spend more time in public spaces and trash bins are overflowing. The city announced it will be updating a portion of its trash bins with solar-powered, smart and trash compacting models in an experimental attempt to better manage the situation.
Every day, 25 street sweepers and ten other employees set out to keep the streets, the bins and squares clean. However, despite being emptied several times a day, some bins attract an inordinate amount of garbage, leading them to overflow creating a visual eyesore and hygienic problems.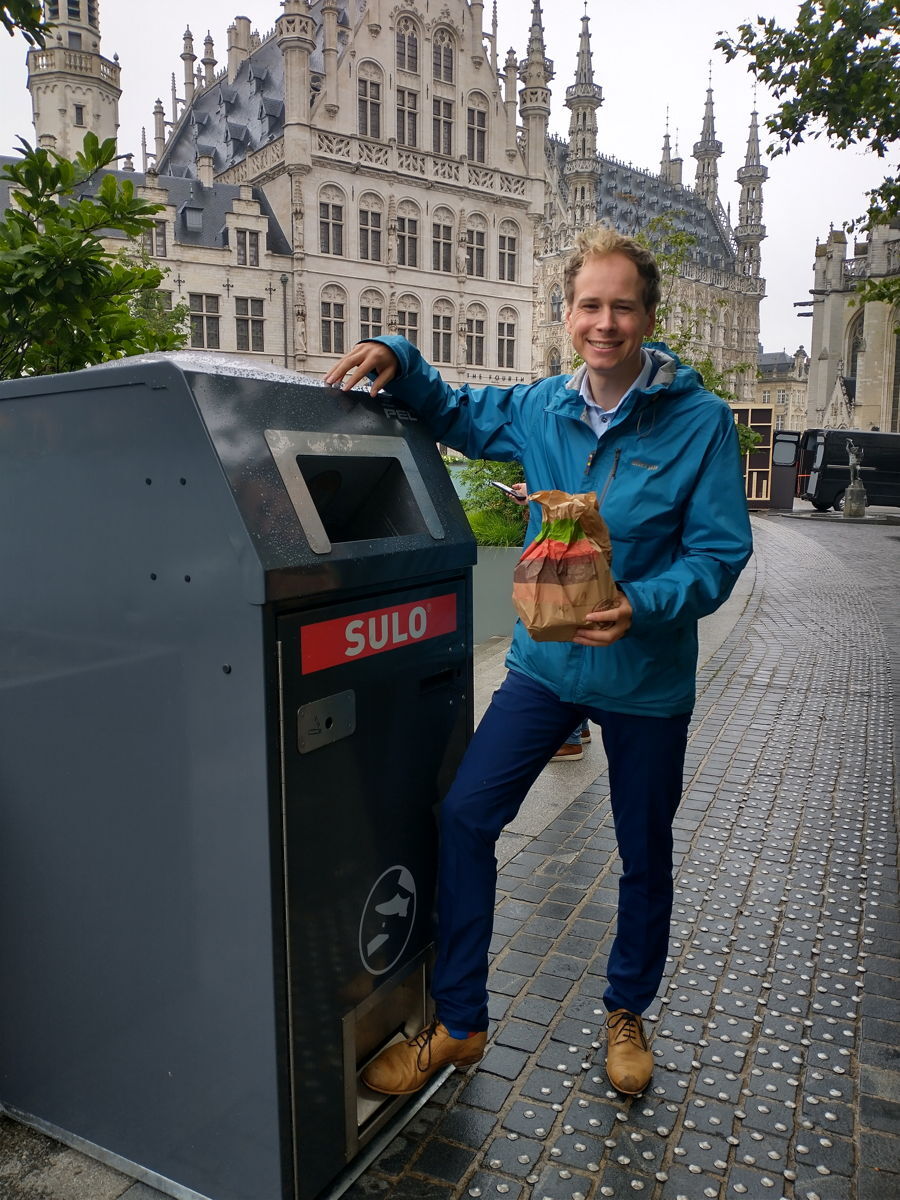 Tomas Van Oppens next to one of the experimental cans, Source: City of Leuven
Conventional trash collection seems to be failing and this is the time for 'smart' solutions. Over the next six months, Leuven wants to experiment with the deployment of smart trash bins, as alderman for City Cleaning Tomas Van Oppens explained in a press release: "We will use new technologies and will collect a lot of data so that we can make informed choices afterwards."
"If it does not fit in the bin" – a thing of the past
In the coming days, the city will place the prototype compacting trash bins in various crowded places in the centre. They will be able to compress the waste, holding up to 30 times more than their non-smart counterparts.
At the same time, the cans will be equipped with a solar-powered sensor, monitoring their capacity. Essentially, city employees will be able to keep track of the level in the cans from their smartphone or computer and empty them only when they need to.
"The garbage cans also allow us to collect a lot of data. For example, we will know which garbage cans are used a lot or a little and we can move underused bins, if necessary," explained Van Oppens.
The alderman highlighted that if the city decided to use the garbage cans on a large scale in the long term, it could also optimise the collection routes. This would result in fewer collection trips, a decrease in collection costs and CO2 emissions.