Clean Air Traffic Murcia, Source: Ayuntamiento de Murcia
Murcia to reduce traffic pollution with intelligent mobility system
See what other measures are previewed as part of the Clean Energy strategy
A new intelligent mobility system was presented this Tuesday in Murcia, Spain. Claire, which stands for "Clean Air Environment" is expected to reduce traffic-related pollution with a smart approach and is a first for Murcia.
Environmental sensors located in strategic points of the city will provide real-time information on air quality and traffic congestion. Based on this information, actions that allow counteracting pollution sources caused by traffic, maintaining air quality and reducing pollution, will be undertaken.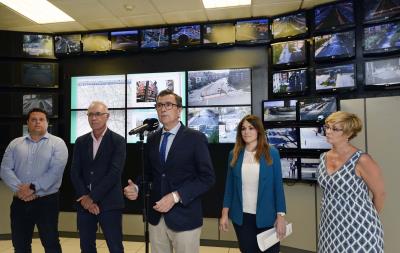 Photo: Ayuntamiento de Murcia
José Ballesta, Mayor of Murcia, explained that the data-driven decisions to be made could include changes in the regulation of traffic light cycles and intersections when there is a traffic jam, the establishment of alternative routes, priority to public transport, as well as notices and recommendations in real time in the information panels of the road network.
Two such sensors have already been installed in Primo de Rivera and Gran Vía. They will measure the values ​​of the polluting particles emitted by combustion vehicles, so that particle quantities such as carbon monoxide (CO), nitrogen oxide (NOx) or nitrogen dioxide (NO2) are known.
This action is part of the 'Clean Air' Strategy promoted by the Government of José Ballesta which also includes actions such as the gradual renewal of the bus fleet and the acquisition of new vehicles powered by biofuels, hybrids or electric vehicles, creation of deterrent parking lots, controls of the emissions of gases of vehicles in circulation, together with the Ecological Patrol of the Local Police, pedestrianization, new network of bike lanes, Electric Vehicle strategy, 2030 Forest Plan and sustainable lighting, among other measures.
Germany / Development
The minuscule test properties are meant to inaugurate an era of affordability
France / Politics and Reforms
He stated this during a visit to the island's capital Ajaccio
Italy / Milan / Development / Public Spaces
It's one of the several iconic arcade shopping centres of the Italian city
Lithuania / Vilnius / Culture and Tourism / Innovation and Research
Bringing lost music back from the oblivion of the past
Denmark / Aalborg / Energy efficiency / Innovation and Research
The authorities wanted to provide clean energy to cultural events and festivals
Bulgaria / Gabrovo / Kardjali / Kozloduy / Sofia / Stara Zagora / Troyan / Development / Green City / Smart City / Social City
Almost 140 000 people have cast their vote in the national contest for Mayor of the Year
Austria / Culture and Tourism / Public Spaces
The renovation process in the Austrian town of Braunau am Inn has begun today
Italy / Spain / Alicante / Rome / Mobility / Social City
They will affect ground and air transport, so it's better to be prepared in advance
Netherlands / Amsterdam / Mobility / Welfare and Health
The official date of implementation is 8 December, but the authorities are already setting up the change with targeted road signs
Austria / Culture and Tourism / Public Spaces
The renovation process in the Austrian town of Braunau am Inn has begun today
Italy / Spain / Alicante / Rome / Mobility / Social City
They will affect ground and air transport, so it's better to be prepared in advance
Netherlands / Amsterdam / Mobility / Welfare and Health
The official date of implementation is 8 December, but the authorities are already setting up the change with targeted road signs
New European Bauhaus
This one could be a real game-changer for our built environments and the way they look
Estonia / Tallinn / Green City / New European Bauhaus
The practical art objects are competing for one of the 2023 New European Bauhaus Prizes
New European Bauhaus
Cast your vote before 24 May and do your part in promoting the NEB values

Interviews / Read Twice
An interview with a member of the No Hate Speech Network team

Interviews
A talk with the first man to circumnavigate the globe with a solar plane, on whether sustainability can also be profitable

Interviews / Read Twice
An interview with the president of the European Federation of Journalists