The insturments will be suited for both kids, teenagers and professionals, Source: City of Brasov
Musical gardens in Brasov will allow people to form improvised ensembles
City authorities say that the park would be complete by mid-December
Yesterday, authorities in Brasov, Romania, announced that the city's new musical gardens should be complete by the end of the year. Back in February, the local government unveiled the projects that won the popular vote from the participatory budget. One of the winners was a project for creating public spaces that have open-air musical instruments.
The idea behind the proposal was to give residents of all ages, kids, teenagers and adults more variety in public spaces. Additionally, the musical instruments were supposed to be constructed from durable materials that can withstand the elements, while also being good enough to be used by professional musicians in public gatherings.
Putting 'pen to paper'
According to an official statement by the city, the company that will win the public project will be announced in mid-September, and after that, the music gardens will be set up in around 90 days. The municipality has selected three parks for the initiative: Nicolae Titulescu, Aleea de Sub Tâmpa and Tractorul.
The project should cost around 50,000 euros and each musical zone in the parks will be around 36 square metres. They will be equipped with a concrete border and a rubber cushion surface, 30 millimetres thick.
The project calls for the musical instruments to be built from durable, easy-to-maintain materials, that are also resistant to external factors, designed for their use in the outdoor space. They will be resistant to corrosion, suitable for use in any season or weather conditions, location specific and geared for intensive use.
The instruments that the city will set up will include large and small Babel drums, Bell Lyres, Handpipe aerophones, horizontal harmony xylophone, Sansa-Rymba xylophone, Emperor Chimes, a Cajon type bench drum, coloured samba drums, Cherub Bell and a balaphone, also known as marimbas.
Furthermore, these instruments will be spread out among the three locations and each will be able to produce both rhythmic and melodic sounds, through the different types of bells, whistles and drums. This would allow whole park ensembles to form around the new urban installations.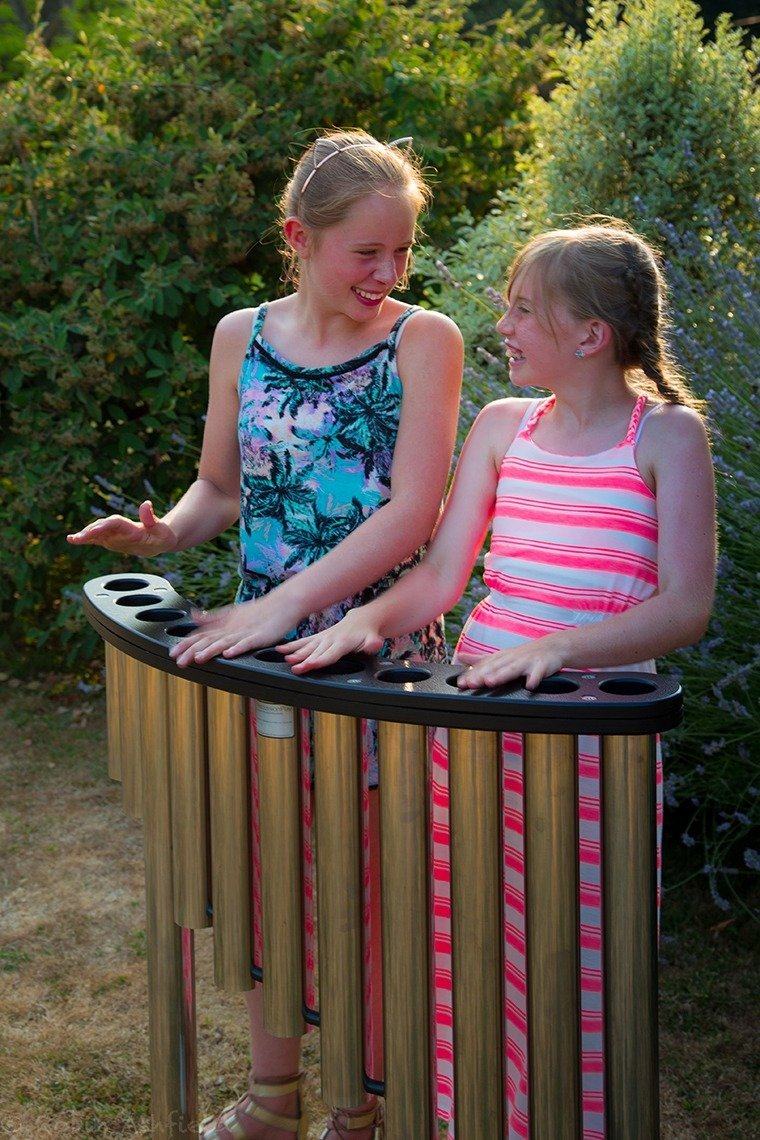 Two girls playing Handpipe aerophones, Source: City of Brasov
Netherlands / Amsterdam / Development / Public Spaces
It involves all the five senses, apparently
Germany / Mobility / Politics and Reforms
Germany's new approach has convinced hundreds of thousands of people to start using public transport for the first time
Bulgaria / Sofia / Mobility / Politics and Reforms
Drivers will be legally required to push their scooters manually in pedestrian areas and parks
Bulgaria / Greece / Athens / Sofia / Thessaloniki / Digital transformation / Mobility
Greece and Bulgaria are set to build one of the first 5G cross-border corridors in Europe
Finland / Digital transformation / Welfare and Health
The feline registry is expected to start operating in 2026
Luxembourg / Culture and Tourism / Innovation and Research
The team presented the final report about a year, which was supposed to put the Luxembourgish city on the cultural map of Europe
Netherlands / Amsterdam / Development / Public Spaces
It involves all the five senses, apparently
France / Lyon / Public Spaces / Social City
What you pay for having your car resting in the city will now depend on several different factors
Germany / Mobility / Politics and Reforms
Germany's new approach has convinced hundreds of thousands of people to start using public transport for the first time
France / Lyon / Public Spaces / Social City
What you pay for having your car resting in the city will now depend on several different factors
Denmark / Mobility / Social City
Fredensborg Municipality is inviting residents to take the bikes for a spin…lasting up to 3 months
Culture and Tourism / Mobility
After all, sleeping carriages are basically hotels on wheels
Estonia / Tallinn / Green City / New European Bauhaus
The practical art objects are competing for one of the 2023 New European Bauhaus Prizes
New European Bauhaus
Cast your vote before 24 May and do your part in promoting the NEB values
New European Bauhaus
The new itineraries are part of the DiscoverEU programme, which lets 18-year-olds travel by train between important European sites

Interviews / Read Twice
An interview with the president of the European Federation of Journalists

Interviews
A talk with the head of Mission Zero Academy on the benefits for municipalities if they go the zero waste way

Romania / Cluj-Napoca / Digital transformation / Interviews / Politics and Reforms
A talk with Nicolae Urs, one of the key figures behind the city's new data platforms and online services strategy