Zakynthos, Source: Pixabay
Navagio Beach on Zakynthos reopens to tourists
Find out what the new access restrictions are
Last week, Greek authorities gave the green light to the reopening of the stunningly beautiful beach of Navagio on Zakynthos island. After the rockfall last summer, the introduction of new security measures for the upcoming season was imperative.
Navagio beach will now be divided into three zones, which will be clearly demarcated. The first will have free access, the second zone will see restricted use after a rainfall or an earthquake, and it will be supervised. The third zone on the beach will be completely closed to all visitors.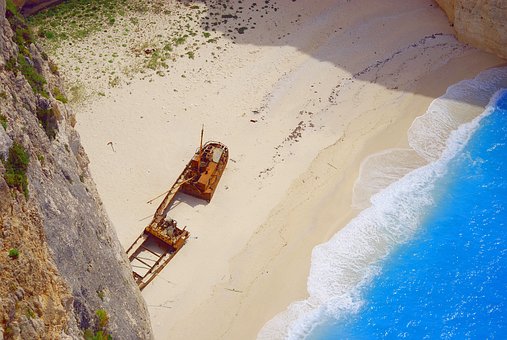 Navagio Beach was originally known as "Agios Georgios Beach." In 1980, the freightliner MV Panagiotis ran aground in the waters around Zakynthos Island during stormy weather and poor visibility. The ship was smuggling contraband including cigarettes and alcohol. The Panagiotis was abandoned after running aground, and it still rests half-buried in the limestone gravel of the beach, which is now known worldwide by its nickname "Navagio" ("Shipwreck").
Source: Zakynthos Municipality, https://greece.greekreporter.com/