The Black Eagle building in Oradea, Source: Planck on Wikipedia, CC BY-SA 4.0
Oradea welcomes joint initiative to promote Art Nouveau in the Danube Region
ARTNOUVEAU 2 will take advantage of architectural heritage to promote more sustainable cooperation and urban development
On 8 September, the partners in the ARTNOUVEAU 2 initiative met in Darvas La Roche House in Oradea, Romania for a project presentation. Deputy Director of the Chief Architect's office of the city Adriana Lipoveanu showcased Oradea's project to enhance urban mobility and promote urban planning cooperation through the architectural heritage of the city.
ARTNOUVEAU 2 is a project started by the city of Oradea with the aim of protecting and promoting the Art Nouveau architectural heritage of the Danube Region. The project is funded primarily by the European Union and it involves institutions from six countries: Hungary, Slovakia, Romania, Austria, Croatia and Serbia.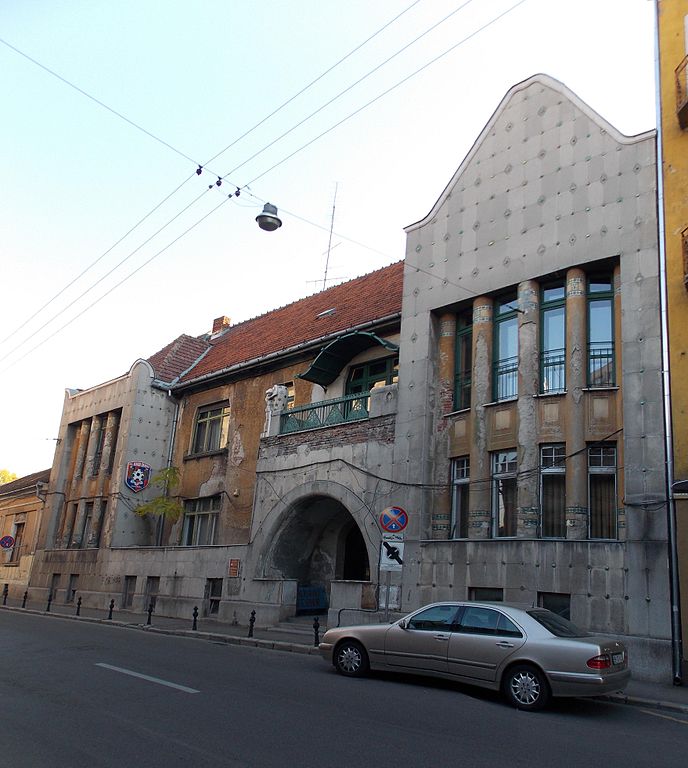 Dravas La Roche House in Oradea, Source: ArnoldPlaton on Wikipedia, CC BY-SA 3.0
Getting people excited about Art Nouveau
The project has a budget of 1.8 million euros with 85% coming from the EU and the rest from the participants. These funds are then split between the participating institutions, so that each of them can do an independent project, with the aim of strengthening the connections between them, as seats of Art Nouveau architecture.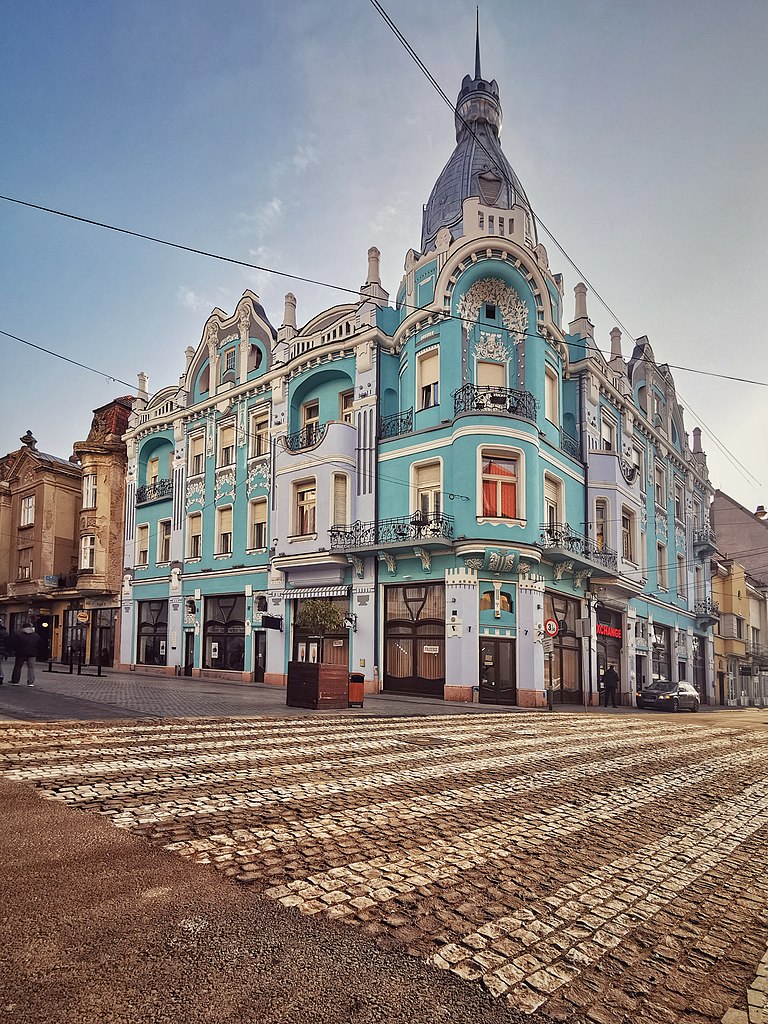 Palatul Moskovits in Oradea, Source: Silviunastase on Wikipedia, CC BY-SA 4.0
These include Oradea City Hall, Foundation for the Protection of Historical Monuments in Bihor County, the National Heritage Institute - Bucharest (Romania), Museum of Applied Arts - Budapest, Museum of Applied Arts - Vienna, Museum of Arts and Crafts – Zagreb (Croatia), the Slovak University of Technology in Bratislava (Slovakia), Kodolanyi Janos University - Hungary and the National Institute for the Protection of Cultural Monuments Serbia.
Deputy Director Adriana Lipoveanu presented Oradea's project focusing on mobility in the inner city and a transformation of public spaces centred around sustainable transportation. It also included a summer exchange programme for urban planners in Oradea, bringing together experts from all six countries and a promotional campaign about the city's Art Nouveau heritage.
Rich architectural history
Currently, Oradea's architecture is a mix of Communist-era apartment buildings and ornate historic buildings in the inner city, a reminder of the time when it was part of the Austro-Hungarian Empire. In addition to Baroque and Neo-Classical buildings, the city has a remarkably rich collection of Art Nouveau architecture.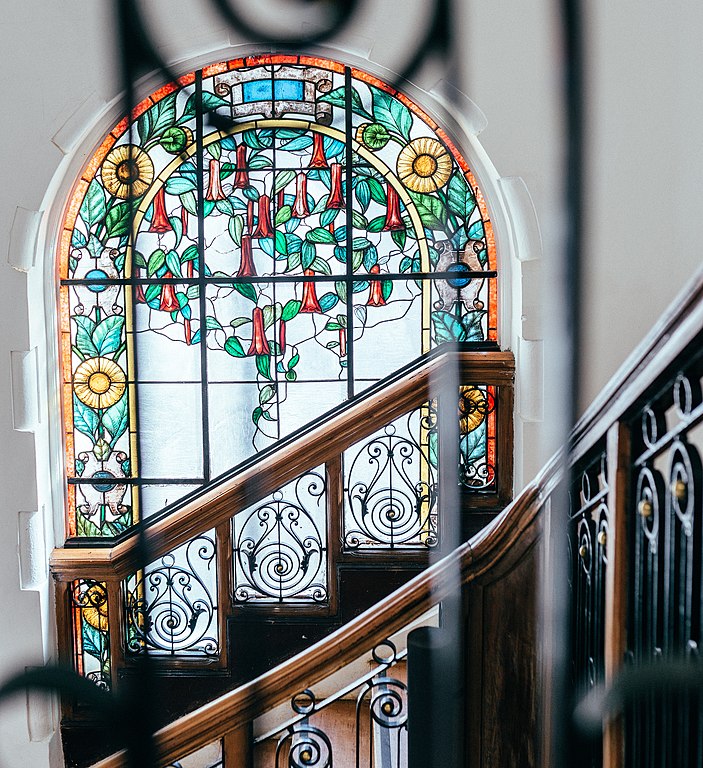 It is quite easy to spot an Art Nouveau building because of its curved, flowing asymmetric characteristics. Distinctively shaped façade and interior elements, accompanied by mosaics and stained glass, parabolas and hyperbolas allow for a certain dynamism to be inscribed on these buildings.
According to local authorities, Oradea is probably the Romanian city with the highest number of buildings representing 1900s European architecture, comparable to more famous cities from Central Europe.
Netherlands / Amsterdam / Development / Public Spaces
It involves all the five senses, apparently
Germany / Mobility / Politics and Reforms
Germany's new approach has convinced hundreds of thousands of people to start using public transport for the first time
Bulgaria / Sofia / Mobility / Politics and Reforms
Drivers will be legally required to push their scooters manually in pedestrian areas and parks
Bulgaria / Greece / Athens / Sofia / Thessaloniki / Digital transformation / Mobility
Greece and Bulgaria are set to build one of the first 5G cross-border corridors in Europe
Finland / Digital transformation / Welfare and Health
The feline registry is expected to start operating in 2026
Luxembourg / Culture and Tourism / Innovation and Research
The team presented the final report about a year, which was supposed to put the Luxembourgish city on the cultural map of Europe
Netherlands / Amsterdam / Development / Public Spaces
It involves all the five senses, apparently
France / Lyon / Public Spaces / Social City
What you pay for having your car resting in the city will now depend on several different factors
Germany / Mobility / Politics and Reforms
Germany's new approach has convinced hundreds of thousands of people to start using public transport for the first time
France / Lyon / Public Spaces / Social City
What you pay for having your car resting in the city will now depend on several different factors
Denmark / Mobility / Social City
Fredensborg Municipality is inviting residents to take the bikes for a spin…lasting up to 3 months
Culture and Tourism / Mobility
After all, sleeping carriages are basically hotels on wheels
Estonia / Tallinn / Green City / New European Bauhaus
The practical art objects are competing for one of the 2023 New European Bauhaus Prizes
New European Bauhaus
Cast your vote before 24 May and do your part in promoting the NEB values
New European Bauhaus
The new itineraries are part of the DiscoverEU programme, which lets 18-year-olds travel by train between important European sites

Interviews / Read Twice
An interview with the president of the European Federation of Journalists

Interviews
A talk with the head of Mission Zero Academy on the benefits for municipalities if they go the zero waste way

Romania / Cluj-Napoca / Digital transformation / Interviews / Politics and Reforms
A talk with Nicolae Urs, one of the key figures behind the city's new data platforms and online services strategy