The reception centre offers around 100 beds, Source: City of Osijek
Osijek unveils reception centre for Ukrainian refugees
Families will have access to beds, food, medical aid, and psychosocial assistance
This weekend, the Croatian City of Osijek prepared and unveiled a reception centre for Ukrainian refugees. Located in South Hall 2, the centre will temporarily accommodate those fleeing the country and provide them with food, medical aid, and psychosocial assistance.
In a press release, the Chief of Staff of the Civil Protection of Osijek, Dragan Vulin, explained that the municipality is transporting refugees from Croatia's border to the reception centre. Taking this further, the Chief of Staff of the Civil Protection of Osijek-Baranja County, Mato Lukić, shared:
"Preparatory activities began a few days ago because, given the situation in Ukraine, we expect the arrival of refugees in our area. About a hundred beds have been provided in the South Hall, and according to our information, a smaller number of families from Ukraine have already entered Croatia in the area of our county, i.e., from Serbia or Hungary."
Lukić further revealed that many refugees are currently staying with friends and family in the region and that the municipality is ready to increase the hall's capacity if the need arises.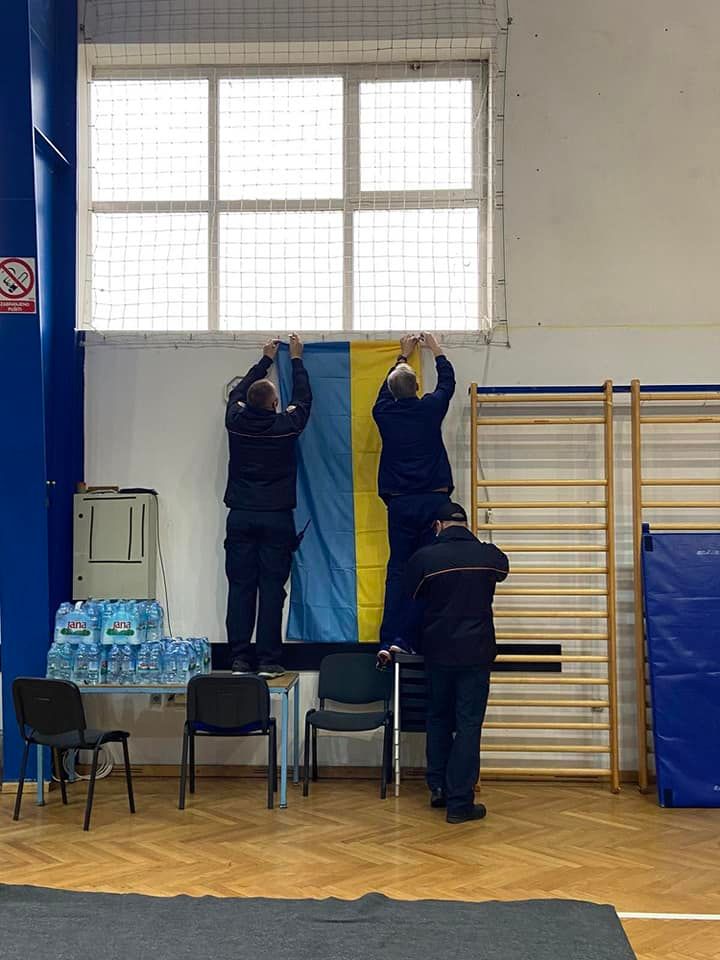 Putting up the Ukrainian flag in the reception centre (Source: City of Osijek)
Longer periods of stay
It is important to reiterate that the South Hall will only offer temporary accommodation. As such, the City of Osijek is working on creating other opportunities for longer periods of stay in hotels, hostels, and boarding houses, among others.
Citizens in the region are also eager to help the Ukrainian refugees, offering them access to private housing. Martina Hećimović from the City Society of the Red Cross Osijek expanded on this, noting:
"Due to the great interest of families from the Osijek-Baranja County who are willing to accept refugees, the Red Cross is starting to create a database of private accommodation. However, the Civil Protection Headquarters is primarily working on providing organised accommodation, which is enough for now."
View the gallery above for photographs of the reception centre in Osijek.
Ireland / Development / Digital transformation
The government's new Living Islands Policy wants to reinvigorate offshore communities
Netherlands / Amsterdam / Development / Green City
The five islands have a combined area of more than 700 square metres
Croatia / Zagreb / Development / Energy efficiency
A new project calls for photovoltaics, charging stations and energy-efficiency renovations
Ireland / Development / Digital transformation
The government's new Living Islands Policy wants to reinvigorate offshore communities
Austria / Salzburg / Digital transformation / Education and Sport
It will show all open-air sports facilities in the city, plus 12 running routes
Lithuania / Digital transformation / Innovation and Research
The Baltic country prepares to respond to rising air traffic and to futureproof the sector
Spain / Madrid / Mobility
Locally designed, a prototype will be created next year so that the residents of the city can have their say as well
Spain / Mobility / Social City
The special offer popularizing railway journeys among the 18-30 age group will be available until 15 September
Belgium / Brussels / Mobility / Welfare and Health
The camera and goggles system helps patients to receive emergency specialised care, while they are still en route to the hospital
Spain / Mobility / Social City
The special offer popularizing railway journeys among the 18-30 age group will be available until 15 September
Italy / Florence / Culture and Tourism / Social City
In fact, in the UNESCO-protected old town priority will be given to long-term tenants
Belgium / Brussels / Mobility / Welfare and Health
The camera and goggles system helps patients to receive emergency specialised care, while they are still en route to the hospital
Estonia / Tallinn / Green City / New European Bauhaus
The practical art objects are competing for one of the 2023 New European Bauhaus Prizes
New European Bauhaus
Cast your vote before 24 May and do your part in promoting the NEB values
New European Bauhaus
The new itineraries are part of the DiscoverEU programme, which lets 18-year-olds travel by train between important European sites

Interviews / Read Twice
An interview with the president of the European Federation of Journalists

Interviews
A talk with the head of Mission Zero Academy on the benefits for municipalities if they go the zero waste way

Romania / Cluj-Napoca / Digital transformation / Interviews / Politics and Reforms
A talk with Nicolae Urs, one of the key figures behind the city's new data platforms and online services strategy