mapadrzew.com presents information about trees growing in any part of Poland, Source: MGGP Aero
Poland now has a map of its tree crowns
The creators believe this will support the country's adaptation to climate change
Different rankings point out that European countries are world leaders in terms of green living. This result is marked with hard work at many levels – from conscientious efforts to preserve trees and maintain the abundance of greenery, to comprehensive sustainability policies and attitudes.
And while Poland is still lagging behind countries like Denmark, Luxembourg or Switzerland, things might be set for a change as a private company announced a significant achievement in the monitoring and knowledge in the state of trees in the country. On 5 October, MGGP Aero released a nationwide map of tree crowns (Krajową Mapę Koron Drzew™) which presents detailed information about the trees growing in any part of the country and is available for free online.
30% of Poland's territory is covered with tree crowns
The National Tree Crown Map contains the results of the inventory of trees growing throughout Poland. It presents tree crowns, the height of which is higher than 4 m, and which cover areas greater than 9 square metres.
The idea was to provide basic information about trees in Poland in an accessible way that does not require specialist knowledge and skills. Thus, both citizens, professionals and policymakers can use it for various activities, including to support Poland's adaptation to climate change. The tool will be particularly useful to managers of green areas of local government units, infrastructure managers and nature protection services.
Remote sensing analysis method allowed to perform the inventory remotely, without the need to make measurements directly in the field. The source of information about the trees, in this case, was data obtained from the air with a special ALS laser (Airborne Laser Scanning) by the Central Office of Geodesy and Cartography, which measured the height and area of ​​tree crowns from a height of about 1 km.
This data was made public last year, in accordance with the INSPIRE directive of the EU. Said directive aims to create a common spatial data infrastructure for the purposes of EU environmental policies and or activities that may have an impact on the environment.
MGGP Aero then used Machine Learning to develop the map, as part of the HabitARS project.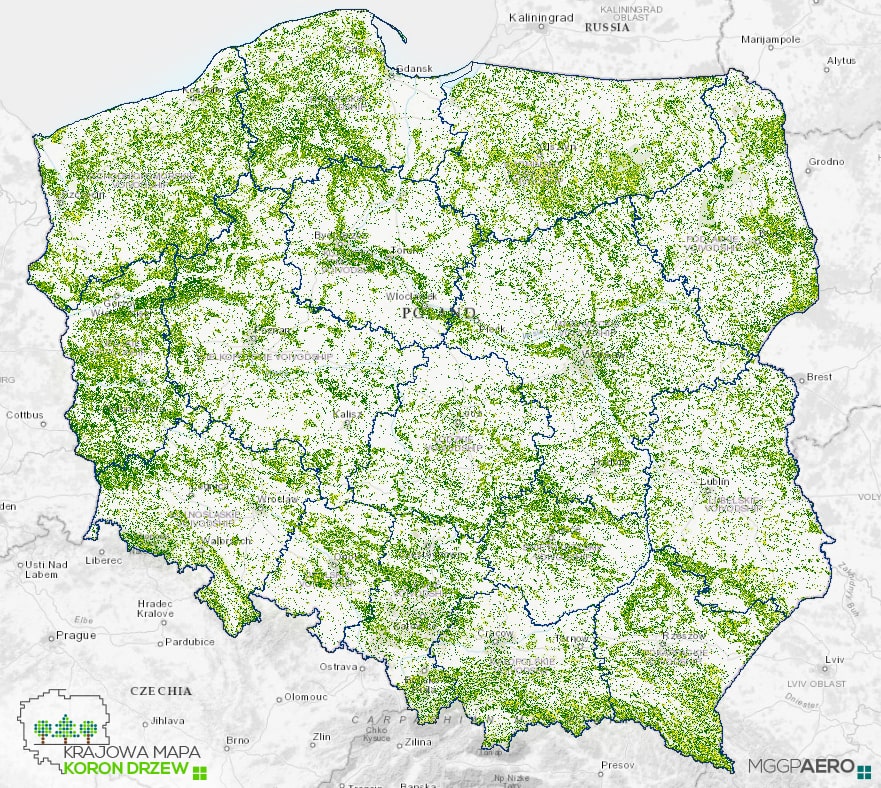 The website has extensive functionality and presents trees against the background of aerial photos or OpenStreetMap data.
Image: MGGP Aero
The inventory of all trees in Poland required over 1,523,995 million laser measurements. From the air, more than 3,3 billion crowns of trees can be seen, with a total area of ​​9,669,476.2 ha, which is 30.92% of the country's area. In the Map, each tree is assigned information about the coordinates of the crown top location, its area and volume, as well as the tree height.