Triin Varek, Source: Rakvere Municipality
Rakvere offers a unique environment and rapidly developing and beautiful, picturesque green areas
Interview with Triin Varek, Mayor of Rakvere in Estonia
Triin Varek was born on 23 June 1977 in Rakvere. She is active in politics as a member of the Centre Party, being the Head of Rakvere Centre Party Office and Head of Lääne-Viru County Party Centre´s Women movement "KENA".
From 2017 to 2019, Triin Varek served as deputy mayor of Rakvere before becoming mayor of the town in 2019.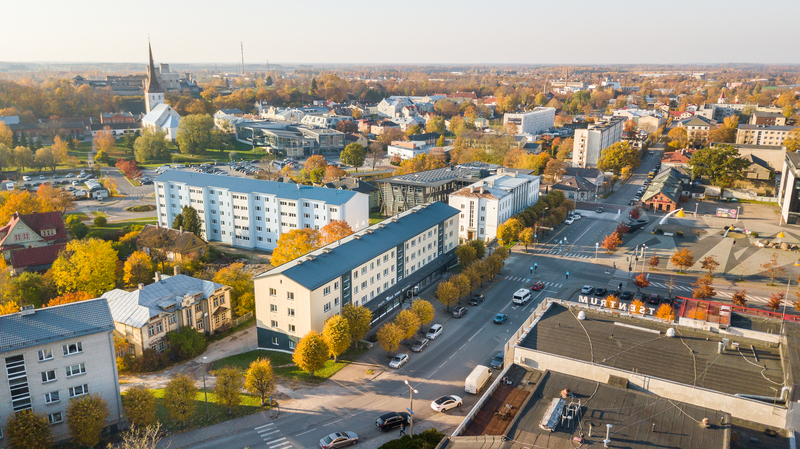 Rakvere is a rural Estonian municipality in Lääne-Viru County. Photo by Meelis Meilbaum
Mayor Varek, please briefly describe Rakvere.
Rakvere is one of the oldest towns in Estonia. On the 12th of June 1302, the Danish king Erik Menved VI granted Rakvere the Lübeck charter giving it town rights. Now, every year we celebrate this date with big concerts, fairs, plays, dances, songs etc. The Rakvere City Days usually last for a weekend and is organized by the Rakvere Culture Center.
For centuries, our stone castle has stood on Vallimägi, built on the place of the Tarvanpea wooden stronghold. The castle has been owned by Danes, Germans, Russians, Swedes, Poles and its walls have witnessed numerous battles.
The ruined castle was abandoned in 1605 and remained so until it was opened as a museum in 1988. Today, the castle has been fully renovated and operates as a medieval themepark for visitors. A virtual tour is also available.
Rakvere has suffered great losses in numerous wars but thanks to the persistence of its citizens, the town always bounced back and in 1783 it became a county center.
Rakvere became an important educational and cultural centre rather than an industrial town. The first school was established already back in 1597, and the first secondary school in 1912.
The alumni of Rakvere schools include many well-known scientists, writers, artists, musicians etc. For example Arvo Pärt - a world-known composer and honorary citizen of Rakvere.
The first museum dates back to 1927 when the Rakvere Museum Society was founded. Rakvere Theatre was inaugurated in 1940 with their first play "In the Swirling Winds" ("Tuulte pöörises") by August Kitzberg.
Rakvere has many green areas, such as parks, boulevards, springs, ponds and forests of different sizes. Our biggest pride is Oak Grove which is under national protection.
The area of the municipality is 10.73 km2 and the population is approximately 15 000.
What about the cultural and sports programming this year? How has the coronavirus pandemic affected the annual calendar of events?
Like elsewhere in the world, everything was put on pause or on hold in Rakvere. This was followed by many months of uncertainty about what the future will bring to us. But Rakvere was lucky and our citizens followed the rules that were set to protect their health, so there were only 5 coronavirus-infected people in our town. Now the economy is getting back on its feet again, sports and cultural events are taking place, but we still have certain limitations.
The Municipality is planning to build Arvo Pärt's Music House. What will it look like and how will you finance the project?
Oh, yes. Arvo Pärt's Music House is a priority for Rakvere. Maestro Arvo Pärt is a world-famous composer and Rakvere's honoured citizen since 1995. He was born in Paide, in Estonia, but his childhood and young years were spent in Rakvere, where he lived, went to school and studied music. We are really proud of it! By visiting Rakvere, you can follow the Arvo Pärt's footsteps.
This project is fabulous, and it allows us to reconstruct the old church plus add to it a new area which will serve as an art gallery, conference hall etc. The center of the three-hall multifunctional music house is a concert hall with a capacity of about 450 people. In this 3D video, you can get an overview of what Arvo Pärt's music house will look like in the future.
We are planning to submit the project to the Estonian Parliament's Committee of Culture, which this year will decide on new objects that are of national importance to finance. But the Music Hall is quite an expensive and ambitious project for our town, so we have also initiated fundraising to support the building and donations are welcome from all over the world:
Account name: Arvo Pärt Music House
Account number: EE881010220286763229
Account holder: Rakvere City Government
Other good news in cultural aspects was the grand opening of the Vallimäe outdoor facility. Please, tell us what happened on 1 August?
The new multifunctional concert venue is a major tourist attraction by itself - what with all the wonderful views and platforms to enjoy it, and an ancient castle nearby. IN the main venue area there are 4200 seats and in the amphitheatre 800 more – it is most certainly the newest and best concert venue in our municipality, in Estonia and probably in the Baltic States.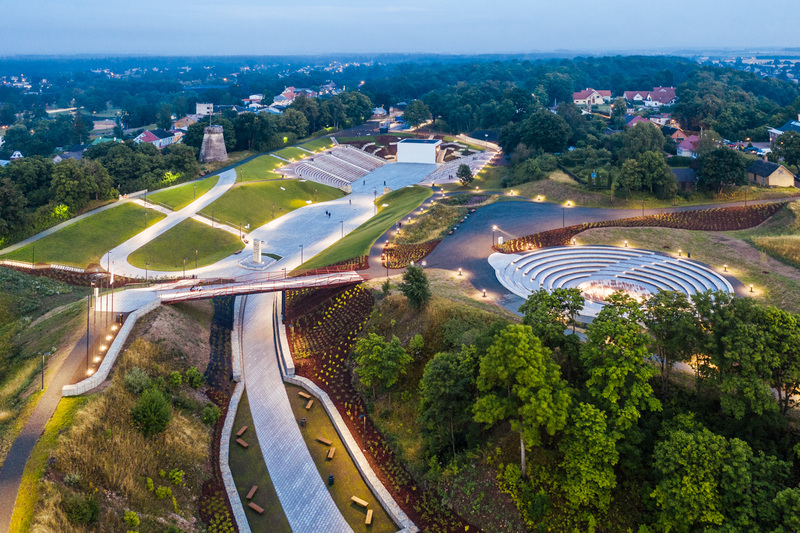 Vallimäe Open Air Centre. Photo by Kaupo Kalda
On 1st of August, there was a grand opening with the concert of Põhja Konn and the Estonian Cello Ensemble (they were the main performers) and men dancing Estonian folk dances. That last one is a reference to 2021 when 4th National Folkdance festival will be held in Rakvere, featuring only dancing men! Throughout the autumn lot of different events will take place in the Vallimäe outdoor facility.
The cost of the Vallimägi construction project is approximately 5.5 million euros, which was co-financed from the European Regional Development Fund to the amount of 2.455 million euros. The contribution of our city to the project was approximately 3 million euros.
Then there was the historical Pikk street, renovated by the Estonia 100 Architecture Programme. Please tell us more about this initiative.
The architectural program called "Good Public Space" renovated the downtowns, main squares, main streets and adjacent areas of 15 cities in honour of the 100th birthday of the Republic of Estonia.
In Rakvere, with this support, we reconstructed the historic main street of the Old Town, Pikk Street, turning it into a modern pedestrian-friendly promenade that connects the modern city center with the embankment hill of Rakvere's main attraction.
The project supported creating an active entertainment and shopping street in Rakvere, which will be attractive to both local residents and visitors to the city and will be an important driving force in revitalizing the local business landscape.
Walking along Pikk Street, you can admire the historical buildings, visit arts and crafts shops and enjoy idle moments in seasonal street cafes.
There is a lot to see among the renovated street seating options, colourful colors creating coziness and beautiful plant boxes. The light color minimalist street area serves as a frame for the historical lace building, bringing it to life and emphasizes it perfectly.
On the square at Pikk Street 22 one may have a look at one of the oldest photos of Rakvere. Use the unique opportunity to step back into the urban milieu of 150 years ago.
What else is worth seeing in Rakvere?
Rakvere is the heart of Lääne-Virumaa, with a unique environment, rapidly developing and beautiful, picturesque green areas and many parks. Travelling to Rakvere is really convenient – it takes only one hour to drive from Tallinn to Rakvere by car, 1.4 hours from Tartu and 1.5 hours from Narva.
Located close to the scenic coastal Lahemaa national park, Rakvere is the perfect holiday destination if you are looking for a pleasant city holiday. Come and discover beautiful Rakvere with your family and friends. Choose a cultural, family or spa holiday in Rakvere! Or better yet, combine all three!
Several restaurants, cafés and pubs in Rakvere offer wide variety of taste experiences. Many hotels offer comfortable accommodation for longer stays.
The interactive Estonian Police Museum offers the joy of discovery for the curious visitors of all ages. AQVA Spa is located in the centre of Rakvere and is a popular place among our visitors.
Rakvere Church of the Trinity (Pikk Street 19) is one of the oldest and most original sacral buildings of West-Viru County, having been built in the early 15th century. There are art monuments from several centuries. From the belltower, every day at noon chimes the «Kyrie» composed by Arvo Pärt.
We recommend a visit to the House Museum (Pikk Street 50), located in a typical Rakvere building from the 17th century. On the other side of the house one can get an overview of the interior of an apartment from the 1930s.
In addition to Pikk Street, there is history and culture elsewhere. Feel like a lady or gentleman of a manor, while taking a stroll in the former manor park that has been admired for centuries, and enjoy the wonderful views from the highest point of Rakvere on Vallimäe.
The symbol of Rakvere is the Tarvas sculpture, which was made by the artist Tauno Kangro for the city's 700th birthday. This huge sculpture rises on Vallimäe overlooking the town.
The sculpture is five meters high and weighs 7000 kg. It represents an auroch. Archaeological excavations have shown that these animals lived in Rakvere in ancient times.
We definitely recommend visiting the urban yellow domed central market. The city's historical marketplace got its new look in 2004.
As a reminder of their visit to Rakvere, lot of visitors love to make a selfie in the central square at the sculpture "Young Man listening to music on a bicycle", which is dedicated to Arvo Pärt, the honorary citizen of Rakvere.
What are your thoughts on TheMayor.EU portal as a unifying platform for Europe's municipalities and how can it be useful to you and your citizens?
The unifying platform is very useful – it makes it wonderful and easy to see what the other municipalities in Europe are busy doing, and to get to know our colleagues and share information about our own municipality.
To find out more about Rakvere, visit the profile of the municipality.