Marko Paliaga, Source: fotocarera.hr
Rovinj-Rovigno is a place where past, present and future intertwine in a juncture of ancient traditions and modern solutions
Interview with Marko Paliaga, Mayor of Rovinj-Rovigno in Croatia
Marko Paliaga is reaching the end of his first term as Mayor of the Municipality of Rovinj-Rovigno. After achieving a doctorate degree in marketing, he taught as an extraordinary professor at the University of Economics in Pula.
He was later appointed head of the Department of Municipal Services of the Municipality of Rovinj-Rovigno and successfully managed two municipal companies that deal with waste and wastewater.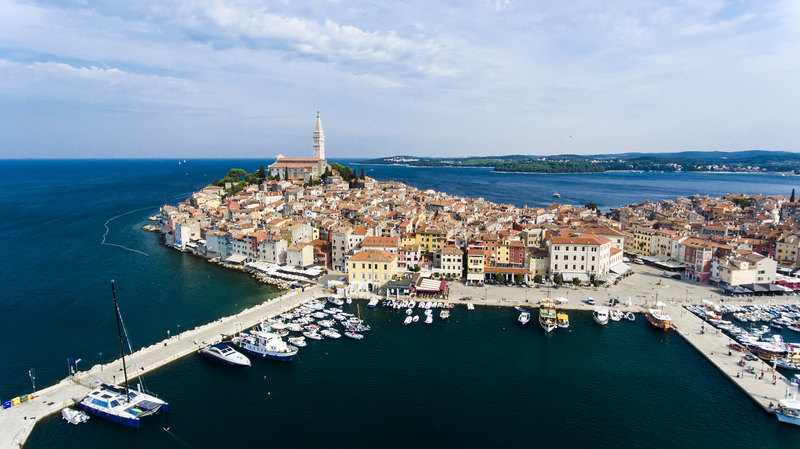 The town of Rovinj-Rovigno is officially bilingual, Italian and Croatian. Photo by fotocarera.hr
Mayor Paliaga, please describe the town of Rovinj-Rovigno in a few sentences.
The city of Rovinj-Rovigno is a charming and romantic little town. It lies on the southwest coast of the Istrian peninsula, counting approximately 14 300 inhabitants.
It was likely founded, according to researchers, between the 3rd and 5th centuries AD on an island which was later united with the mainland.
Life in our town has always been inextricably linked to the sea and to its ancient customs and traditions which can still be experienced today as they have been passed over from one generation to the other. Along with other national minorities, there is a strong presence of an autochthonous Italian population which contributes to making Rovinj-Rovigno a bilingual municipality, granting language parity between Croatian and Italian.
Its breath-taking views and incomparable beauty attract every year many tourists from all over the world, while the quality of its services makes it a safe and pleasant place to live. Today, Rovinj-Rovigno is a place where the past, the present and the future intertwine in a juncture of ancient traditions and modern solutions.
How do you preserve the rich historical, cultural and natural heritage of the town? How do you promote key values such as bilingualism and multiculturalism?
Our city has seen, over the centuries, a succession of rulers and nations which, I believe, helped shape a community open to acceptance and respect towards other cultures. Nevertheless, in doing so, it has managed to keep its identity strong.
This is why in Rovinj-Rovigno we're not keen on using the term 'tolerance', but rather 'coexistence' and 'cohabitation' when it comes to multiple cultures and nationalities.
As I already mentioned, Rovinj-Rovigno is a bilingual town and its Statute is an example of the best practices in our Region and beyond in terms of safeguarding the autochthon Italian minority, both through rights and fair representation in the municipal councils and executive bodies.
We also take great pride in our cultural, maritime, musical and linguistic heritage. The town's centuries-old fishing tradition has been preserved until today, as well as its symbol, the batana, a wooden flatboat which perfectly embodies the customs, traditions, language, habits, mentality and spiritual atmosphere of Rovinj-Rovigno and its citizens. The art of the construction of the batana as seen in our local Eco Museum is listed on UNESCO's Registry of the world's best practices for the safeguarding of intangible cultural heritage.
The highlights of our historic centre are our cobblestone narrow streets, fascinating little squares along with our iconic buildings and monuments which make the town unique. We set forth a regulation which stipulates that every new architectural element introduced is to be accurately monitored and assessed in order to preserve the appearance of the old town.
I must say, though, that despite all our major efforts to preserve our cultural and natural heritage, we lack the necessary jurisdiction which would allow us to stop attempts at devastation such as illegal housing and construction. This has become a growing problem in our community, favoured by the government's amnesty on unregistered construction work which in most cases ended up being abused. That is why I feel strongly about the need to grant greater autonomy to local governments so we could take action to manage and stop these and other similar cases.
As a famous resort, Rovinj-Rovigno attracts numerous tourists every year. How has the coronavirus pandemic affected the influx of visitors?
The coronavirus pandemic is an unprecedented situation which unfortunately had its repercussions also on the economy and, as you very well mentioned, on the influx of visitors. Before this crisis hit us Rovinj-Rovigno was the pearl of Croatian tourism and its most successful destination. However, I am happy to state that the achieved numbers and results were better than expected.
I believe we owe that to the fact that all this time we managed, as a community, to keep Rovinj-Rovigno a safe and corona-free destination, thanks to both our citizens and local businesses which respected all the measures necessary to contain the spread of the infection. In this, we stood united in a common effort to maintain the health of our guests as well as that of our people.
We believe we could have achieved even better results had it not been for other parts and regions of our country which failed to maintain this kind of discipline, thus worsening the epidemiological situation in the rest of Croatia. This led to other countries marking us as a red zone despite several attempts undertaken on our part to convince the Governments of those states to exclude our region from these restrictions. Their imposition resulted in a mass return of tourists to their home countries right at the peak of our tourist season.
Croatia has been a member of the EU for only a few years, but your municipality has already managed to implement very successful EU funded projects. How have they improved the quality of life in Rovinj-Rovigno?
I must say they have had a significant impact on our quality of life, especially in fields such as environmental quality and in supporting our institutional efforts to provide the city with innovative solutions and contemporary infrastructure. It helped us establish precious cooperation with other municipalities, which proved to be beneficial in accomplishing common goals and exchanging experiences.
In 2018 we obtained a total amount of 15 million kunas through EU funds in order to carry out five projects which allowed us to purchase containers for separate waste collection, inform the public about the importance of recycling, revive one of our most visited beaches, and start working on developing a geological park in the cave of Monfiorenzo - a unique showcase of limestone sedimentology.
Thanks to the project of collection and treatment of wastewater we were able to provide the whole town with a sewerage system, and are currently building the first water recycling system which will make Rovinj-Rovigno among the first municipalities in Croatia to water its green surfaces using recycled water. This is yet another step we undertook towards building a more sustainable and qualitative environment.
Thanks to almost 8 million kunas provided by the EU we are currently also bringing toward its end a project of waste landfill remediation.
Finally, through the EU's structural funds the Croatian telecom will install fibre optic infrastructure that will provide our citizens, as well as local businesses, with high-speed internet.
What happened with the social initiatives of the municipality during the COVID-19 situation?
We value and support, both socially and financially all associations, initiatives and activities undertaken by our citizens. Unfortunately, this year, due to the epidemic restrictions most of the activities have been suspended in order to prevent the spread of the epidemic, so we hope they will be resumed as soon as possible.
We also support different initiatives that promote sports, recreation and a healthy lifestyle starting from a young age and we are assuring the highest educational standards for children in our schools and kindergartens. The same has been provided for our elderly citizens, whom we greatly care about. Our most recent investment was the enlargement of our nursing home with a new building and additional care services.
Our community is known, amongst other things, for its strong sense of solidarity. Therefore, even though our city budget suffered great losses during this pandemic, we raised the amounts intended for the financial support of those in need.
We then helped in providing medical and protective equipment for hospitals, schools and other institutions, while also establishing specific measures and a fund meant to support businesses in keeping their employees. This way we wanted to help people maintain their jobs during what was an already very difficult period.
Did this slow down the achievement of the goals of making Rovinj-Rovigno an even better town to live in?
We believe Rovinj-Rovigno is already a town well-suited to live in. This comes as a result of important projects we have managed to carry out successfully over the years, along with a clever strategy, a clear vision and specific guidelines which served as a framework for building a more sustainable environment. This approach was focused on several main priorities that have so far given important and visible results, providing the city with modern infrastructure and high-quality content while preserving our most valuable resources.
I believe that our secret lies into the fact that whenever we envision a certain project, we take into account how it is going to serve its purpose in the long run. When designing new areas, we do it carefully, so that new content can be added and integrated later on in case there is a need for it, without disrupting what has already been built.
I realize and am well aware that in this first term of my administration I have promised a lot, but I have also delivered a lot. Many projects are now finished, while others are currently under construction. We are building a new port and a new pool complex, financing the renewal of our local orthopaedic and rehabilitation hospital, reconstructing the paved surroundings of our main church while studying and analyzing the precious archaeological findings that were discovered underneath it.
As I already mentioned, we are looking to create new job opportunities outside the field of tourism. With this intention, we opened a Business incubator, a Coworking space as well as a business area for new companies and investors. So far there are twelve companies that are settling there, but we hope to attract more investors, also through the incentives we introduced for both new and established businesses. Even though employment has never been an issue in our town, we want to create new opportunities and perspectives for future generations, further increasing the potential of our municipality.
What are your thoughts on TheMayor.EU portal as a unifying platform for European municipalities and how can it be useful to you and your citizens?
I think this portal can be a useful platform to get to know other municipalities and the best practices they implement. It can also be a great tool for building a network that could help to initiate new partnerships or common projects.
I believe that having the opportunity to learn from other experiences while seeing different perspectives and new solutions can play a crucial role in becoming more effective and efficient when it comes to facing everyday challenges.
To find out more about Rovinj-Rovigno, visit the profile of the town.