The new expansion should be ready in the first half of 2025, Source: City of Sofia
Sofia starts construction of contentious metro expansion
The project is financed from the national budget together with a large municipal loan
On Monday, local authorities in Sofia announced that works on the expansion of the third metro line in the city had begun. This section of the metro will stretch for 3 kilometres, reaching into the previously neglected north and north-eastern parts of the city.
The expansion should, however, have a significant impact on city life, as the new line would be able to service up to 90,000 inhabitants in that part of Sofia. With it, city officials estimate that the metro will be able to move 400,000 people daily and up to 150 million annually.
Furthermore, they also put carbon emissions savings at 85 thousand tons and they also expect a drop in car numbers in the corresponding districts. Partially, this would be caused by a buffer car-park that will be constructed on the terminus station, allowing people who visit the city by car to leave it far away from the congested streets in the centre.
A long and hard-fought road
The project for the third metro line cost just under 400 million euros and originally the lion's share was supposed to be covered by the EU's post-Covid recovery fund. However, last year was quite bumpy for the Bulgarian executive branch as the country went through 3 successive elections after national representatives were unable to form a government between March and December.
Thus, the draft proposal for the recovery fund was delayed, as successive interim governments amended the document until it was finally rejected by the EU. Now, as Bulgaria's new government has been in office since December, authorities believe that a new draft of the recovery plan is set to reach the EU in the near future.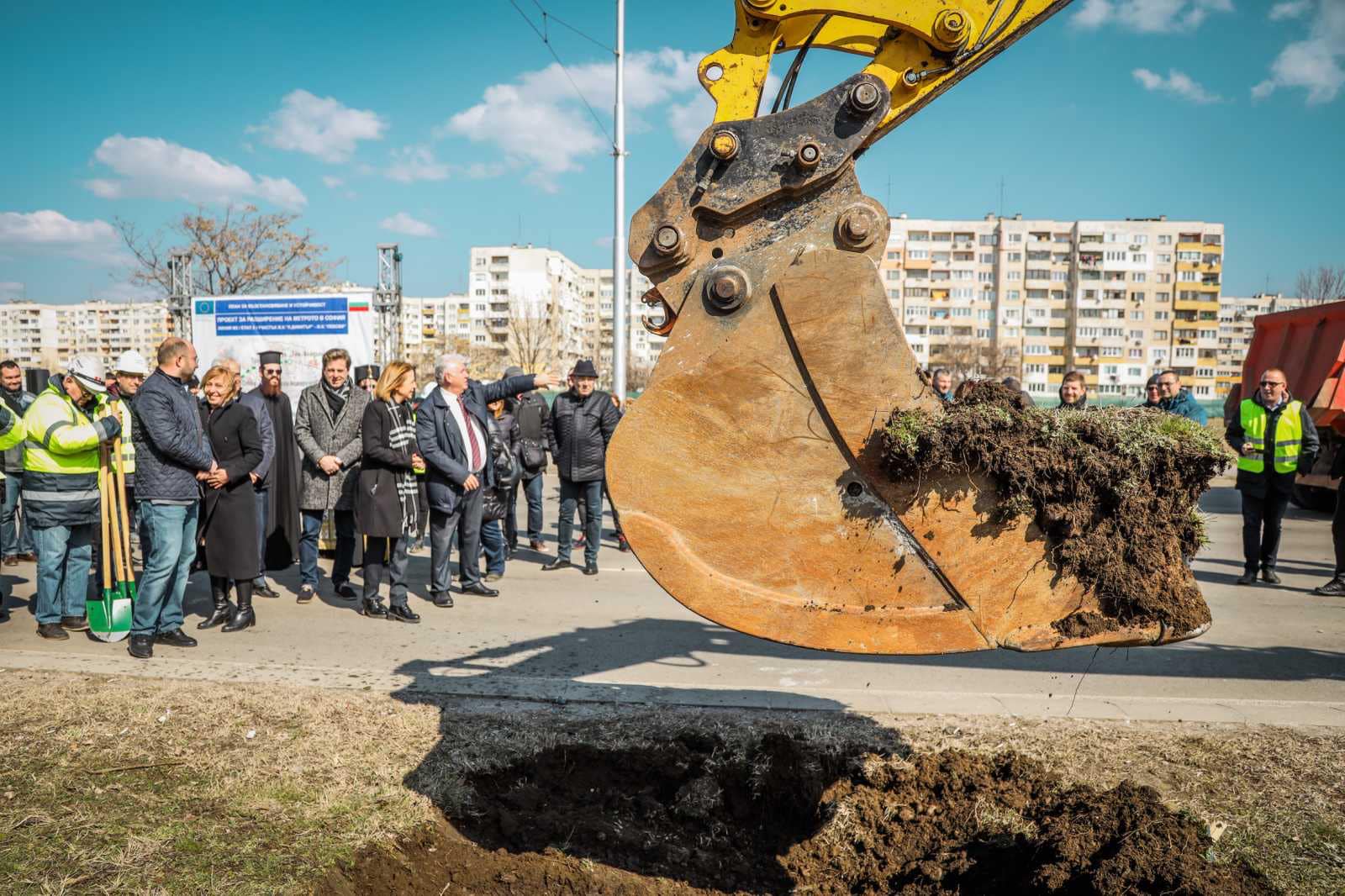 Mayor Yordanka Fadakova at the project's groundbreaking ceremony,
Source: City of Sofia
Crucially, though, after months of debates between local authorities in Sofia and the MPs in parliament, funding for the metro was cut. After Mayor Yordanka Fandakova repeatedly petitioned the government to restore it, Prime Minister Kiril Petkov vowed to cover the difference from the national budget.
As that funding was slow to come through, local authorities were forced to take out a loan to the tune of 195 million euros to kick-start the first leg of development. When the national government finally pushed the budget through, their contribution amounted to just 20 million euros. This, however, can only cover expenses for this year, while the whole project is set to last two more.
Mayor Fandakova was quoted in a press release, saying: "My responsibility to the people of Sofia is to not stop the construction of the metro. We cannot afford to start construction on this project and never finish it. Thus, we have an obligation to work with a 200% guarantee for quality in mind."
Belgium / Development
And it will also advise you on the right way to do this
Ireland / Growing City
Despite the good news, preliminary data from the national census reveals a dire shortage in the housing market that will not go away anytime soon
France / Development / Public Spaces
The innovative project received funding from the participatory budget in Lille, France
Croatia / Digital transformation
The town of Makarska has recently launched a new mobile service, aiming to cut down on paper use and stimulate citizens to go contactless
Finland / Vantaa / Green City / Innovation and Research
The invention promises to be revolutionary as it can decouple food production from agriculture and its environmental impacts
Spain / Innovation and Research / Mobility
Commercial unmanned aerial vehicles will far outnumber their crewed counterparts by the end of the decade and solutions are urgently needed
Italy / Culture and Tourism / Mobility
Trenitalia has announced that it wants to reduce the phenomenon of domestic animals being left behind alone while their owners go on holidays
Italy / Turin / Public Spaces / Social City
The property, together with others that have been confiscated, will be converted for social welfare uses
Portugal / Braga / Education and Sport / Green City
The city also led awareness-raising actions to show the impressionable youths how circularity is created first-hand
Italy / Culture and Tourism / Mobility
Trenitalia has announced that it wants to reduce the phenomenon of domestic animals being left behind alone while their owners go on holidays
Italy / Turin / Public Spaces / Social City
The property, together with others that have been confiscated, will be converted for social welfare uses
Portugal / Braga / Education and Sport / Green City
The city also led awareness-raising actions to show the impressionable youths how circularity is created first-hand
New European Bauhaus
These will be spread across 11 EU countries and will serve to support the EU Missions
New European Bauhaus
The European Commission has accepted to develop the idea
Portugal / Matosinhos / Interviews / New European Bauhaus
An interview about AYR, one of the 2021 New European Bauhaus Prize winners

Portugal / Matosinhos / Interviews
A conversation with the Mayor of Matosinhos, Portugal's first UN Resilience Hub

Interviews
An interview with Nigel Jollands and Sue Goeransson from the European Bank for Reconstruction and Development

Greece / Athens / Interviews / Welfare and Health
An interview with the President of the City of Athens Reception & Solidarity Centre