The Monument of the Soviet Army in Sofia painted in the colours of Ukrainian flag, in act of protest, 24 February, 2014, Source: Vassia Atanassova - Spiritia on Wikipedia, CC BY-SA 3.0
Sofia to dismantle contentious Soviet-era monument
The monument has been the site of many anti-Russian activist campaigns over the years
Yesterday evening, Traicho Traikov, mayor of the Sredets district in Sofia, announced that the municipality will dismantle the contentious Monument of the Soviet Army. The monument, located in the heart of the Bulgarian capital, was built in 1954 to commemorate the Soviet victory against Nazi Germany in World War II, as well as the successful Communist coup in the country in 1944.
It has also been the subject of many debates over the years, as Bulgaria has sought to remove many communist-era symbols from cities since the fall of the Iron Curtain. The Monument of the Soviet Army in Sofia has since become a gathering place for many left-wing and pro-Russian organisations, especially on days of commemoration like 9 May, also known as Victory Day.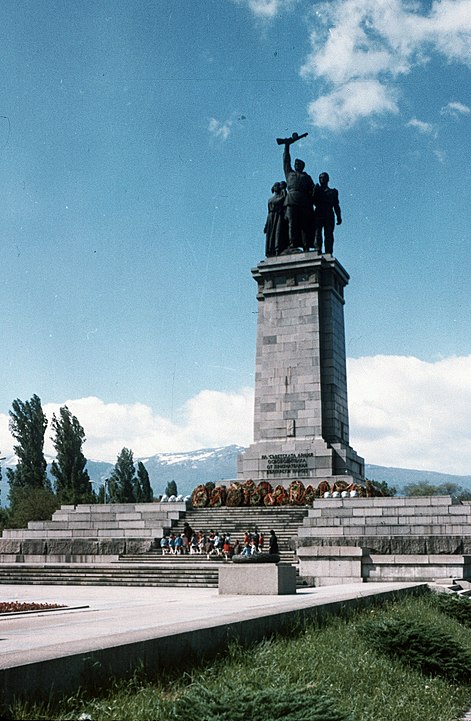 The Monument of the Soviet Army in Sofia in the 1970s,
Source: Bin im Garten on Wikipedia, CC BY-SA 3.0
According to Traicho Traikov, despite a municipal council decision to remove the monument dating from 1993, there has not been a district mayor in Sredets ready to implement it. As the crisis in Ukraine ramps up, he explained on social media, the time has come.
Furthermore, representatives in Sofia City Council support the move, with the notable exception of the Bulgarian Socialist Party. Traicho Traikov ended his statement with a message of peace: "Good night to all the people with broken hearts and tears in their eyes in Ukraine and may God help all people."
An outlet for activism
The 45-metre-tall monument has been a contentious landmark in the capital for many years. Despite pro-Russian organisations using it as a space for commemoration, various activist groups have also used the monument as an outlet for activism.
In 2011, a bronze relief on the side of the monument was painted so that the figures resemble pop-culture heroes like Captain America, the Joker and Ronald McDonald.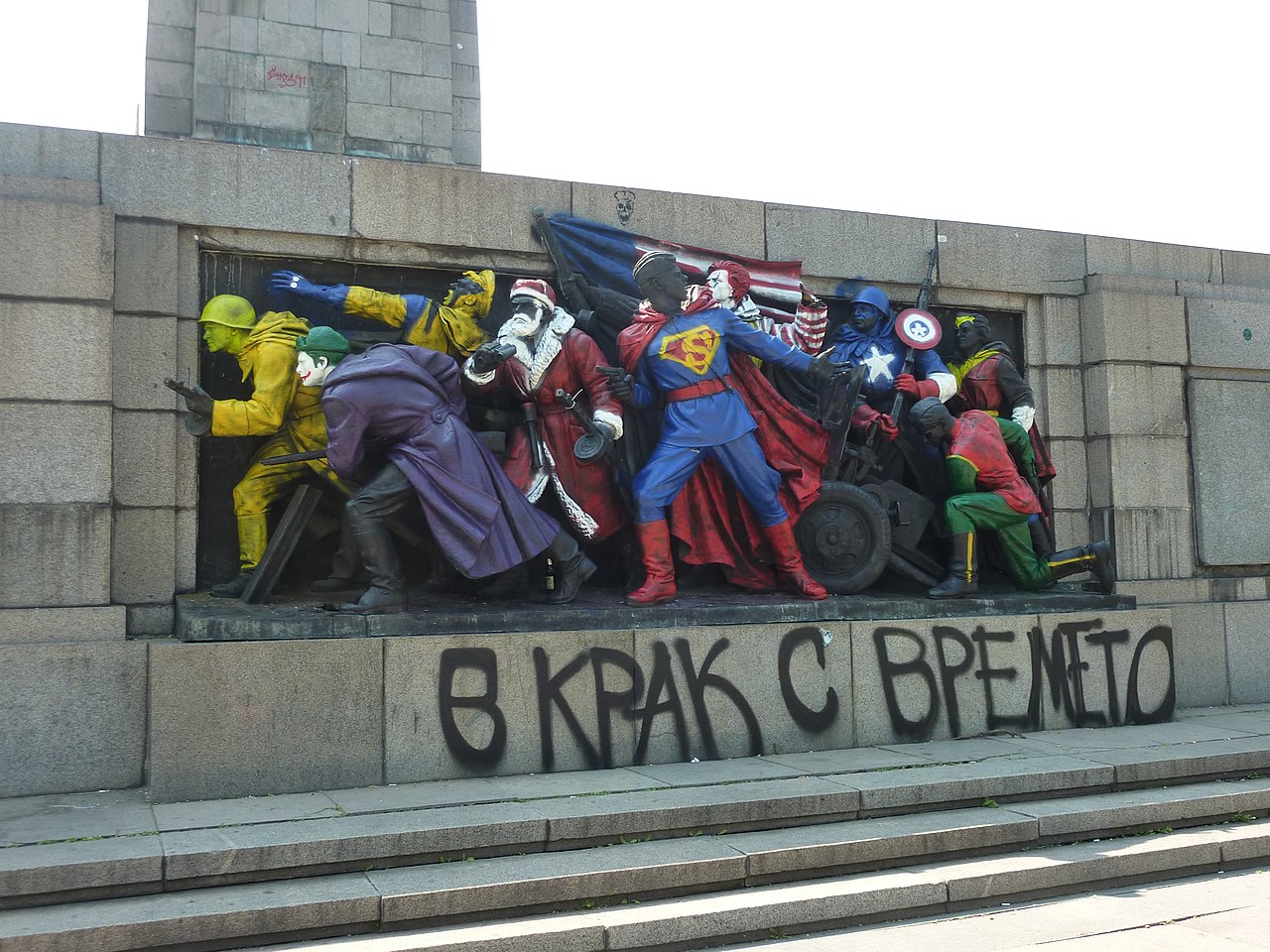 The message reads: "In line with the times"
Source: Ignat Ignev on Wikipedia, CC BY 3.0
In 2013, parts of the monument were painted in pink, as an apology for the occupation of Prague in 1968. The Bulgarian army was one of the first to enter Czechoslovakia during a Soviet punitive action against Alexander Dubček's attempt to liberalise the country's totalitarian regime.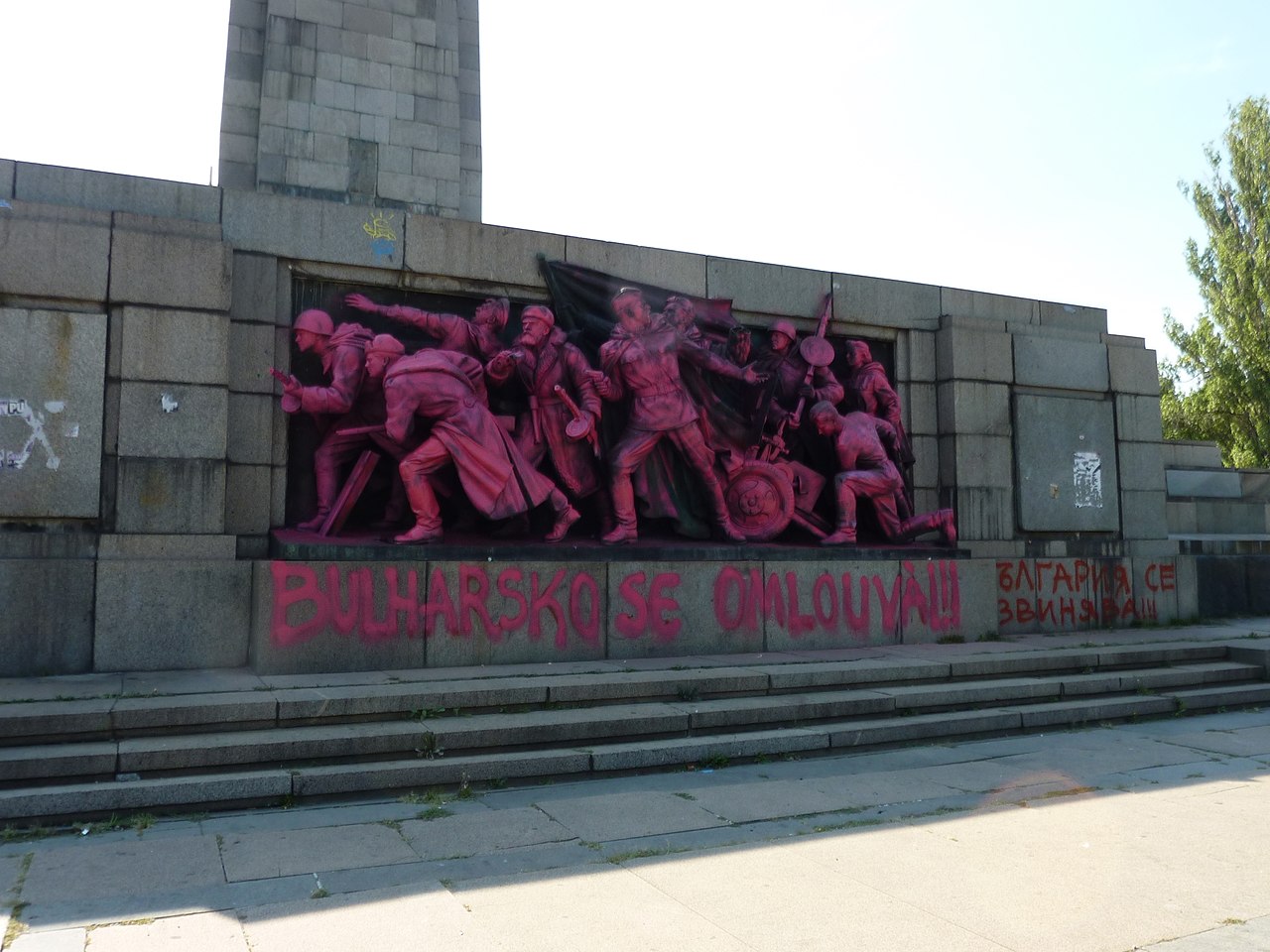 The message reads: "Bulgaria is apologising" in Czech and Bulgarian
Source: Ignat Ignev on Wikipedia, CC BY 3.0
In 2014, when the Ukrainian crisis first broke out and Russian forces occupied the Crimean Peninsula, the monument received yet another makeover.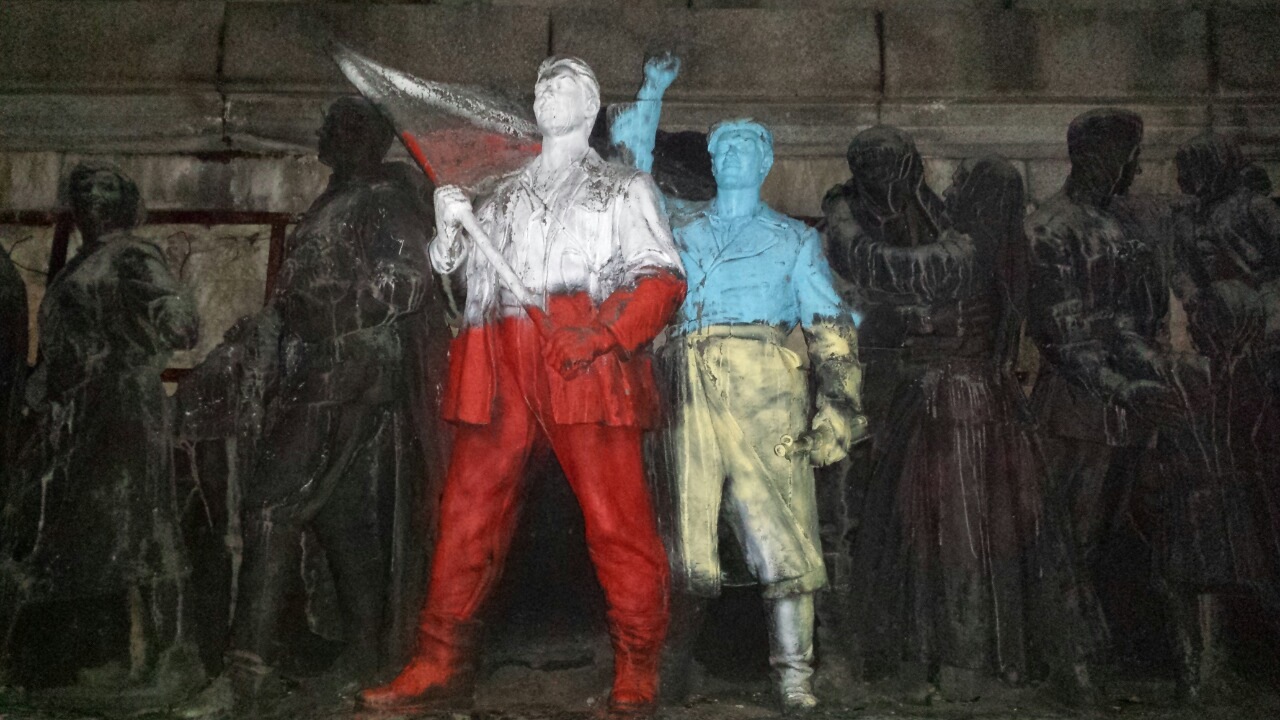 Ukrainian soldier, next to a polish soldier holding the Bulgarian flag
Source: George Valkov on Wikipedia, CC BY-SA 3.0
Belgium / Development
And it will also advise you on the right way to do this
Ireland / Growing City
Despite the good news, preliminary data from the national census reveals a dire shortage in the housing market that will not go away anytime soon
France / Development / Public Spaces
The innovative project received funding from the participatory budget in Lille, France
Malta / Green City / Innovation and Research
Abandoned fishing gear is one of the most dangerous threats to the marine environment, but also to divers and underwater heritage
Croatia / Digital transformation
The town of Makarska has recently launched a new mobile service, aiming to cut down on paper use and stimulate citizens to go contactless
Finland / Vantaa / Green City / Innovation and Research
The invention promises to be revolutionary as it can decouple food production from agriculture and its environmental impacts
Malta / Green City / Innovation and Research
Abandoned fishing gear is one of the most dangerous threats to the marine environment, but also to divers and underwater heritage
Italy / Culture and Tourism / Mobility
Trenitalia has announced that it wants to reduce the phenomenon of domestic animals being left behind alone while their owners go on holidays
Italy / Turin / Public Spaces / Social City
The property, together with others that have been confiscated, will be converted for social welfare uses
Italy / Culture and Tourism / Mobility
Trenitalia has announced that it wants to reduce the phenomenon of domestic animals being left behind alone while their owners go on holidays
Italy / Turin / Public Spaces / Social City
The property, together with others that have been confiscated, will be converted for social welfare uses
Portugal / Braga / Education and Sport / Green City
The city also led awareness-raising actions to show the impressionable youths how circularity is created first-hand
New European Bauhaus
These will be spread across 11 EU countries and will serve to support the EU Missions
New European Bauhaus
The European Commission has accepted to develop the idea
Portugal / Matosinhos / Interviews / New European Bauhaus
An interview about AYR, one of the 2021 New European Bauhaus Prize winners

Portugal / Matosinhos / Interviews
A conversation with the Mayor of Matosinhos, Portugal's first UN Resilience Hub

Interviews
An interview with Nigel Jollands and Sue Goeransson from the European Bank for Reconstruction and Development

Greece / Athens / Interviews / Welfare and Health
An interview with the President of the City of Athens Reception & Solidarity Centre