Swiss Drone Show AG was established in 2019 and they have been doing shows in Germany and Switzerland , Source: Swiss Drone Show AG on Facebook
Swiss Drone perform the first drone-formation light show in Luxembourg
The Grand Duchy has a ban on drone flights over citizens' homes so organisers of the event had to get clearance with the air force
Today, the Christmas market in Differdange, Luxembourg, will get a very unique light show right before the start of the Christmas holidays. The Swiss company Swiss Drone Show AG will perform the first drone-formation light show in the Grand Duchy. The flying devices will light up with LED lights and form Christmas-themed shapes over the market.
One of the biggest obstacles city authorities and the company had to overcome was the Luxembourgish ban on drone flights over citizens' homes. They have been trying to get the go-ahead from the air force for five months now and the show is finally set for this Friday.
50 drones will take off from the park near Château de Differdange and fly at an altitude of 150 metres, while the public is gathered at the Christmas market. The show will start at 7:30 and will last around ten minutes. The only thing that can ruin the show now is unfavourable weather conditions, as rain, snow or strong gusts of wind can ground the drones.
The oldest Christmas market in Luxembourg
The Differdange Christmas Market is the oldest in Luxembourg, with its first edition being dating back to 1977. This year, the market opened on 3 December and it will last until the 21 December. Although many Christmas markets across Europe were closed due to the ongoing coronavirus pandemic, Luxembourg has managed to avoid a spike in cases until recently.
This meant that Christmas markets stayed open, although unvaccinated people could not attend.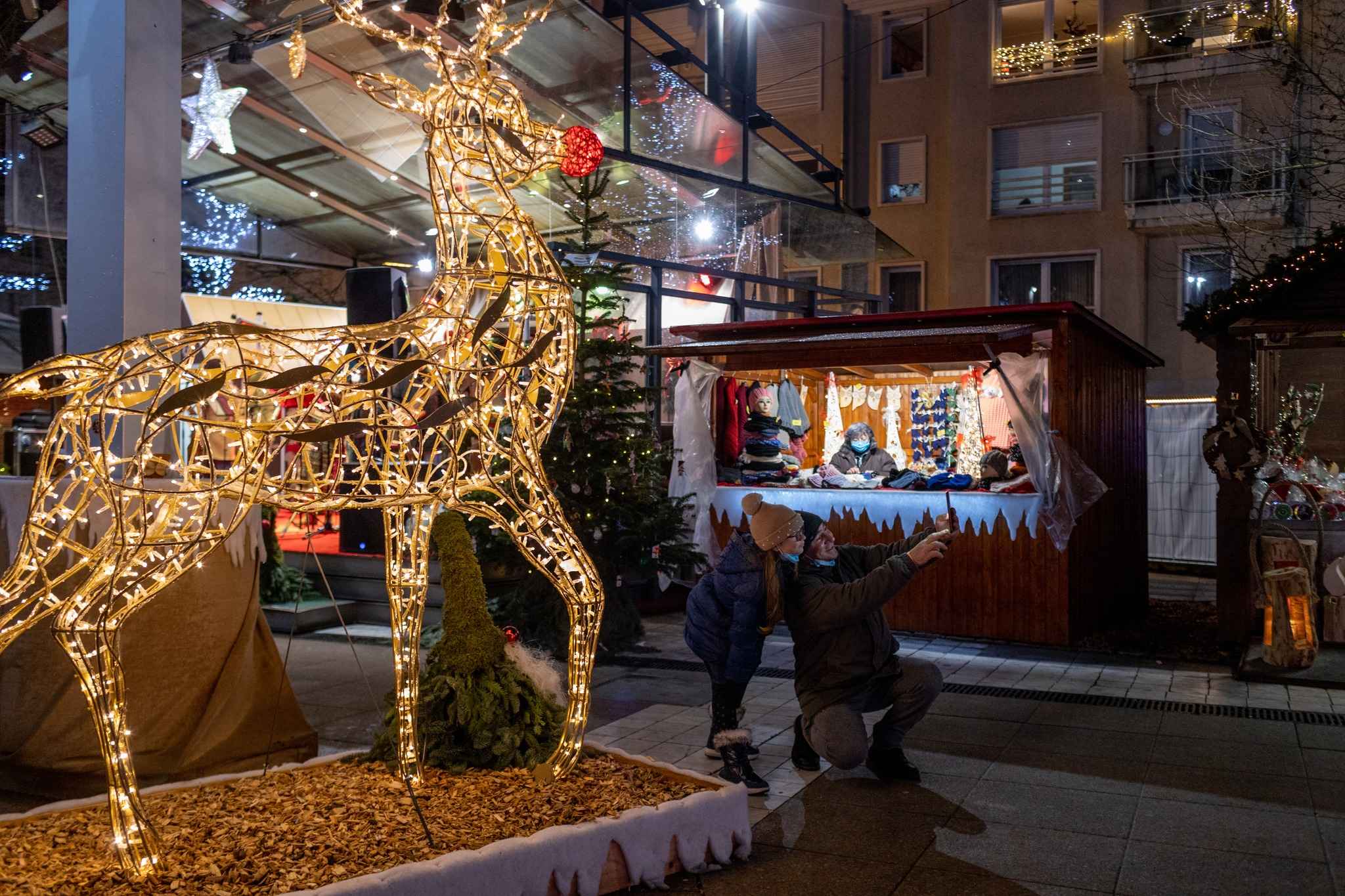 The Christmas market in Differdange, Source: City of Differdange on Facebook
The Christmas market in Differdange had several unique features this year, like a free merry go round for children, an ice rink and an exhibition of photographs titled 'Back to Normal'. Visitors had the chance to vote for the photograph that spoke the most to them on what 'normal' actually means.
Belgium / Development
And it will also advise you on the right way to do this
Ireland / Growing City
Despite the good news, preliminary data from the national census reveals a dire shortage in the housing market that will not go away anytime soon
France / Development / Public Spaces
The innovative project received funding from the participatory budget in Lille, France
Croatia / Digital transformation
The town of Makarska has recently launched a new mobile service, aiming to cut down on paper use and stimulate citizens to go contactless
Finland / Vantaa / Green City / Innovation and Research
The invention promises to be revolutionary as it can decouple food production from agriculture and its environmental impacts
Spain / Innovation and Research / Mobility
Commercial unmanned aerial vehicles will far outnumber their crewed counterparts by the end of the decade and solutions are urgently needed
Italy / Turin / Public Spaces / Social City
The property, together with others that have been confiscated, will be converted for social welfare uses
Portugal / Braga / Education and Sport / Green City
The city also led awareness-raising actions to show the impressionable youths how circularity is created first-hand
Finland / Vantaa / Green City / Innovation and Research
The invention promises to be revolutionary as it can decouple food production from agriculture and its environmental impacts
Italy / Turin / Public Spaces / Social City
The property, together with others that have been confiscated, will be converted for social welfare uses
Portugal / Braga / Education and Sport / Green City
The city also led awareness-raising actions to show the impressionable youths how circularity is created first-hand
Spain / Barcelona / Social City
This is just one of many measures that the municipal authorities have taken to tackle this social ailment
New European Bauhaus
These will be spread across 11 EU countries and will serve to support the EU Missions
New European Bauhaus
The European Commission has accepted to develop the idea
Portugal / Matosinhos / Interviews / New European Bauhaus
An interview about AYR, one of the 2021 New European Bauhaus Prize winners

Portugal / Matosinhos / Interviews
A conversation with the Mayor of Matosinhos, Portugal's first UN Resilience Hub

Interviews
An interview with Nigel Jollands and Sue Goeransson from the European Bank for Reconstruction and Development

Greece / Athens / Interviews / Welfare and Health
An interview with the President of the City of Athens Reception & Solidarity Centre