Trinity College, Dublin, Source: themayor.eu
Trinity College delivers lectures online to contain coronavirus spread
Dublin City University has cancelled spring graduation ceremonies
Trinity College Dublin, whose list of celebrated alumni since its establishment in 1592 has included philosopher George Berkeley, writers Jonathan Swift, Oscar Wilde and Samuel Beckett and, more recently, singer-songwriter Chris deBurgh, has found an innovative way to stop the coronavirus advance without closing doors.
Starting today, it will stage lectures online for the remainder of the semester rather than physically in lecture halls. A statement released by Trinity informs that all tutorials, seminars and laboratory practicals will go ahead as usual, but social distancing protocols will be put in place.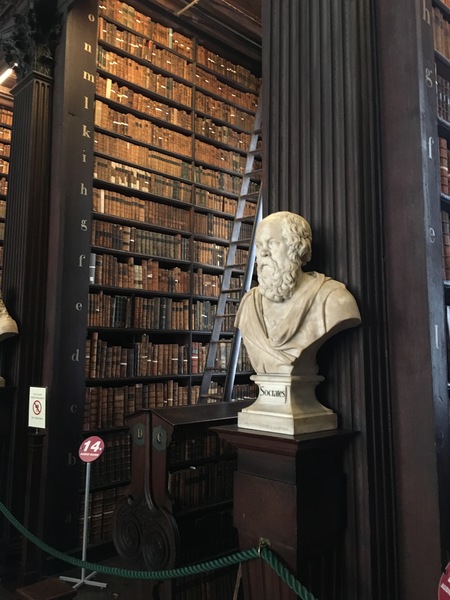 The Old Library. Photo themayor.eu
Trinity College has also announced that the Book of Kells exhibition, Old Library, Science Gallery and Douglas Hyde Gallery will be closed to visitors. The precautionary measures have been implemented with the aim of slowing the spread of COVID-19.
DCU calls off spring graduation ceremonies
Coronovirus-related concerns also compelled Dublin City University (DCU) to cancel its spring graduation ceremonies scheduled for 21 March. According to a statement posted on the DCU website, "an alternative date for the ceremonies will be considered and communicated over the coming months. The university regrets any inconvenience caused to graduates, their families and guests."
The move comes in response to growing apprehension over the spread of coronavirus in Ireland. A host of major crowd-pleasing events have been cancelled across the country, including St Patrick's Day Parades in Dublin and elsewhere.
This Wednesday saw the biggest daily jump in the number of cases, with 10 new diagnoses confirmed, which brings the total in the Republic of Ireland to 34. However, Chief Medical Officer Dr Tony Holohan, quoted by RTE, reassured the public that 98% of people tested have been found to be negative.