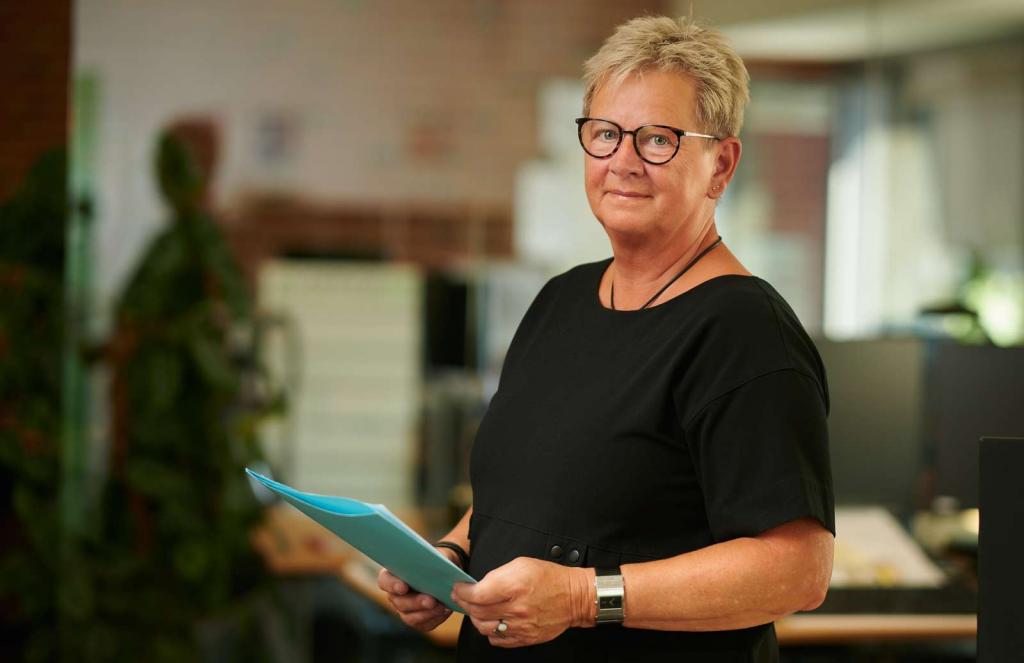 Mayor of Thisted Ulla Vestergaard , Source: Thisted Municipality
Ulla Vestergaard: Thisted has one of the largest shares of renewable energy production in Denmark
An interview with the Mayor of Thisted, Denmark
Ulla Vestergaard was born on 21 October 1958. She was elected to the municipal council in 2010 and is a member of the Social Democratic Party. Prior to pursuing a career in politics, Vestergaard was a teaching consultant. Now, she has been the Mayor of Thisted since 2018.
Mayor Ulla Vestergaard, could you please briefly describe the city of Thisted?
Thisted Municipality is located on the north-western corner of Jutland. It is a municipality with a lot of wild nature, and it is surrounded by the North Sea on the one side and the Limfjord on the other. The town of Thisted is an old market town with many companies, shops, and numerous opportunities for cultural and leisure activities.
Thisted has made several accomplishments in terms of green energy and sustainability. Can you elaborate on some of these achievements?
Thisted is the windiest place in Denmark. Consequently, over many years we have had a lot of windmills and now a large center for testing offshore windmills is also situated in the municipality. Hence, Thisted Municipality has one of the largest shares of renewable energy production in Denmark.
Thisted has just initiated an ambitious collaboration together with energy companies, public works, agriculture and the commercial port called the "Climate Alliance", where the municipality will initiate investments to ensure a 70 % reduction of CO2 by 2030.
Nature must carry tremendous importance in your city. What projects have been taken to ensure the protection of the environment?
We have Denmark's first National Park, National Park Thy, which all together, covers a third of the municipality's area. The wild nature is an important part of Thisted's identity, which is greatly appreciated by the local inhabitants and visitors alike. Although much of the nature is protected, there are many opportunities to use the environment and at the same time protect it, via signed trails and shelters etc.
How has Thisted changed over the past few years since you assumed office in 2018?
Many initiatives have been launched to improve everyday life in Thy. In recent years, we have amongst other things, had a strategic prioritization of the interaction between nature and its users. Including a large project - "Cold Hawaii Inland" – which will reinforce leisure activities in the nature environment.
Can you comment on the impact of the pandemic and how it has affected your city?
As in so many other parts of the world, we have been affected by the fact that service industries, culture and leisure have been on stand-by, which has been tough for many. On the other hand, we have been fortunate that many Danes have had the pleasure of visiting us during their holidays.
Expanding on the previous question, what measures have been taken to support local businesses and communities?
In collaboration with other businesses and a little financial support from Thisted Municipality, our local trade association has made many initiatives to boost sales. And as a municipality, we have intensified our construction and building program to support local businesses.
As the Mayor of Thisted, what projects or ideas would you like to share with other leaders on our platform?
Climate Alliance Thy KAT Cold Hawaii
Cold Hawaii Inland Thy
Hallen – Sports Center and Health Center
Cooperation with local areas/local committees, including financially supporting their preliminary projects.