Maria Sorvisto, Source: Nina Savolainen
Ylivieska is growing and developing so fast
An interview with Maria Sorvisto, Mayor of Ylivieska in Finland
Mayor of Ylivieska is Maria Sorvisto. She was born in 1983 in Sievi, northern Finland. She holds a Master's in Law Education from the University of Lapland. She is married and has two children. In her early years Sorvisto worked as an export and sales assistant for the Finnish company called Lappset Group, which produces playground equipment and exports them from Rovaniemi to the whole world. She also has experience on educational duties. During the past ten years Sorvisto has been working in the public sector. Sorvisto is mayor of Ylivieska since August 2018.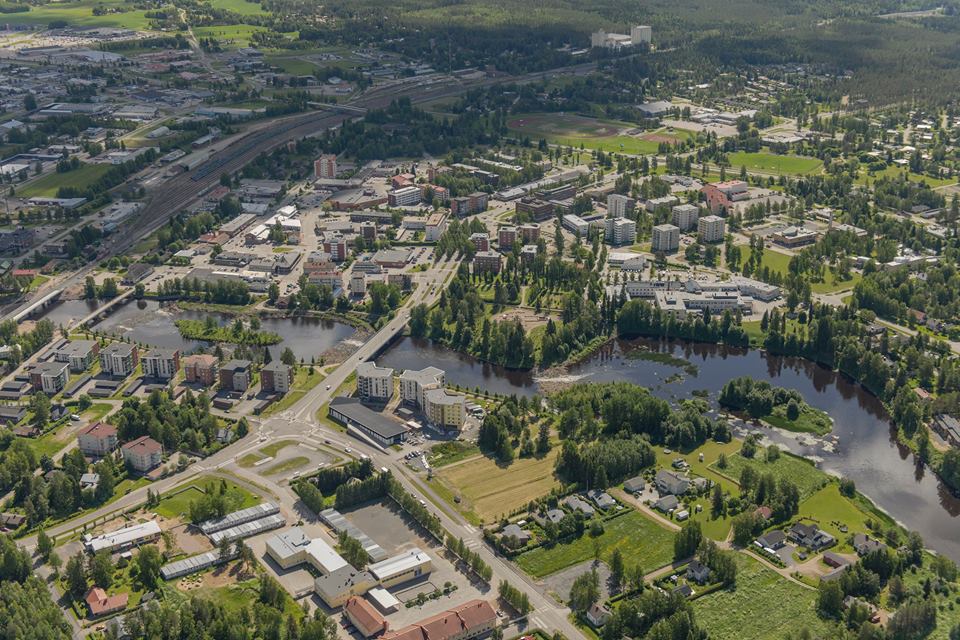 Mayor Sorvisto, please describe the growing town of Ylivieska in a few sentences.
The population of Ylivieska has increased about 2000 inhabitants during this century. It is quite remarkable if you compare it to the other similar towns in Northern Finland. Also, the number of employees in the companies in Ylivieska has been growing.
Ylivieska is a small town (about 15 200 inhabitants) in Northern Finland. The location, by the main railroad from Helsinki to Oulu and the crossroads of the highways, makes it easy to arrive in Ylivieska. Ylivieska is well known for its shopping opportunities - 30 years ago it was called "car valley".
Tell us more about the excellent active free time opportunities offered by the municipality.
Beyond shopping there are many other free time activities in Ylivieska. You can enjoy concerts (pop, rock and classical music) and other cultural activities in the concert hall Akustiikka all year round. There are also many opportunities to exercise outdoors and indoors, for example ice hockey, swimming, skiing, tennis and bowling. We have had a library in Ylivieska for 150 years, can you imagine!
You are mayor of Ylivieska since 2018. What are the biggest challenges in your everyday work?
I guess the biggest challenge of all is that there is so much to do. It's also fantastic and motivating. Ylivieska is growing and developing so fast. We build new schools, kindergartens and new roads. The parish of Ylivieska is also going to build a new church to replace the old burnt one. Ylivieska will look very different in a few years.
To make the town a better place to live you must respond to the growing population and its growing need for kindergartens and schools. How do you plan to achieve this goal?
We are going to build two new schools, the constructions start in August 2019 and the schools will be finished by August 2021. The other school is replacing the old high school, but the other is totally new. The pupils study in the barracks at the moment. There is also one kindergarten under construction right now. Ylivieska is investing 60 million euros during the years 2018-2021.
Naturally we have economic challenges due to the investments, but we have decided to manage them together.
Recently Ylivieska has been named one of the newest main market areas in Finlad. What do you do to attract more investors and strategic projects?
We have free properties and sites suitable for different kind of industries or trading business. Over 5 000 vehicles pass through Ylivieska every day, which provides many possibilities. Our main goal is to strengthen the educational opportunities in Ylivieska in the future, it is very important that the companies have enough educated labour force.
What are the main goals you are planning to develop in the near future?
We have a couple of city plans in the process right now concerning the development in the town center. I hope the implementation will start next year. Our own project group will focus on the development of the railway station region.
Finally, how would you evaluate the necessity of a portal that brings together the best practices of European municipalities and aims to keep the citizens informed about the latest developments in local policies, such as TheMayor.eu? How can our platform be useful to your administration?
It is useful to know the best practices and how to do things. You never know when you'll find some useful information or new ideas. All the municipalities take care of similar services, but every municipality is special though.
Find out more about Ylivieska here
Germany / Development
The minuscule test properties are meant to inaugurate an era of affordability
France / Politics and Reforms
He stated this during a visit to the island's capital Ajaccio
Italy / Milan / Development / Public Spaces
It's one of the several iconic arcade shopping centres of the Italian city
Lithuania / Vilnius / Culture and Tourism / Innovation and Research
Bringing lost music back from the oblivion of the past
Denmark / Aalborg / Energy efficiency / Innovation and Research
The authorities wanted to provide clean energy to cultural events and festivals
Bulgaria / Gabrovo / Kardjali / Kozloduy / Sofia / Stara Zagora / Troyan / Development / Green City / Smart City / Social City
Almost 140 000 people have cast their vote in the national contest for Mayor of the Year
Austria / Culture and Tourism / Public Spaces
The renovation process in the Austrian town of Braunau am Inn has begun today
Italy / Spain / Alicante / Rome / Mobility / Social City
They will affect ground and air transport, so it's better to be prepared in advance
Netherlands / Amsterdam / Mobility / Welfare and Health
The official date of implementation is 8 December, but the authorities are already setting up the change with targeted road signs
Austria / Culture and Tourism / Public Spaces
The renovation process in the Austrian town of Braunau am Inn has begun today
Italy / Spain / Alicante / Rome / Mobility / Social City
They will affect ground and air transport, so it's better to be prepared in advance
Netherlands / Amsterdam / Mobility / Welfare and Health
The official date of implementation is 8 December, but the authorities are already setting up the change with targeted road signs
New European Bauhaus
This one could be a real game-changer for our built environments and the way they look
Estonia / Tallinn / Green City / New European Bauhaus
The practical art objects are competing for one of the 2023 New European Bauhaus Prizes
New European Bauhaus
Cast your vote before 24 May and do your part in promoting the NEB values

Interviews / Read Twice
An interview with a member of the No Hate Speech Network team

Interviews
A talk with the first man to circumnavigate the globe with a solar plane, on whether sustainability can also be profitable

Interviews / Read Twice
An interview with the president of the European Federation of Journalists