Goodbye, Plovdiv and Matera, welcome to Galway and Rijeka!
The new European capitals of culture 2020 gear up for a year jam-packed with events
January 03, 2020 13:00
Plamen Petrov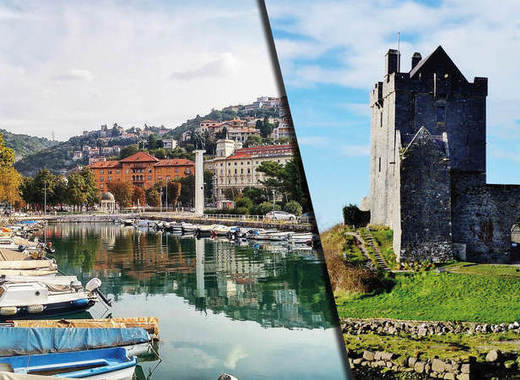 Galway in Ireland and Rijeka in Croatia have adorned their symbolic crowns as European capitals of culture for 2020, replacing the former reigning pair of Plovdiv, Bulgaria and Matera, Italy.
Both cities will host a variety of cultural events throughout the year as part of the EU initiative, launched in 1984 by Greek Minister of Culture Melina Mercouri to celebrate the bloc's cultural diversity.
Galway, a small city of almost 80,000 on Ireland's west coast is famous for its vibrant cultural scene and typical Irish pubs, where traditional folklore is performed live. The city hosts an annual arts festival which attracts big names and crowds double its population. Galway's pristine nature and straw-covered stone houses hark back to the time when Celts roamed these lands.
According to the city's 2020 programme website, Galway will host festivals, exhibits, concerts and workshops throughout the year relating to the Irish language, landscape and migration. They will be led by local and European artists who will "unveil their own interpretations of these themes." The official opening ceremony will be on February 8.
With a population of over 100,000, Rijeka is considered the maritime capital of Croatia because of its large port and shipyards on a bay in the Adriatic Sea. The city is also a top tourist draw with medieval fortresses and magnificent palaces from the Habsburg era. Rijeka is Croatia's first capital of culture as the country joined the EU in 2013. The opening ceremony of the event will be on February 1.
The city's cultural programme features several exhibitions that focus on the city's redrawn borders and the social changes in Eastern Europe in the 1990s, among others.
Competing cities grumble
The EU views the European capitals of culture initiative as a way to regenerate cities and raise their international profiles. Therefore, candidate cities must compete for the designation with several counterparts on a national level. This process is not devoid of ill feelings. For example, Limerick, Ireland's first National City of Culture (2014), complained to Euronews that the title would have better served its ambition to shake off its former feuding gangs' image. Limerick competed for the designation alongside Galway and a group of three smaller towns - Kilkenny, Waterford and Wexford – called the Three Sisters.
To check how the programme of events unfolds, please visit the culture capitals' websites.
TheMayor.EU stands against fake news and disinformation. If you encounter such texts and materials online, contact us at info@themayor.eu