Erfurt gives new life to GDR-era high-rise
Housing cooperative establishes Care Home for the elderly
The Mayor of Erfurt (Germany) Andreas Bausewein, the housing cooperative of Erfurt and advita Pflegedienst GmbH opened a new Care Home for Erfurt's elders on 10 June 2021.
The housing cooperative of Erfurt will provide barrier-free apartments, assisted living, two shared apartments for people with dementia and one for people in need of intensive daily care, and advita Pflegedienst GmbH will provide the specialised care.
The concept of the care centre is unique. Most of the floors of the buildings will be leased without an accompanying care contract, while other floors will provide a wide range of services. This allows for more flexibility in meeting the need of the building's future residents with contracts tailored to their specific needs.
People will be able to grow old in their own neighbourhood
′′Two studies have warned us against implementing an age-appropriate living concept here in Mainzer Strasse. But we did it anyway. And the reception from the public has been great," said Matthias Kittel technical board of the housing cooperative Erfurt.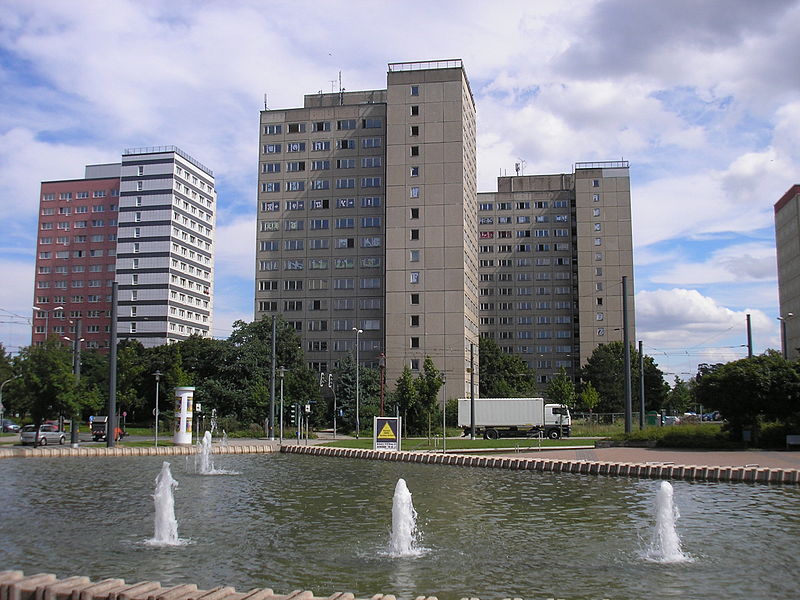 The GDR-era Rieth district of Erfurt, Germany is getting a makeover as high-rise finds a new life.
Source: Michael Sander on Wikipedia, CC BY-SA 3.0
The renovated building is located on Mainzer Strasse, in the district of Rieth and the housing cooperative of Erfurt point out that the building used to be a terrible eyesore before renovations started back in 2018. The investment cost around 10,5 million euros. Mayor Bausewein even stated that the building was planned to be demolished and that he is glad that now it has got a second life.
The care centre is located in Rieth – the first prefabricated housing estate built in the German Democratic Republic (GDR), back in 1969. Before the fall of the Berlin Wall, significantly more people lived in the district, however, the population has declined by almost 40% in the past 30 years. The city of Erfurt is repurposing the high-rise buildings in the district and this could signal a turnaround for this depressed area.
A lack of care for Soviet-era housing estates around the continent is a persisting problem for a lot of cities and maybe Erfurt's solution could lead the charge in giving all these districts a new life.