L'innovazione e la ricerca debbano essere il motore dell'economia di Padova nel future
"Padova sta sostenendo la sperimentazione di un nuovo sistema di trasporto pubblico locale, sostenibile, flessibile, intelligente e adattabile alle esigenze cittadine"
Sergio giordani è nato il 10 maggio 1953 a Padova. Ha iniziato a lavorare nell'azienda di famiglia mentre studiava all'Università di Padova per diventare, poco dopo, Amministratore Delegato. Poi fondò, con due soci in affari, una rete nazionale di negozi di abbigliamento sportivo, svolgendo il ruolo di amministratore delegato fino a quando fu eletto sindaco. L'amore per la sua città lo ha portato ad essere Presidente del Calcio Padova dal 1994 al 1996, durante gli anni della Premier League (Serie A) e ad esibirsi in vari ruoli nella società e negli enti pubblici della città, come l'ultimo ufficio aziendale del Presidente di Interporto, dal quale si è dimesso non appena ha annunciato la sua candidatura a Sindaco. Giordani è stato eletto sindaco di Padova il 28 giugno 2017. Tra i suoi numerosi impegni, sta ora sviluppando, insieme ai suoi membri del consiglio, una serie di progetti per portare Padova a essere competitiva digitale.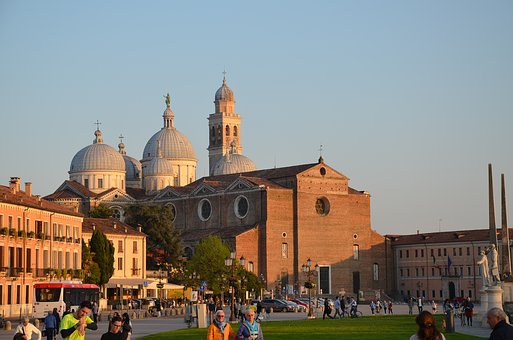 Signore Giordani, negli ultimi anni Padova si sviluppa velocemente e i cambiamenti positive si posssono vedera da tutti. Quale è il suo più grande stimolo per operare ancora di meglio?
Come è evidente, l'amministrazione ha il compito di creare le migliori condizioni possibili perchè la città sia apprezzata da chi ci abita e lavora per le opportunità che offre in ogni settore e per la sua qualità della vita complessiva. In questo senso stiamo lavorando perchè le sinergie tra Università, Imprese e Strutture di ricerca siano sempre più significvative. Siamo convinti che l'innovazione e la ricerca debbano essere il motore dell'economia di questo territorio nel futuro. Parallelamente ci muoviamo su altri fronti: abbiamo sbloccato la realizzazione del Nuovo Ospedale, che sarà pronto in circa 8 anni, stiamo favorendo la riqualificazione e il riuso di imprtanti spazi in città. Penso allo spostamento della Questura alla Stanga con il recupero di un'area degradata da tempo, il riutilizzo con varie finalità dell'ex Caserma Prandina, ma anche la realizzazione in due tempi di altrettante nuove line del tram per migliorare il trasporto pubblico. Si tratta di lavorare in squadra con tutti I portatori di legittimi interessi in città, con il fine comune di rendere ancora più bella la nostra Padova.
Il Comune di Padova sta lavorando su una serie di progetti per portare la città ad essere competitiva digitale. Puo raccontare un po di più di queste iniziative?
Il nostro ICT Department sta realizzando un'applicazione sw in grado di fornire servizi tramite l'unificazione e la standardizzazione dei procedimenti amministrativi. Tutto ciò permetterà la creazione di nuovi modelli di erogazione dei servizi e la diffusione online di servizi digitali in cui il cittadino e l'impresa saranno attori attivi e partecipi del procedimento amministrativo. L'ICT Department sta inoltre realizzando una piattaforma per la raccolta di dati provenienti da sistemi di sensoristica e telecamere per traffico, parcheggi, ambiente, impianti illuminazione, ma anche sensoristica per azioni di supporto all'inclusione sociale e al risparmio energetico negli edifici - ERP.
A Padova, inoltre, in autunno aprirà il Digital Campus, inteso come centro di formazione su competenze, innovazione e digitale e rappresenterà un nuovo punto di riferimento in materia di innovazione e informatizzazione, al fine di creare un generatore di conoscenze e di idee utili alla città e necessarie sia ai professionisti sia ai più giovani.
Sempre in campo digitale, Padova sta sostenendo la sperimentazione di un nuovo sistema di trasporto pubblico locale, sostenibile, flessibile, intelligente e adattabile alle esigenze cittadine: si tratta dei moduli "Next," di forma cubica, elettrici, con una capacità di 10 persone, in grado di spostarsi sia come unità singola che con più moduli. I passeggeri tramite un'applicazione potranno specificare le proprie esigenze di mobilità e il servizio potrà adattarsi in tempo reale alle richieste.
Un altro progetto molto importante è stato creato in città dall'Università di Padova e altri enti di ricerca: SMACT Competence Center.
I soci fondatori di SMACT sono 8 università del Triveneto, due enti di ricerca, la Camera di Commercio di Padova e 29 aziende private. ll Centro di Competenza denominato SMACT è focalizzato sulle specializzazioni in Social network, Mobile platforms &Apps, Advanced Analytics and Big Data, Cloud, Internet of Things.
Quali altre buone pratiche si sviluppano nel Comune di Padova. Come li finanziate?
La nostra Amministrazione ha un apposito Ufficio Progetti di Finanziamento che ha il compito di individuare e utilizzare fondi disponibili tramite i bandi europei, nazionali e regionali, oltre che naturalmente con fondi propri del Comune. Buone pratiche che ci hanno permesso solo per fare qualche esempio di usufruire di fondi nazionali per il Bando Periferie con i quali abbiamo avviato anche il recupero di importanti parti delle mura cinquecentesche, o fondi del credito sportivo attraverso i quali abbiamo migliorato numerosi impianti sportivi in città. Padova da anni è parte del Progetto Città Sane sdell'OMS e a livello locale adotta per molti progetti il modello partecipativo di Agenda 21.
Quali altri investimenti sono previsti nel futuro vicino?
Abbiamo in programma la realizzazione di un Parco intitolato al poeta romano Tito Livio nel centro della città al posto di una grade area una volta utilizzata come terminal dei bus, come dicevo prima stiamo per realizzare ben due linee del tram, e se tutto andrà bene vorremmo costruire a breve un auditorium per la Musica in adiacenza al Conservatorio Cesare Pollini. Ma poi ci sono tantissimi altri progetti, magari meno visibili che messi assieme cambieranno la città in meglio come quello di realizzare una rete capillare di piste ciclabili protette per muoversi in città che abbiamo batteezzato "bicipolitana".
Padova è la città che rappresenterà l'Italia nel 2020 per essere iscritta nella lista del patrimonio mondiale Unesco con la Cappella degli Scrovegni di Giotto e i cicli pittorici del Trecento. Puo raccontare un po di più per "Padova Urbs picta"?
La candidatura della Cappella degli Scrovegni e dei cicli pittorici del Trecento nella World Heritage List UNESCO individua in Padova la Capitale mondiale della pittura del Trecento. Padova Urbs picta presenta otto luoghi unici, che raccontano la storia della Padova del Trecento a partire da un capolavoro indiscusso come gli affreschi della Cappella degli Scrovegni di Giotto. Realtà differenti, pubbliche e private, laiche e religiose, si sono mosse insieme per continuare a conservare, tutelare, valorizzare e promuovere un patrimonio storico artistico nato dall'ingegno umano da passare per integro alle generazioni future di tutto il mondo. La candidatura di Padova Urbs picta è una sfida, perchè non esistono simili candidature e riconoscimenti nella storia dell'UNESCO ma anche uno straordinario risultato che premia non noi ma la città di Padova che si conferma una eccellenza a livello mondiale nel campo dell'arte e della cultura. È il frutto di un grande lavoro di squadra che adesso proseguirà, con ancora maggiore impegno e convinzione nella fase di valutazione da parte degli esperti internazionali. Siamo certi che la nostra candidatura ha tutte le carte in regola per superare anche questo giudizio.
Cosa ne pensa di una piattaforma unificata per i comuni europei e il suo principale obiettivo di rendere e mantenere i cittadini europei meglio informati su ciò che sta accadendo nell'Unione europea? Come TheMayor.EU potrebbe essere utili a Lei e ai citadini di Padova?
E' evidente che una delle principali cause di disaffezione e disinteresse verso la politica, credo non solo in Italia, è che i cittadini non sono sufficientemente informati sulle attività che gli amministratori locali e non solo fanno. Dobbiamo essere più vicini alla gente comune e anche uno strumento come questo portale è certamente positivo.
Più su Padova potete leggere qua