Living in Poznan becomes easier with the new Smart City app
It keeps users informed about important events and empowers them to change how they live
Poznan just checked off several items on its Smart City list. On Monday, the Polish city launched a new application, that both keeps citizens informed about important events and facilitates their communication with the local authorities.
The Smart City Poznan app can signal anything from road perturbations and breakdowns to weather warnings, and smog reports. What is more, it enables users to report problems or submit suggestions with just a few clicks.
Staying informed 24/7
Some of the few things a truly smart city needs include focus and sharing knowledge with citizens, as well as interactivity of urban services. The new Smart City app of Poznan helps in all these fields and proves that Poznan deservedly won the Polish smart city award for 2019 in June.
The application is free to use and most of the operations do not require the provision of any personal data. It can be accessed via the Apple AppStore and Google play.
After the installation, users can decide which messages they want to receive. Then, they will start getting notifications, assigned to one of six categories:
alarms (emergencies),
safety (e.g. meteorological warnings),
breakdowns (e.g. water and sewage),
housing estate (neighbourhood messages directed from individual housing estate councils),
air (smog reports, exceeded dust particle limits, free communication),
transport (road works, communication difficulties).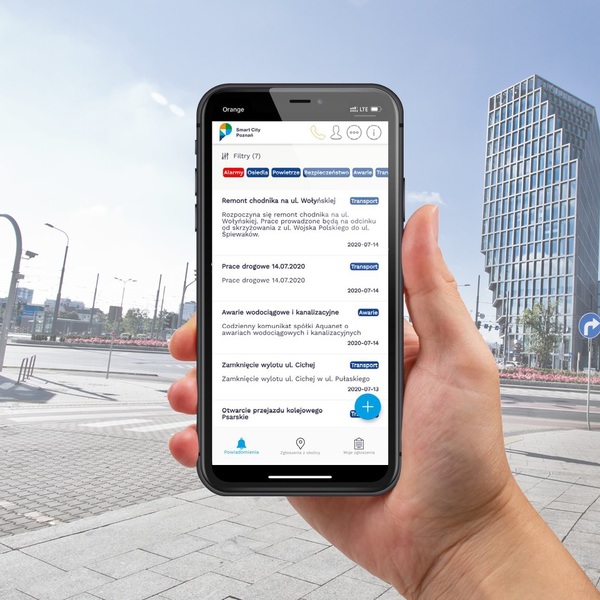 According to the authorities, the Smart City application is meant as a tool to create new ways of communicating with residents, as well as to improve the existing ones. Image: City of Poznan
Interact with the City of Poznan
However, the Smart City app is more than just a source of information. Even more, it aims to improve communication with the authorities and facilitate the resolving of issues.
Signals sent by the citizens can be classified into one of the following categories:
cleanliness (waste, landfills),
environment (waterways, air quality),
animals (ex. dead animals),
vehicles (incorrectly parked vehicles, car accidents).
Alternatively, residents can also propose initiatives - including ideas for cultural and social events, recreational and sports facilities or educational institutions. Once submitted, the user can always view the status of the reported case.
The application will also allow participation in polls and surveys created by municipal units and housing councils. An additional functionality are the mobile links leading to the most important city websites and portals, as well as projects (such as the Poznan Civic Budget). Thanks to the application, the user can contact the Poznan City Hotline with two clicks.
Finally, the new software reflects a holistic view of a smart city, including the willingness to manage it together with its residents, the authorities explain. The user-friendly interface and intuitiveness of the application should allow users to easily influence the activities undertaken in Poznan. As a feedback, they will receive all relevant up-to-date notifications.