Poznan wins Smart City Award
Poznan was recognised as the best performer among the largest cities of Poland for 2019
The efforts of Poznan to offer intelligent solutions and to improve the life quality of its residents have just been recognised. This week the Polish city won a prestigious recognition – the 2019 Smart City Award in the most contested category – for over 500,000 inhabitants.
Rewarding the most forward-thinking cities of Poland
The Smart City Forum is an annual event that rewards the highflyers in terms of intelligent development among the cities of Poland. This year the event took place between 15 and 16 June online, due to the unusual epidemic circumstances.
Throughout the forum, experts discussed the implementation of solutions used in cities around the world, with particular emphasis on smart city solutions during the crisis. The first day culminated in the selection of the winners of the Smart City Competition, where Poznan was recognised among the largest cities with over 500,000 inhabitants.
The jury awarded the capital of Wielkopolska for the overall implementation of the idea of ​​an intelligent city, the use of innovative solutions and effective management of resources and development strategy to improve the lives of residents in the field of transport, infrastructure, energy, spatial economy and the environment.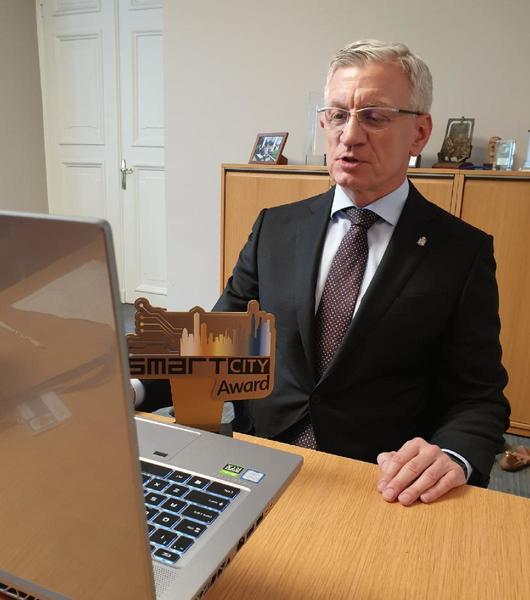 Mayor Jacek Jaśkowiak speaking remotely during the forum about the meaning of the award. Photo: City of Poznan
Why Poznan is a good example of a smart city?
To this day, Poznań has acquired 21 modern and environmentally-friendly electric buses with end-stops equipped with charging pantographs. The city is currently on its way to purchasing another 37 such buses.
Air quality in Poznan is also monitored in a smart way - with drones. This solution is part of a project funded under the citizens' budget.
Furthermore, Poznań has implemented the Kawka BIS program, which aims to reduce emissions of pollutants resulting from the combustion of solid fuels. The residents can apply for co-financing for the liquidation of furnaces and boilers as well as for replacing them with system heat, gas and electric heating, solar installations, and solar collectors. So far, the city has allocated 14 million to implement this program.
Heat supplies to municipal public facilities are also optimized, the pilot programme being carried out in 6 schools in Poznań. The city also cares for bees by opening urban apiaries.
"When developing the Smart City Poznań model in 2019, we primarily wanted our city to become an increasingly safe and comfortable place to live, work, study or relax. I am very happy that our activities in this area have been recognised, as evidenced by the award in the super-heavy category "Smart City over 500,000 Residents 2019" - said Jacek Jaśkowiak, Mayor of Poznań quoted by the municipal website.