Sibiu City Hall obtained a certification of quality of its services and management system
"The main purpose of implementing these procedures is to provide citizens with quality services and to respond promptly to their needs.", said Mayor Astrid Fodor
The City Hall of Sibiu in Romania has obtained ISO certification for the EN ISO 9001 standard which certifies a good level of quality of services offered to citizens and a good management system at institutional level. This was an objective set by the project "SALT SIBIU: Quality administration, accessible to residents through technology".
The project is funded by the Operational Program Administrative Capacity. It started on 20 March 2019 and it will last 30 months, until September 2021. The total value of the project is 3,102,011.57 lei (640 527,39 euros).
"For a year and a half we have been working on the elaboration and application of work procedures to be observed by the employees and the administrative staff in the management of the documents and the solution of the requests. The main purpose of implementing these procedures is to provide citizens with quality services and to respond promptly to their needs. The ISO certification, issued by the prestigious company TÜV Austria, certifies that we are on the right track and that the management system of the institution is functional and compliant with international standards in the field. This certification obliges and motivates us to continue to improve these working procedures, for the benefit of the citizen.", said Astrid Fodor, mayor of Sibiu.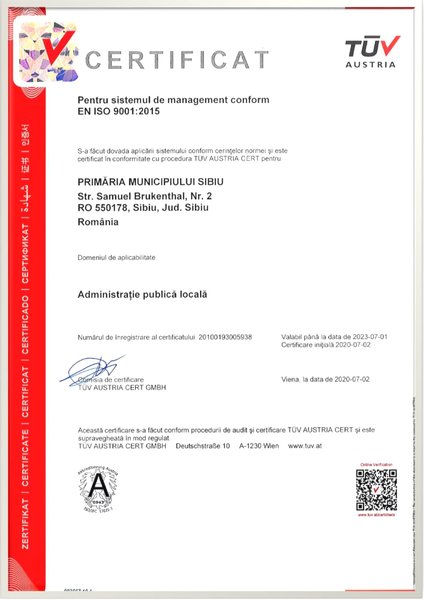 The obtained certificate. Image by Sibiu Municipality
What does ISO certification mean?
The fulfillment of the internationally recognized EN ISO 9001 standard attests that the Sibiu City Hall quality management system, an important part of the institution's management system, complies with international standards. It is oriented towards meeting the needs, expectations and requirements of citizens, but also those of employees and institutional collaborators of the City Hall.
Basically, this attests that there are correct management processes and procedures in Sibiu City Hall, as well as an efficient document management system. The management and the entire team of City Hall is attentive to the needs of the citizens, constantly trying to improve the quality of services offered.
Over the next three years, Sibiu City Hall will be monitored by TÜV auditors. They will verify the maintenance of standards and the progress that the institution will make to improve the quality of services.