Slay the EU plastic waste dragon! – Rethink Plastic Alliance calling for waste trade ban
The European Union is consistently among the highest exporters of plastic waste across the world, shifting the burden of pollution to far away countries.
The Rethink Plastic Alliance are calling for a ban on all EU plastic waste trade exports outside the border of the single market. On 29 September, they will back the plastic spewing dragon right next to the Berlaymont building (the headquarters of the European Commission in Brussels) to petition the EU executive to enable the ban.
The initiative is called 'Slaying the EU plastic waste dragon' and it involves the participation of the Break Free from Plastic movement, the Rethink Plastic Alliance, Zero Waste Europe, the Environmental Investigation Agency, European Environmental Bureau and European Commissioner for Environment, Oceans and Fisheries, Virginijus Sinkevičius, who will give a speech in the afternoon.
Slaying that dragon
According to the Rethink Plastic Alliance, the European Union cannot achieve any of the waste management goals if it does not stop exporting plastic. "Irresponsibly managed waste has no place in a circular economy."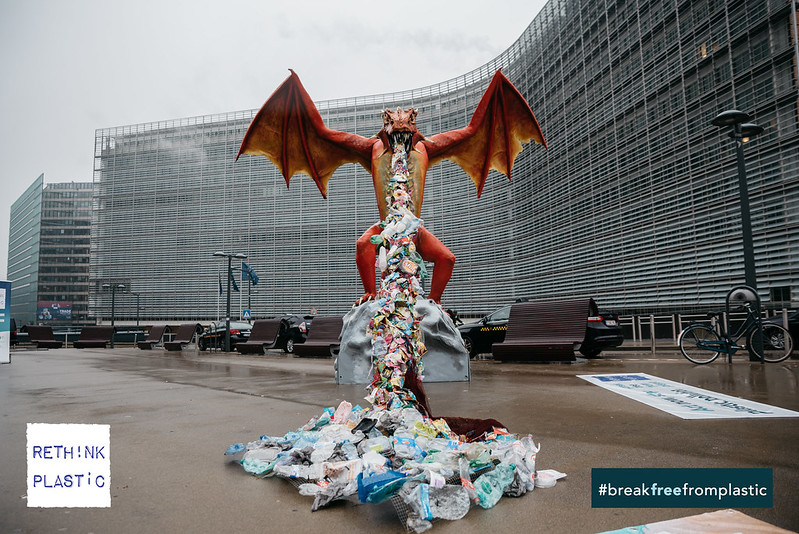 The 3-metre plastic waste dragon is coming back to the European quarter this September.
Source: Photos courtesy of BFPP
They present this comparison, to strengthen their argument – in 1950, the world produced 1.5 million tons of plastic. In 2019, the European Union shipped more than 1.7 million tons to countries outside the single market, mainly to Turkey, Malaysia and China.
This is indicative of the systemic inability of the EU to manage all the plastic waste and a tendency to shift the problem to different parts of the globe. At the same time, it hides the immediate effects of irresponsible plastic consumption and causes severe ecological damage to receiving countries.
Rethink plastic cite a soon-to-be-published EIA (Environmental Investigation Agency) report, claiming that for the past 30 years more than a quarter of a billion tonnes of plastic has been legally traded across the world. According to the report, the European Union is consistently among the highest exporters of plastic.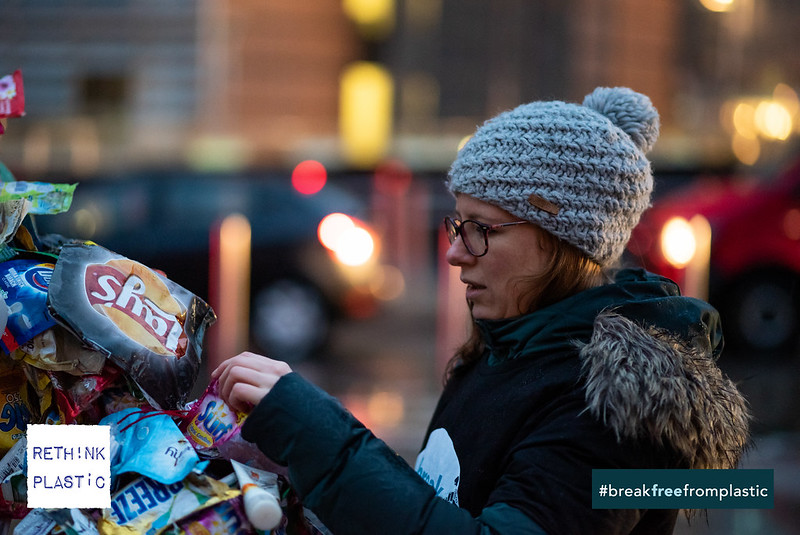 The dragon's breath is made from plastic waste,
Source: Photos courtesy of BFPP
Out of the top 10 plastic waste exporting countries, six were from the EU. These are Germany, the Netherlands, France, Belgium, Italy and Slovenia.
In October 2021, the European Commission will table a new proposal for the EU Waste Shipment Regulation, with the intent of better framing EU waste shipments through:
restrictions

on EU waste shipments of waste outside of the Union;

measures

to avoid potential environmental and health-related adverse effects on the environment and public health caused by EU shipments of waste;

a better inspection and enforcement system to tackle illegal waste shipments.