Sofia Metro unveils a new line
Travel for free on line 3 of the subway tomorrow
Sofia Metro has a brand new line. To celebrate it tomorrow, 26 August, the authorities have invited, through a Facebook event, all residents and guests of the Bulgarian capital to ride free of charge Line 3 of the subway.
The new section, including Hadji Dimitar Metro Station - Orlov Most - National Palace of Culture - Bulgaria Blvd. - Krasno Selo Metro Station will be put into operation after 2:30 pm.
8 kilometres, 8 metro stations and 20 new trains
As is traditional, the trip on the newest section will be made free on the opening day for everyone who wants to see the new metro stations. Automatic safety platform doors have been installed in them - which is a first in Bulgaria. Another novelty will be that passengers will be able to buy tickets with bank cards.
The total duration of the trip from the Hadji Dimitar neighbourhood to the Krasno Selo neighbourhood will take only about 15 minutes. This is only Stage I of the new line project, covering the section from Vladimir Vazov Boulevard via the central part of the city to Zhitnitsa Street, with a length of 8 km, 8 stations, a depot and 20 trains.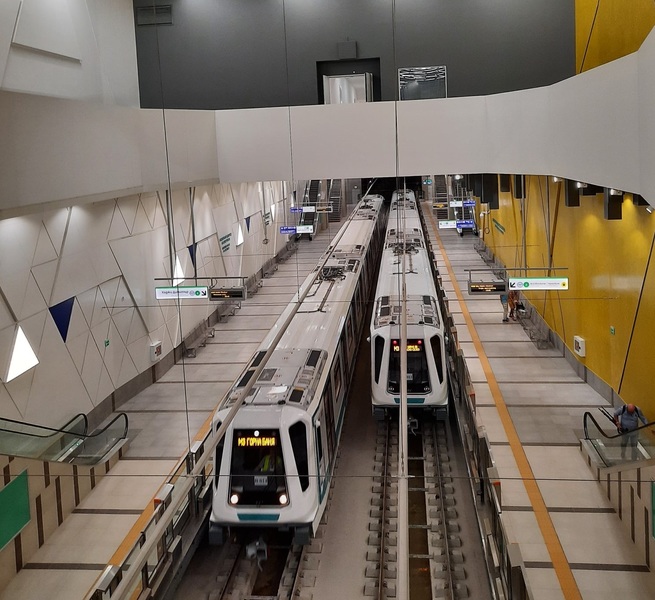 View of one of the new metro stations. Photo by Facebook/Програма транспорт
The modern Siemens Inspiro metro trains have the option of cruise control. They are environmentally friendly, economical, with brightly-lit interiors and reduced noise levels.
The third metro line is financed through the Operational Program "Transport and Transport Infrastructure" 2014-2020. The total value of the project after the completion of the tender procedures and the conclusion of the contracts for implementation amounts to 398.2 million euros without VAT, of which 321.8 million euros are grants, as was informed by "Metropolitan Sofia" the metro operation company.
Stage 2 of the project is forthcoming. It will cover the section from Zhitnitsa Street via Ovcha Kupel to Ring Road (at the railway station in Gorna Banya). That section is 4 km long and includes the construction of four metro stations and a railway station on the Sofia - Pernik line.