The park in Cluj Square in Sibiu will be completely reconfigured and modernized
The Romanian municipality continues to initiate such projects that increase the quality of life of its residents
The redevelopment works on the park in Cluj Square in the Romanian city of Sibiu is expected to start in the coming days. The mayor Astrid Fodor signed the contract worth 1.3 million lei (268,413.71 euros) with the company SC Atlassport SRL Târgu Mureș. The project was proposed by a Sibiu resident in the participatory budgeting program.
"In addition to investing in the modernization of neighborhoods, streets and schools, we continue to initiate such projects that increase the quality of life of residents, giving them ways to spend their free time. Without affecting the vegetation, we will create a properly equipped children's playground and a park for recreation and rest for adults, thus transforming it into a new leisure space.", underlined the mayor Fodor.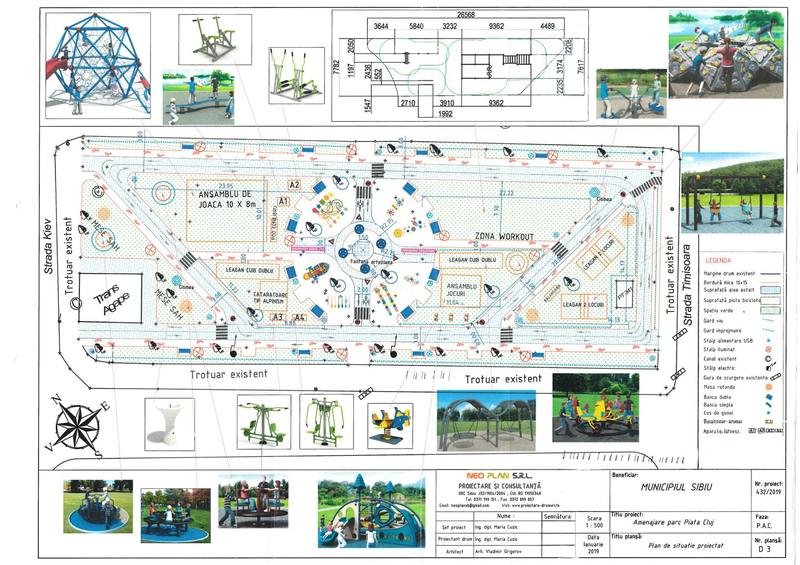 Project scheme. Photo by Sibiu Municipality
Complete renovation in 75 days
The term for arranging the area is 75 days from the issuance of the order to start the works. It is expected to be sent to the construction team in the next week.
In the space located on Tudor Vladimirescu Street, between Kiev and Timișoara streets, the following works will be carried out:
The existing alleys will be rehabilitated, together with the water and sewerage networks in the area;
The public lighting will be modernized by mounting poles with LED lighting fixtures, some of which will be equipped with sockets for charging mobile devices.
An artesian well will be located in the center of the park;
The playground will be completely modernized and fenced for child safety. Equipment for children from 3 years to 12 years will be installed including swings, climbers and games on asphalt;
A workout area will be created;
The park will be equipped with street furniture: benches, several tables, bicycle racks and trash cans;
A hotspot will be installed, it will provide free wireless internet to citizens coming to the park.