Thermaikos is a beautiful place to live and a tourist paradise at the same time
Interview with Georgios Tsamaslis, Mayor of Thermaikos, Greece
In 1994, Georgios Tsamaslis was elected Prefectural Councilor of Thessaloniki in the first elected administration of the Prefecture. In 1998 he was re-elected at this position. In 2002, he was re-elected for the third consecutive time as Prefectural Councilor of Thessaloniki, assuming the position of Deputy Mayor for Development and Trade.
In 2006, in the last Prefectural elections, Tsamaslis was re-elected for the fourth consecutive time in the Prefecture of Thessaloniki, this time taking the position of Deputy Mayor for Development and Rural Economy, as well as the Deputy Mayor for Tourism, while at the same time assuming the position of coordinator of the Prefectural projects.
In 2010, in the first Regional elections with the Kallikratis system, Tsamaslis was elected as second Regional Councilor of Central Macedonia.
In 2013 he was elected Deputy Regional Head of the Metropolitan Unit of Thessaloniki with Apostolos Tzitzikostas as Regional Governor. At the same time, he was elected president of the Tourism Organization of Thessaloniki, where he remains until 2015.
In 2014 he became the leader of the Thermagikos coalition in the Municipal elections winning 35% of the vote, making it the largest opposition party. In 2019 Tsamaslis was elected mayor of Thermaikos.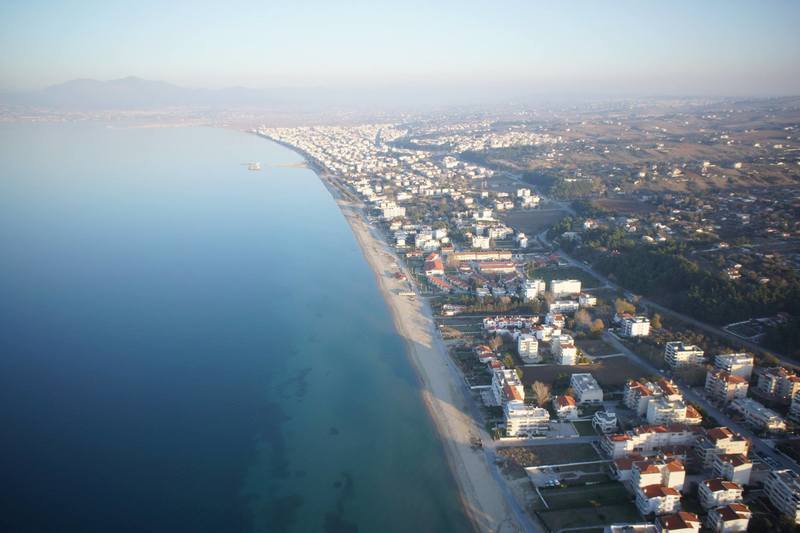 Located 20 km away from the Macedonia airport in Thessaloniki, Thermaikos is an attractive tourist destination. Photo by Visit Thermaikos
Mayor Tsamaslis, please describe Thermaikos in a few sentences.
Thermaikos is a beautiful place to live in. Located 20 km away from Macedonia airport it is a beautiful spot and a tourist paradise at the same time.
There are a lot of different options for the tourist - beautiful beaches, water sports and fresh seafood near the sea are some of them. A walk to the historic monuments or a visit to our prized wine yard and its museum are an incredible experience.
The beginning of your term as mayor coincided with the COVID-19 pandemic. What are the biggest challenges in your everyday work?
It's a hard time for our municipality as well as for the rest of the world. COVID-19 is spreading rapidly. We always have in mind the wellbeing of all our citizens.
Trying to keep the economy flowing while protecting the health of our citizens is a difficult task. When it comes to cleaning we had to take further actions due to COVID-19. Our goal is to keep the municipality clean and all the public spaces disinfected, as much as we can.
What do you want to change in Thermaikos during your term?
Technology constantly evolves. We would like to improve even more the waste treatment and create more green spaces throughout the municipality.
Our interest is to protect the sea and its ecosystem and preserve the wildlife and its habitat. Aggelochori and Epanomi Lagoon host a lot of animal species, a few of which are endangered, as a municipality we will take extra measures to protect them.
What are your thoughts on TheMayor.EU portal as a unifying platform for Europe's municipalities and how can it be useful to you and your citizens?
I firmly believe that such a portal was necessary for achieving communication and cohesion throughout Europe. It's important for us to have access to direct and reliable information about new applications, projects or events and present our own.
Our citizens could be benefited from communication with citizens of foreign countries and exchange ideas and marketing strategies. They could also be informed about new European programs and take part in them.
It would be an honour to be hosted in your platform, share our suggestions and ideas and collaborate with you or even other cities. We are a municipality that wants to be inspired, informed and actively participate in innovations.
To find out more about Thermaikos, visit the profile of the municipality.