Tour de France 2020 comes with a solidarity mission
Rethinking the role of cycling in the times of a pandemic
Millions of cycling enthusiasts are eager to observe the long-awaited start of the 107th edition of Tour de France at the end of this month. However, for many who cannot afford to own a bike, cycling is just something they watch from afar. Tour de France 2020 has a mission to change this for thousands of children and disadvantaged individuals.
Making cycling accessible
From June 27 to September 20, the Tour is organizing the Tour de France Solidaire operation, which wants to bring happiness to children and change the daily life of disadvantaged people by giving them access to cycling. For this purpose, the Tour organisers will be offering 1500 bikes to several partner associations in France and worldwide.
On top of this, throughout the summer of 2020, the organisers call for a massive donation of old bikes, which will go for the benefit of the Emmaus association. Their objective is to give a second life to 5000 bicycles, which would give the social mission a much appreciated environmental dimension.
In order to motivate the French people, the Tour de France is committed to paying 30 euros per bike to the association. Bikes will be collected throughout September in the cities and towns where stages of the Tour are held.
Anyone who can contribute to the cause can also do this with a financial donation of their choice. All details are available on the official website of Tour de France.
Finally, the objective of the campaign is to support the role of cycling in the times of a sanitary crisis, during which social distancing and physical activity have become more important than ever.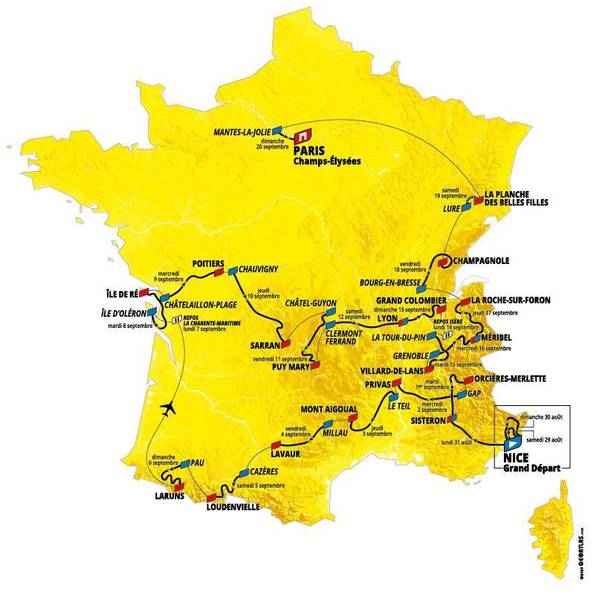 The 21 stages of Tour de France 2020 cover a total distance of 3 470 km. Image: Tour de France
An extraordinary edition of Tour de France
One of the most exciting cycling events worldwide was originally scheduled to start on 27 June, but due to the unfolding of the coronavirus pandemic in the country, Tour de France 2020 was postponed.
Actually, the organisation of the physical event in 2020 was in jeopardy for some time, before the International Cycling Union announced the new dates. Hence, the "Grand Départ" will be held on 29 August in Nice, while the last mile will be covered on 20 September in Paris.