Bielefeld gears up for fight with plastics
The German city will be dealing with waste by turning it into art
Montag, 17. Februar 2020, 17:30 Uhr
Anton Stoyanov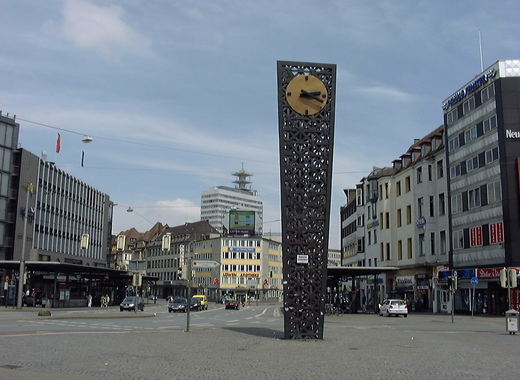 Quelle: Bielefeld Jahnplatz, Zefram [CC BY-SA 3.0/)]
The German city of Bielefeld is eager to invite everyone interested in keeping the city clean and plastic-free to attend a special day of city-wide clean-up on 29 February.
Waste assortment and the management of thrown away plastics is a constant issue for many cities across Europe. Bielefeld is no different. That is why local authorities and activists are eager to find new and creative solutions that would help the urban area shine and shake off the trappings of plastics.
While plastics are usually dealt with in the same manner as regular trash – e.g. incineration or processing in a range of facilities, that is not the only way for a society to deal with the plastics problem.
Intertwining art and creativity with sustainability
On 29 February, activists from "Bielefeld for the future" will be organising the so-called "Plogging Day". Plogging,- derived from the Swedish word "plocka", which means "picking" and the word jogging, equates to a combined activity of jogging and collecting litter from the ground.
All citizens of Bielefeld are invited to take part in the activity that will not only help them stay healthy and active but will also rid the urban area of garbage that is proving quite dangerous to the environment.
Thanks to the fruitful cooperation with "Ostblock – Kulturhaus Bielefeld" the plastics that are collected during the event will also be used to create art. The artists collective will work alongside the participants of "Plogging Day" to create works of art that will drive home a message of sustainability and environmental protection.
Cleaning supplies will be provided to the participants in the event by Kulturhaus Bielefeld and local environmental activist groups. Together, and alongside citizens, they will be turning the city of Bielefeld into a cleaner and more beautiful location.
TheMayor.EU steht gegen falsche Nachrichten und Desinformation. Wenn Sie online auf solche Texte und Materialien stoßen, kontaktieren Sie uns unter info@themayor.eu