Verfügbar in
Artikel teilen
Construction efforts ramp up on Croatia's Peljesac Bridge
Over 700 workers are currently on-site at the vital project
Montag, 28. September 2020, 19:30 Uhr
Anton Stoyanov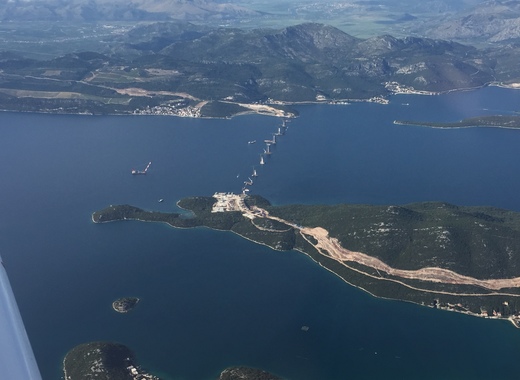 Quelle: Florian Hirzinger / CC BY-SA 4.0
Construction of Croatia's Peljesac Bridge has resumed in full swing. According to Croatian Roads, there are currently over 700 workers on the site significantly ramping up the operations meant to deliver the crucial infrastructure project.
Crucial connection between mainland and islands
Works on the Peljesac Bridge first began in the summer of 2018. Upon completion, this crucial piece of infrastructure will connect the bulk of the County of Dubrovnik-Netrava to the rest of the Croatian mainland, thus circumventing and eliminating the need for border crossings with Bosnia and Herzegovina.
In its final form, the bridge will span over the Peljesac Channel, connecting Komana on the mainland to the Peljesac Peninsula, passing only through Croatian waters. The bridge is expected to be completed by 2022 and has received substantial backing from EU, costing more than HRK 2 billion.
Currently, progress remains on track. According to Croatian Roads, 11 of the 12 pillars making up the bridge's base have already emerged from under the sea while the massive load-bearing structures that are meant to hold up the bridge were installed in August.
Yet the large number of construction workers means that the companies responsible for the bridge are kicking things into high gear. Up until now, at most 500 persons have been present on the construction site – personnel made up of technical specialists, engineers, sailors and ordinary workers. With over 700 people now working on the project simultaneously things are truly picking up speed.
The importance of the Peljesac bridge can not be underestimated. Not only is it crucial for improving the connectivity in Croatia but is also a vital provider of jobs during a time of economic downturn when governments are increasingly looking towards infrastructure projects to generate growth.
TheMayor.EU steht gegen falsche Nachrichten und Desinformation. Wenn Sie online auf solche Texte und Materialien stoßen, kontaktieren Sie uns unter info@themayor.eu