Verfügbar in
Artikel teilen
Ioannina is a big cultural and administrative center, a lively modern city, vibrant with life
Interview with Moses Elisaf, Mayor of Ioannina in Greece
Montag, 23. Dezember 2019, 09:30 Uhr
Monika Dimitrova
Quelle: Ioannina Municipality
Moses Elisaf was born in 1954 in Ioannina. He graduated from the School of Medicine, University of Athens in 1979.
He worked at the Institute of Lipids and Atherosclerosis Research, Sheba Medical Center, Tel Hashomer, Sackler School of Medicine, University of Tel-Aviv, Israel (1993-1994). He was Professor of Internal Medicine in the University of Ioannina, Medical School and Director of the 2nd Department of Internal Medicine. He was also Head of the Lipids, Atherosclerosis, Obesity and Diabetes Department of the University Hospital of Ioannina. He has taken the Clinical Hypertension Specialist from the European Society of Hypertension.
Professor Elisaf is President of the Jewish Community of Ioannina and he was also President of the Cultural Center of the Municipality of Ioannina as member of the city Council. In June 2019 he was elected Mayor of Ioannina.
Find out more about his biography here.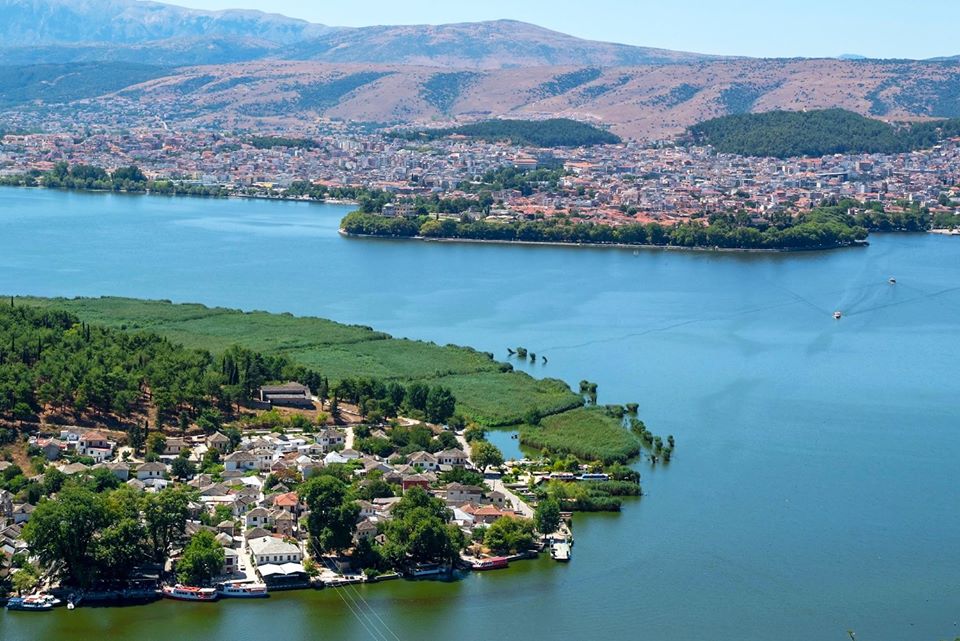 Ioannina from above
Mayor Elisaf, first of all, congratulations on being elected Mayor of Ioannina! In your opinion, what made voters choose you instead of your opponents?
The municipality elections have always had special characteristics. We started by creating an independent political movement without the support of any political party. This was a basic issue which was fully appreciated by the citizens. Afterwards, we presented well-documented proposals for all the major problems of our Municipality. This was the second issue which was evaluated positively. Both of these two, in combination with my personal background and the entire team of remarkable candidates, have played a key role in our electoral win.
Please describe the beautiful Municipality of Ioannina in a few sentences.
Ioannina is one of northern Greece's most atmospheric cities with a population of 130.000 inhabitants. This city with its thousand-year-long history spreads out the beautiful lake Pamvotida and it is framed by impressive enormous mountains. A few kilometres away from Ioannina stands the site of Dodoni. Dodoni was a major site of religious importance for Ancient Greece. It was mostly known for its oracle, which was the oldest in the country. The site includes a few noteworthy monuments such as a theatre, a stadium, an Acropolis and the Sacred House, also known as the Temple of Zeus. The Hill of Kastritsa is also an important archaeological site. Ioannina of today is a big cultural and administrative centre, a lively modern city, vibrant with life. The University of Ioannina is one of the leading academic institutions in Greece with approximately 20.000 students.
What did the citizens most often say to you during the campaign? And now that you are mayor, how are you planning to stay in touch with them and how will you be answering their requests?
During the pre-election period, I think that the most important issue put by the citizens was the improvement of their everyday lives. Better and safer streets and public spaces as well as pedestrian areas, safe playgrounds and appropriate cleanliness of the whole city. I stay in touch with citizens daily. They can meet me at my office, or they can raise matters and questions and receive answers through the Municipality's web pages and social media.
Starting something new is always difficult. What are the biggest challenges in your everyday work?
The biggest challenge I will face as mayor is trying to be useful to the citizens. Our priority is to improve, even a little, their everyday life. Furthermore, our main goal is to make Ioannina a European, modern and extroverted city in the future.
Which projects and good practices that you have inherited from the previous mayor do you plan on continuing and refining?
We are evaluating the projects that we have inherited from the previous mayor. There are some projects that they have already started, they are financed by European funds and of course, these projects will be finalized. Right now, we are working on updating the plans in order to include our priorities.
What do you want to change in the municipality during this term?
The highest challenge for me is more convenient, efficient, effective municipality services and clear and rapid responses to the residents' issues. The reduction of bureaucratic regulations in combination with the revitalization of the municipality services will lead to improvement of the everyday citizens' life and to the better picture of our city which hosts many visitors throughout the year.
How do you evaluate the initiative of a unified platform for European municipalities and its main goal to keep European citizens informed about what is taking place in the European Union? How the portal can be useful to you and to the citizens of Ioannina?
Europe is our common land. We live in a globalized world and we need to share knowledge. Our purpose to create better facilities for our citizens as well as to create employment opportunities and to develop tourism will only benefit from this procedure if we are able to learn from others. I welcome any initiative that can inform about the best practices from across the European Municipalities.
Find out more about Ioannina here.
TheMayor.EU steht gegen falsche Nachrichten und Desinformation. Wenn Sie online auf solche Texte und Materialien stoßen, kontaktieren Sie uns unter info@themayor.eu