Sunlight absorbing asphalt will glow blue at night in Pavia
The project will cost 260,000 euros and will be 50% financed by the Lombardy Region
Freitag, 08. November 2019, 11:30 Uhr
Monika Dimitrova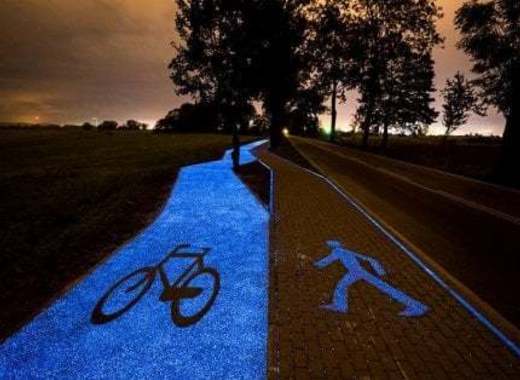 Quelle: itp.edu.pl
Self-illuminating asphalt, treated with special resins that are able to absorb sunlight and release it at night, will soon become reality in the Italian Municipality of Pavia, precisely between Street Cà Bella and the nearby municipality of Travacò Siccomario. The project is the brainchild of the Institute of Technology in Pruszkow, Poland.
The blue-glowing asphalt will cover a bicycle lane that runs along a pedestrian path, and its illumination will offset the absence of lamp posts in the area. The inter-regional agency for the Po river has banned traditional lighting to guarantee respect for the environment.
A cycle path south of the Ticino River that can be used in complete safety even during the night has been strongly desired by the citizens of Pavia. Members of the association "Mei stò in burgh" who three years ago collected signatures of the stakeholders, now officially presented the project proposal and achieved its inclusion in the budget of the Municipality of Pavia.
"At the time, 30,000 euros were allocated to start the planning phase and now we are finally nearing the finish line. From the Municipality office we were told that tenders will be opened and implemented soon - this is also thanks to regional funds", commented a representative of the association.
The project will cost 260,000 euros and will be 50% financed by the Lombardy Region
The entire project will cost 260,000 euros and will be 50% financed by the Lombardy Region. This will also be a way to enhance the tourism potential of the area while protecting the ecosystem. The brightness of the phosphorescent crystals incorporated in the asphalt of the bicycle lane will not disturb local fauna. Another fundamental added value of the new track is the greater safety guaranteed to cyclists.
TheMayor.EU steht gegen falsche Nachrichten und Desinformation. Wenn Sie online auf solche Texte und Materialien stoßen, kontaktieren Sie uns unter info@themayor.eu