Available in:
Share article
A new competitor for European Capital of Culture in Slovenia
The municipality of Nova Gorica became an official runner for European Capital of Culture 2025
January 11, 2020 13:30
TheMayor.EU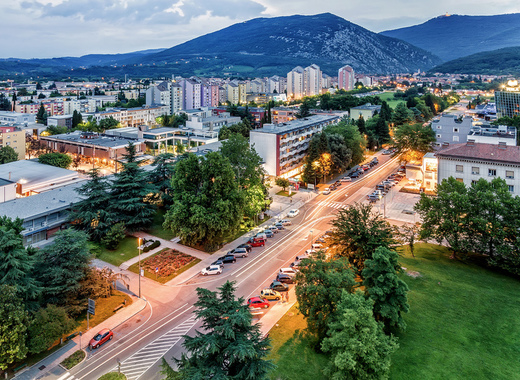 Source: Nova Gorica panorama. Photo by David Verlic / go2025.eu
European Capital of Culture Initiative is one of the most popular European cultural events. It owes its beginning to Melina Mercouri, a singer and, back then, the Culture Minister of Greece and Jack Lang, the French Minister of Culture. The Initiative was first started in 1985 and capitals such as Athens, Paris and Berlin were some of the first to hold the title.
Currently, Rijeka (Croatia) and Galway (Ireland) are the European Capitals of Culture. Slovenia`s town of Maribor was cultural capital in 2012. In 2025, it may enter the most prestigious cultural initiative of the EU for the second time.
Nova Gorica
Slovenian Ministry of Culture gave the project a start at the beginning of 2019. A total of 6 cities submitted their candidacy – Kranj, Lendava, Ljubljana, Nova Gorica, Piran and Ptuj.
Nova Gorica's candidacy, in particular, was presented during the Festival in Milan in the summer of 2019 together with that of their partner city – Gorizia.
The divided after the Second World War city of Gorizia, became Gorizia (Italy) and Nova Gorica (Slovenia). The presentation for the candidacy, which took place at the beginning of July 2019, was opened by Fabrizio Oretti, Cultural Councilor at the Municipality of Gorizia (Italy) and Neda Rusjan Bric from Nova Gorica. They stressed their common history and the fact that despite being parts of different countries they have proven that they are stronger together over the course of these two years of considering and preparing for the candidacy.
The candidacy
In December 2018 representatives of the two cities held a meeting at the Square of Europe, located between the two cities, where they exchanged greetings and symbolically submitted the bid for the European Capital of Culture Initiative. The application consists of the vision of both cities for 2025 cultural events and a programme.
The next steps include a formal presentation before a council of international experts in Ljubljana in February 2020. The expected shortlisted candidates should come out a month later. The programme to be presented in February is one that will enable the two cities to develop culturally and economically. It will also allow for a deepened cooperation and integration of this region.
In times of division and overbearing issues on the EU agenda, it is of great importance to deepen the cooperation in fields such as culture and cross-border initiatives that, more than anything else, bring people together and help them feel like a part of something bigger than one single nation or one single city.
TheMayor.EU stands against fake news and disinformation. If you encounter such texts and materials online, contact us at info@themayor.eu