Italy
4.7 billion euros for the Italian municipalities to fight poverty created by coronavirus
Tomorrow, At 12 AM, all throughout Italy, a minute of silence will be observed and flags will be flown at half-mast
The Prime Ministerial Decree of 28 March, presented on Saturday evening in a press conference by Giuseppe Conte was signed. The social unease in the country caused by the coronavirus pandemic has prompted the government to transfer 4.7 billion euros to the Italian municipalities.
The primary objective is to create a buffer to combat poverty caused or aggravated by COVID-19. The decree provides shopping vouchers and home delivery of basic necessities for those who need it most.
"We will not leave anyone alone", were the words used by Prime Minister Giuseppe Conte on Saturday evening to announce the latest measures. The head of the Italian government also assured that the redundancy fund and the 600 euro bonus intended to support dependent and self-employed workers will be disbursed by 15 April.
With the new Decree, the government redirects 4.3 billion euro of the municipal solidarity fund to the 8 thousand Italian municipalities, which was supposed to provide "immediate oxygen to their budgets" in May. To this amount are added an additional 400 million euros from Civil Protection funds.
The mayors of the municipalities will be the ones managing this financial support on their respective territories and they will be the ones deciding where priorities lie. The funds are immediately active, although moving the administrative machine in the current conditions will be challenging.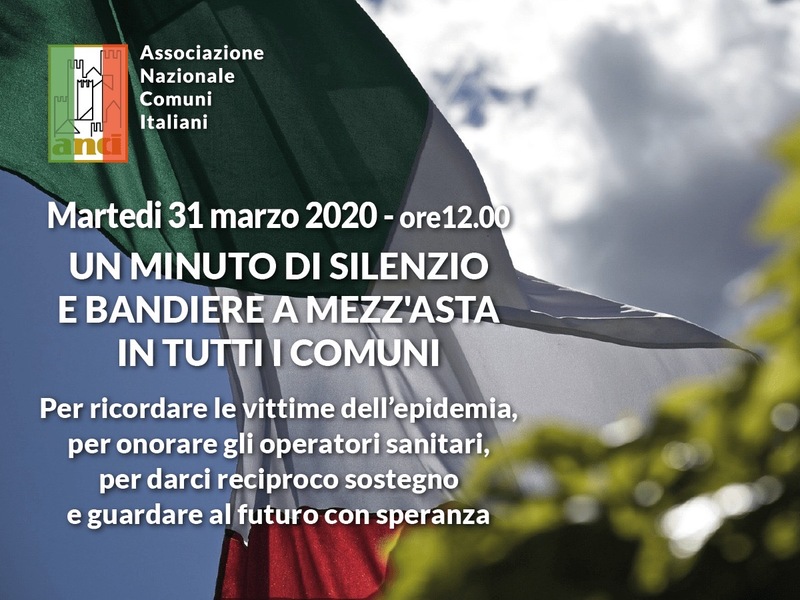 To remember the victims of the coronavirus
A minute of silence and flags at half-mast on Tuesday, 31 March at 12 am
"Flags at half-mast and minute of silence will be observed by each mayor in front of the town hall in all Italian municipalities, on Tuesday 31 March at 12, as a sign of mourning and solidarity. To remember the victims of the coronavirus, to honour the sacrifice and commitment of health workers, to ideally embrace all of us, to support each other, as we mayors do."
The president of the ANCI (National Association of Italian Municipalities) and mayor of Bari, Antonio Decaro, sent this invitation through a letter sent to all Italian mayors to join the initiative launched by the president of the Province of Bergamo, Gianfranco Gafforelli.