Aarhus is creating habitats for marine creatures
Aarhus creates artificial reefs using excess construction materials
The Danish Municipality is recycling surplus concrete to form habitats for marine creatures
On 15 October, the Danish Municipality of Aarhus proudly shared that it is creating new habitats for small marine creatures by recycling construction materials. Currently, Lighthouse United and Per Aarsleff A/S are working together to build the tallest residential building in the municipality.
During the construction of 'Lighthouse', the two bodies came up with the idea of recycling excess concrete locally instead of driving it back to the factory. Thus, the idea to use blocks of concrete to construct artificial reefs where algae can grow, crabs can hide, and fish can breed, was born.
Promoting biodiversity in Aarhus' canals
Until now, there has been a lack of habitats for marine creatures in Aarhus' canals. To change this and promote biodiversity, Aarhus Municipality collaborated with Lighthouse United and Per Aarsleff A/S to launch "Recycle Reef".
This project was officially inaugurated on 14 October when a group of students from Samsøgade School helped the municipality pour 4 tonnes of mussels into the city's canals. The organisers hope that the mussels will help convert the concrete blocks into artificial reefs that will attract more marine creatures to the area.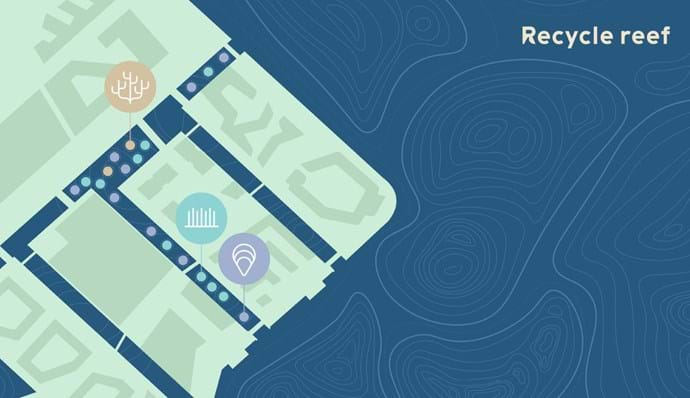 The brown dots illustrate where concrete reef will be established, the purple ones show the mussel reefs, and the blue-green ones depict where eelgrass is to be planted in the future
Source: Aarhus Municipality
Councillor for Technology and the Environment Bünyamin Simsek commented on the initiative, noting: "This is a wonderful project that puts both biodiversity and sustainability on the agenda. Life below the water surface gets a much-needed boost, and at the same time, it contributes to a more exciting urban environment for the people of Aarhus."
Simsek's statement was echoed by the Project Director at Per Aarsleff A/S, Kim Peters, who shared that the company wants to utilise residual construction materials in a way that benefits the local area. Furthermore, Peters highlighted the project's potential to influence future developments:
"It's definitely an exciting way to think about recycling, and I think we'll see more of this in the future."
Belgium / Development
And it will also advise you on the right way to do this
Ireland / Growing City
Despite the good news, preliminary data from the national census reveals a dire shortage in the housing market that will not go away anytime soon
France / Development / Public Spaces
The innovative project received funding from the participatory budget in Lille, France
Croatia / Digital transformation
The town of Makarska has recently launched a new mobile service, aiming to cut down on paper use and stimulate citizens to go contactless
Finland / Vantaa / Green City / Innovation and Research
The invention promises to be revolutionary as it can decouple food production from agriculture and its environmental impacts
Spain / Innovation and Research / Mobility
Commercial unmanned aerial vehicles will far outnumber their crewed counterparts by the end of the decade and solutions are urgently needed
Italy / Turin / Public Spaces / Social City
The property, together with others that have been confiscated, will be converted for social welfare uses
Portugal / Braga / Education and Sport / Green City
The city also led awareness-raising actions to show the impressionable youths how circularity is created first-hand
Finland / Vantaa / Green City / Innovation and Research
The invention promises to be revolutionary as it can decouple food production from agriculture and its environmental impacts
Italy / Turin / Public Spaces / Social City
The property, together with others that have been confiscated, will be converted for social welfare uses
Portugal / Braga / Education and Sport / Green City
The city also led awareness-raising actions to show the impressionable youths how circularity is created first-hand
Spain / Barcelona / Social City
This is just one of many measures that the municipal authorities have taken to tackle this social ailment
New European Bauhaus
These will be spread across 11 EU countries and will serve to support the EU Missions
New European Bauhaus
The European Commission has accepted to develop the idea
Portugal / Matosinhos / Interviews / New European Bauhaus
An interview about AYR, one of the 2021 New European Bauhaus Prize winners

Portugal / Matosinhos / Interviews
A conversation with the Mayor of Matosinhos, Portugal's first UN Resilience Hub

Interviews
An interview with Nigel Jollands and Sue Goeransson from the European Bank for Reconstruction and Development

Greece / Athens / Interviews / Welfare and Health
An interview with the President of the City of Athens Reception & Solidarity Centre