Andrzej Dziuba, Mayor of Tychy, Source: Andrzej Dziuba / UM Tychy
Andrzej Dziuba: We are not afraid to test and implement modern solutions to improve the quality of life of our residents
Interview with the Mayor of Tychy in Poland
Andrzej Dziuba has been president of Tychy since 2000. Since then, the inhabitants of Tychy have entrusted him with this function five times. He won the latest local elections in 2018 in the first round, winning nearly 76 percent of the vote.
In this interview, he speaks about the largest University of the Third Age in Poland, intelligent traffic solutions, development based on innovation and sustainability and more.
Mr Dziuba, would you tell us a few words about Tychy? How would you describe it for someone who has never been there?
Tychy - one of the largest cities of the Silesian province (Silesian Voivodeship, ed.), is located in its very centre. The major communication routes intersect here - Warsaw-Cieszyn and Krakow-Wroclaw.
An additional advantage is the proximity of the Balice and Pyrzowice airports, which are just within an hour of driving distance. But most of all, Tychy is green - parks, squares and historical Pszczyna Princes' forests, famous for their extraordinary diversity of flora and fauna, constitute more than half of the city's area.
In the city, there are 172 m2 of green areas and 7.2 m2 of greenery per each resident. A multitude of outdoor locations, as well as the proximity of the Paprocany Lake and many ponds, provide ideal conditions for leisure and relaxation in the beautiful surroundings.
Numerous bike paths, forest tracks, outdoor gyms and playgrounds for children encourage active leisure; they are great places for walks, exercise, bike tours, horse riding, nordic walking and many other forms of physical activity. Not without reason, Tychy is also the capital of the Polish automotive industry: the Fiat factory - one of the largest in Europe - has been producing a new car every 35 seconds since 1973.
Moreover, Tychy boasts the oldest brewery producing the best beer in Poland since the 17th century. The Prince's Brewery in Tychy invites you not only for beer tasting but also to explore its historical edifice.
The advantages of the city also include the Tychy Subzone of the Katowice Special Economic Zone, which brings together investments of 50 companies and employs approximately 11 thousand people.
In the last few years, a modern City Stadium has been built in the city for 15,000 people, as well as Mediateka and Tychy Water Park.
I invite all of you to our beautiful city!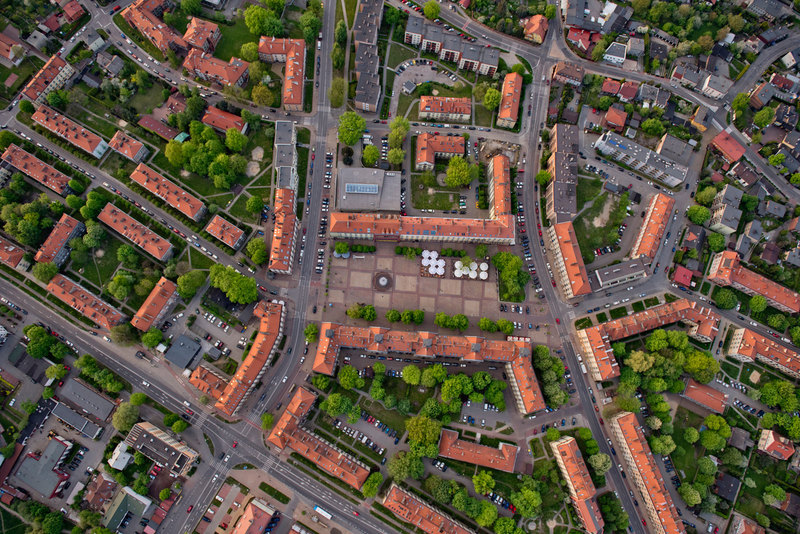 One of the most charming things about Tychy is the high amount of greenery. Photo: UM Tychy
Tychy is home to the largest University of the Third Age in Poland. Could you tell us how the idea was born and how popular it is today?
The idea of ​​establishing the Third Age University in Tychy was born during the so-called May Seminars. The inauguration of the first year at UTW took place on October 1, 2007, 600 seniors took part in the classes. Currently, UTW has more than 1,500 listeners, with their number increasing each year. Students learn foreign languages ​​and computer skills.
At UTW, there are active sections: tourism, handicrafts, drawing, vocal and music, cultural and literary, bridge. Gymnastics, dance, pool and nordic walking classes are also organized. In addition to learning, social life flourishes, picnics, mountain rallies, trips, feasts and many other interesting events are organized.
What other policies are in place in favour of the seniors in Tychy?
More than half of the area of Tychy are green areas that give you the opportunity to relax. Parks, green squares and the surrounding forests - the oldest residents of Tychy enjoy spending free time in these places.
There are a lot of outdoor gyms that seniors like to use. They are very active and like sport! The oldest residents of the city also meet in senior clubs, in which they participate in various activities: music, art, cooking, etc.
There they can find dances and various festivities organized specially for them. We recently also opened a Social Services Center - this is another space dedicated to seniors.
The Tychy Water Park, opened two years ago and is also very popular among seniors. There are many attractions, and the elderly can take advantage of special promotions for example: "second hour for free".
In August the city signed an agreement for the creation of Intelligent Traffic Management and Control System (Tyski ITS). At what stage is the implementation and what long-lasting benefits for urban mobility do you expect?
The Intelligent Traffic Management and Control System (ITS) is one of the most important projects to be implemented in our city in the coming years and one of the largest systems of this type in the country. We started working on it many months ago, involving not only traffic engineers or road builders, but also residents who will benefit from the effects of this undertaking on a daily basis.
Before the final decision was made, they were able to express their opinion during the consultations. This is a very important project that will significantly improve communication in the city, improve security and also create the possibility of direct traffic control.
It is very complex - it includes not only various ITS solutions, but also the reconstruction of nearly 40 intersections in the city. After the implementation of this project, there will be introduced, among others, priority lanes for buses and trolleybuses, green light when there is no traffic on the streets, clear information for drivers and passengers, truck weighing and car speed measurement.
Cashless payments on the public transport, drones monitoring air pollution, installation of the first solar benches, digital education for parents: this still looks like a dream to a number of larger European cities, yet it is already a fact in Tychy. Where do you drive your inspiration for innovations from?
Our city was built in the 1950s. It developed rapidly and dynamically from the beginning.
Today it is considered one of the most modern cities in the region, and we try to do everything to deserve such a name. We are a city with a thriving economic zone, but also a city that focuses on ecology.
We observe other cities, talk to experts, analyse data and we are not afraid to test and implement modern solutions to improve the quality of life of our residents. This is most important - so that the inhabitants live well in the city and are proud of it!
In February the City Council set a great example by giving up plastic. What are the most important measures to reduce waste and promote sustainable living that are in place in the city?
On average, over 18,000 plastic cups were consumed in the town hall per year. Officials used them, but the main culprits above all were all the people coming to the offices in order to settle some matter or take part in a meeting.
From January new paper dispensers have paper cups, meeting participants use glasses instead of plastic cups. Distributors connected to water from the RPWiK water supply network also appeared in the city hall corridors.
You can use cold or hot water. The distributors replaced the 18-liter plastic water tanks that have been used so far and the 1.5-liter bottles.
We cannot remain indifferent to the alarming data of scientists. Plastic is harmful to our health and is very polluting, which is why changing our habits is necessary.
We start with ourselves - the city hall. I encourage all residents and visitors to the Tychy city hall to use these distributors - their water is healthy and safe to drink.
The Civic Budget of Tychy is growing in popularity. Do you have any favourite projects that were made possible thanks to this type of civic participation? Through what other means do you involve citizens in local life and decision making?
It's true that the citizens' budget in Tychy is becoming more and more popular. This year's sixth edition has received a record number of applications.
Complex projects include, among others, ideas for: construction of sidewalks and parking lots, retrofitting playgrounds, outdoor cinema screenings, yard development, festivals and integration events. The projects are interesting and very different - I would not like to indicate one, all according to residents deserve to be implemented, and which will win - it is not known.
The vote will take place in September 2020. I would like to thank all the authors of complex projects for their activity and care for the space in which they live. Thanks to their work and commitment this space is constantly changing.
The Tychy Senior Citizens Council and Youth City Council also operate in Tychy, which are advisory bodies of the City Council of Tychy and support the board in making decisions regarding young people and the oldest residents of the city.
Is there another project or an innovative practice from your city that you believe is worth sharing as an example with the other mayors in the European Union?
It is difficult to indicate one solution, especially since the specificity of each city is different. Something that we can use in Tychy - a relatively young city, designed almost entirely by architects, with wide streets and lots of greenery, is not possible to implement in some cities.
The most important thing is to implement projects with residents in mind, their sense of security, comfort and development opportunities. Have the courage to sometimes make difficult decisions that are necessary in the long run.
Listen to the inhabitants, but do not succumb to the populist slogans popular in Europe today. Development, but sustainable - I can point it out as a way to manage the city.