Beata Moskal-Słaniewska, Source: Beata Moskal-Słaniewska / Municipality of Swidnica
Beata Moskal-Słaniewska: Świdnica to jest coś wspólnego, coś w co każdy z nas powinien włożyć choć odrobinę swojego wysiłku, pomysłów i kreatywności
Rozmowa z burmistrzem Świdnicy o dziedzictwie kulturowym, o inwestycjach, o budżecie 2020 oarz o mądrych miastach
Beata Moskal-Słaniewska jest dziennikarką z wykształcenia. Piastuje stanowisko burmistrza Świdnicy od roku 2014. W roku 2018 wygrała wybory po raz drugi z kolei. Jest radcą gminnym od roku 2010. Rozmawiamy o konserwacji Kościoła Pokoju, o inwestycjach w zakresie ulepszania usług socjalnych i turystyki, o tegorocznym budżecie, o mądrych miastach etc.
Pani Burmistrzyni, jak opisałaby Pani Świdnicę w kilku słowach?
Świdnica to specyficzne, międzykulturowe miasto, gdzie w przeszłości łączyły się losy Czechów, Niemców, Polaków. Pozostawili oni po sobie niesłychany dorobek materialny to m.in. liczne zabytki, utrzymana w układzie średniowiecznym starówka, przepiękna katedra czy niezwykły Kościół Pokoju wpisany na listę UNESCO.
Ale to jednocześnie silny ośrodek gospodarczy, jak dla miasta o takiej wielkości. Nowoczesne zakłady szczególnie z branży stalowej, metalurgicznej. Zakłady, które dziś zajmują się automatyką, robotyką. Jest to więc z jednej strony bardzo atrakcyjne miasto pod względem turystycznym a z drugiej dobre miejsce do życia, gdzie można znaleźć dobrze płatne miejsce pracy. Miasto w który są przepięknie zachowane tereny rekreacyjne i zielone, a więc miejsca takie gdzie możemy odpoczywać w czasie wolnym.
Miasto jest domem imponującego Kościoła Pokoju, uznawanego za część Światowego Dziedzictwa Kulturalnego UNESCO. Ta drewniana konstrukcja z XVII wieku jest szczególnie wrażliwa i trudna do konserwacji. Jak Pani sobie z tym radzi, czy otrzymuje Pani wsparcie i czy uda się Pani zapewnić więcej środków na renowację Kościoła?
Kościół Pokoju jest odrębną instytucją, należy do kościoła ewangelickiego w Polsce. Ma bardzo dobrych i prężnie działających gospodarzy, szczególnie biskupa Waldemara Pytla, który skutecznie zabiega o różnego rodzaju środki m.in. z funduszy norweskich, Unii Europejskiej, dotacje ministerialne.
Świdnica od wielu lat systematycznie, na tyle ile może wspiera prace konserwatorskie w tym obiekcie. Postęp prac szczególnie w ostatnich pięciu latach jest ogromny. Odnowiono znaczną część wnętrz kościoła, odrestaurowano i uporządkowano m.in. cmentarz i inne obiekty należące do zespołu wokół Kościoła Pokoju. Wpływa to na zwiększenie atrakcyjności turystycznej.
Miejsce to jest dziś najbardziej rozpoznawalnym symbolem Świdnicy, które jest skutecznym magnesem na przyciąganie do nas przybyszów nie tylko z Polski ale także Europy, a właściwie już dziś całego świata.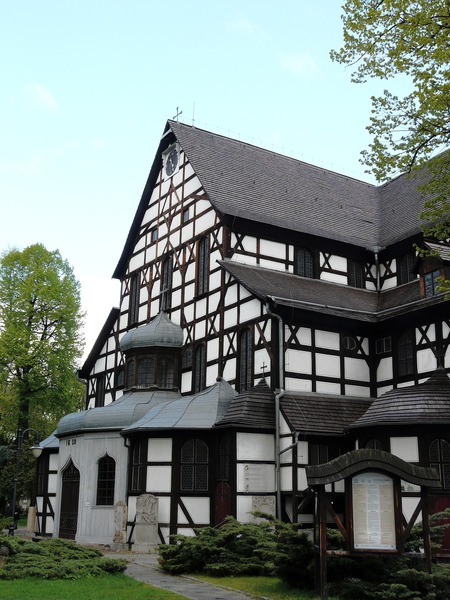 Kościół w Świdnicy
Na zeszłorocznym forum biznesowym w Katowicach gmina została wyróżniona po raz szósty za inwestowanie w zakresie ulepszania usług socjalnych i turystyki. Jakie projekty a inicjatywy zostały tak wysoko ocenione przez jurorów?
W ostatnich latach prowadzimy bardzo intensywną promocję Świdnicy m.in. uczestnicząc w regionalnych i ogólnopolskich organizacjach turystycznych, organizując w naszym mieście Kongres Turystyki Polskiej, a także współpracując z branżowymi mediami.
Uczestniczymy także w międzynarodowych projektach, które nie tylko pomagają nam finansować część prac renowacyjnych ale także stanowią podwyższenie atrakcyjności turystycznej miasta. Na przykład "Szlak Kamienia", który z jednej strony pozwolił nam na remont czterech zabytkowych fontann, a z drugiej strony pozwolił na uczestnictwo Świdnicy w nowym polsko-czeskim szlaku turystycznym.
Tych działań jest bardzo dużo i obserwowana przez nas aktywność turystyczna wzrosła od 2014 roku trzykrotnie. Natomiast jeśli chodzi o inwestycje, to staramy się aby dotyczyły one różnych sfer życia. Nie skupiamy się na jednej dziedzinie. Dla nas ważne są z jednej strony drogi, parkingi, chodniki ale z drugiej strony stan zabytków, budynków komunalnych.
Bardzo dużo środków przekazaliśmy na rewitalizację terenów zielonych. Można powiedzieć, że dziś większość tych terenów w zabudowie miejskiej mamy odnowionych. Co sprawia, że jest nie tylko pięknie ale tworzymy też tereny rekreacyjne dla mieszkańców a także turystów.
Zmiany w systemie podatków i opłat mieć będą istotny wpływ na budżet na rok 2020. Oczekuje Pani poważne ograniczenie inwestycji, jak również mniej zasobów w kilku obszarach, w tym likwidację Budżetu na uczestnictwo. W jaki sposób zamierza Pani poradzić sobie z tym wezwaniem?
Dziś niestety jedyny pomysł, to oszczędności. Z budżetu Świdnicy w tym roku ubyło, w związku ze zmianami w systemie podatkowym, 7 milionów złotych w stosunku do tego co planowaliśmy. Miasto musiało także przejąć na siebie ciężar podwyżek płac nauczycieli. To kolejne 5 milionów. W sumie daje to kwotę 12 milionów złotych.
To m.in. spowodowało, że nie będziemy tak jak planowaliśmy pierwotnie realizować rozbudowy sieci centralnego ogrzewania, nie będziemy w budynkach miejskich prowadzić zamiany ogrzewania węglowego na ekologiczne, mniej pieniędzy z pewnością przeznaczymy na remonty obiektów zabytkowych. Pozostawiamy w budżecie tylko konieczne zadania, szczególnie te z dofinansowaniem unijnym. Będziemy bacznie obserwować nasze dochody. Obawiamy się także kolejnych podwyżek m.in. cen energii elektrycznej.
Gmina weźmie udział w finansowanym przez UE projekcie poświęconym mądrym miastom. Cel projektu to wciągnięcie mieszkańców oraz stron zainteresowanych w tworzenie inteligentnych rozwiązań. Czy mogłaby nam Pani opowiedzieć więcej o tym, jak również wyjaśnić w jakich obszarach znajdą zastosowanie te rozwiązania?
Smart City to bardzo szeroki temat, bardzo obszerny. Można o nim mówić w zakresie rozwiązań technologicznych, można także mówić o rozwiązaniach dotyczących komunikacji z mieszkańcami.
Dla nas zadaniem numer jeden było usprawnienie transportu publicznego. Stworzenie takiego systemu w którym pasażer, mieszkaniec będzie miał błyskawiczną informację nie tylko na temat przejazdów ale ewentualnych opóźnień, będzie miał ułatwioną możliwość zakupu biletu. To wszystko już wykonaliśmy. Funkcjonuje to wszystko bardzo dobrze.
Coraz więcej też danych upubliczniamy w otwartych zbiorach z których mogą korzystać mieszkańcy. Coraz większą ilość usług można również załatwić przez Internet. Przy realizacji niektórych zadań prowadzimy konsultacje także przy pomocy Internetu. Myślę, że przed nami sporo jeszcze do zrobienia ale oceniając ogólnie te pierwsze przedsięwzięcia są one bardzo dobrze odbierane przez mieszkańców i pozwalają mieć nadzieję, że za kilka lat będzie można powiedzieć, że Świdnica jest smart city.
Na X Zjeździe Regionów wygrała Pani ósme miejsce wśród najlepszych prezydentów polskich miast na rok 2019. Czym Pani zdaniem zasłużyła sobie Pani na takie uznanie i co takie wyróżnienie dla Pani oznacza?
Dla mnie to bardzo prestiżowe wyróżnienie tym bardziej, że jest to ocena moich koleżanek i kolegów, gdyż to prezydenci głosują na prezydentów. Myślę, że jednym z powodów jest to, że staram się postrzegać moje miasto holistycznie, całościowo, nie pomijając żadnej sfery życia.
Dbam nie tylko o sferę twardych inwestycji, nie tylko poprawiając czy rozbudowując infrastrukturę ale też bardzo angażując się aktywność obywatelską, wspierając tych którzy prowadzą organizacje pozarządowe, którzy tworzą różnego rodzaju grupy inicjatywne organizujące imprezy czy niewielkie inwestycje poprawiające komfort życia lokalnej społeczności.
Zajmujemy się też takimi rzeczami jak profilaktyka zdrowotna, edukacja obywatelska, ekologiczna. Staramy się aby w tym naszym samorządowym życiu nie pominąć żadnego, ważnego aspektu i to co dla mnie jest szczególnie ważne to wyrabianie u obywatela takiego przekonania iż miasto to jest coś wspólnego, coś w co każdy z nas powinien włożyć choć odrobinę swojego wysiłku, pomysłów i kreatywności.
I na zakończenie – jakie projekty oraz inicjatywy spodziewa się Pani zrealizować w bieżącym roku?
Najważniejszą inwestycją będzie rewitalizacja ostatniego dużego obszaru zielonego w obrębie miasta – Parku Młodzieżowego. To remont bardzo oczekiwany przez mieszkańców.
To w sferze zieleni. Natomiast priorytetową dla mnie i wielu innych samorządowców jest sprawa ochrony klimatu i podejmowania wszelkiego rodzaju działań, które ten klimat mogą ochronić i poprawić nam warunki życia oraz parametry powietrza, którym oddychamy. Stąd też Świdnica będzie liderem dużego projektu unijnego w którym uczestniczy łącznie 15 gmin. Będzie to program kierowany do właścicieli domków jednorodzinnych i mieszkań własnościowych.
Dzięki naszemu wsparciu merytorycznemu i pieniądzom unijnym będzie można wymienić sposób ogrzewania mieszkania czy domu z węglowego na znacznie bardziej ekologiczny. To są absolutne priorytety, aby wykorzystywać wszystkie możliwości i środki, żeby zmniejszać ilość zanieczyszczeń jakie wyrzucane są w powietrze i chronić nas, a także przyszłe pokolenia przed złymi skutkami ocieplenia klimatu.