Bialystok Pocket park, Source: City of Bialystok
Bialystok unveils its first pocket park
What used to be an undeveloped municipal plot is now a small welcoming area between buildings
Bialystok unveiled its first pocket park on Wednesday, the municipality announced on its website. The newest place to relax in the largest city in north-eastern Poland is a small, cosy area with a lot of greenery and flowers. Despite its tiny size, it has all the main features of a real park, which makes it appealing to persons of all ages but also - welcoming to the animal world.
Revitalizing spaces between blocks
As of Wednesday 9 September, residents of Bialystok, capital of the Podlaskie Voivodeship, can enjoy another place to relax. The first pocket park in Białystok was established on a formerly undeveloped commune plot at Parkowa street and was unveiled by Mayor Tadeusz Truskolaski.
The total area of ​​the park is 329 square metres, including 120 square metres of lawns and 80 square metres of park paths. The investment costs are of about PLN 223,000 gross (about 50 thousand euros).
The transformation turned a formerly unattractive courtyard between blocks into a small corner full of greenery and flowers. A 1000-liter water cascade has been built in the new pocket park, which also serves as a watering hole for birds.
There are seven park benches, a bench for the elderly and a bench for the disabled. Children can also make use of the swing and the clay trampoline. There is also a chess table which is likely to please all visitors.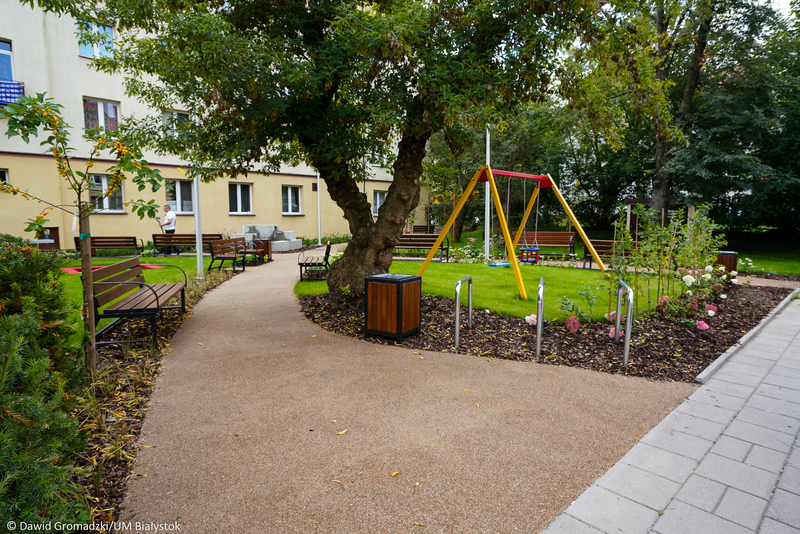 The idea of ​​creating pocket parks is not yet very popular in Poland, but these places, characterized by a small area, can be a great solution for residents who need rest and relaxation close to home. Image: City of Bialystok
The park is also equipped with environmentally friendly lighting, litter bins and bicycle racks. The new alleys are made of mineral-resin surface, so they are water and air permeable (water and snow flow quickly into the ground). In the new park, there were also perennial beds, a new lawn, trees and shrubs, as well as magnolias, hydrangeas, various varieties of echinacea, sedum, daylilies, purgatory and ornamental grasses.
"A charming place has been created here, which will certainly allow for relaxation. The small space has been arranged so that it can serve adults and the elderly, but also children, was quoted Truskolaski on the municipal website. "Our idea for the development of this area was consulted with the residents, the pocket park is primarily to meet their expectations", he concluded.
Pocket parks or mini-parks are leisure areas accessible to the general public usually created on small or irregular pieces of land. Despite their size, they offer greenery and a calm place to sit outside as well as an outdoor space for children to play, thereby making the highly urbanised areas more attractive.