Design plans for Ruller's Embankment, Source: City of Brno
Brno begins transformation of river embankment to prevent flooding
It will create more space for the Svratka River as well as new opportunities for sports and recreation
On 10 January, the Czech City of Brno began the long-awaited transformation of the Svratka embankment. As part of this transformation, Brno will widen the riverbed to give the Svratka River more space and thereby, prevent flooding. In other words, the project seeks to protect the city and its inhabitants.
Creating new opportunities for recreation
Although the main aim of the project is to reduce flooding, it is not the only goal; that is, the city wants to create new opportunities for walks, sports, and relaxation in the area. As such, it will create a recreational and leisure zone that will be accessible for people of all ages and abilities.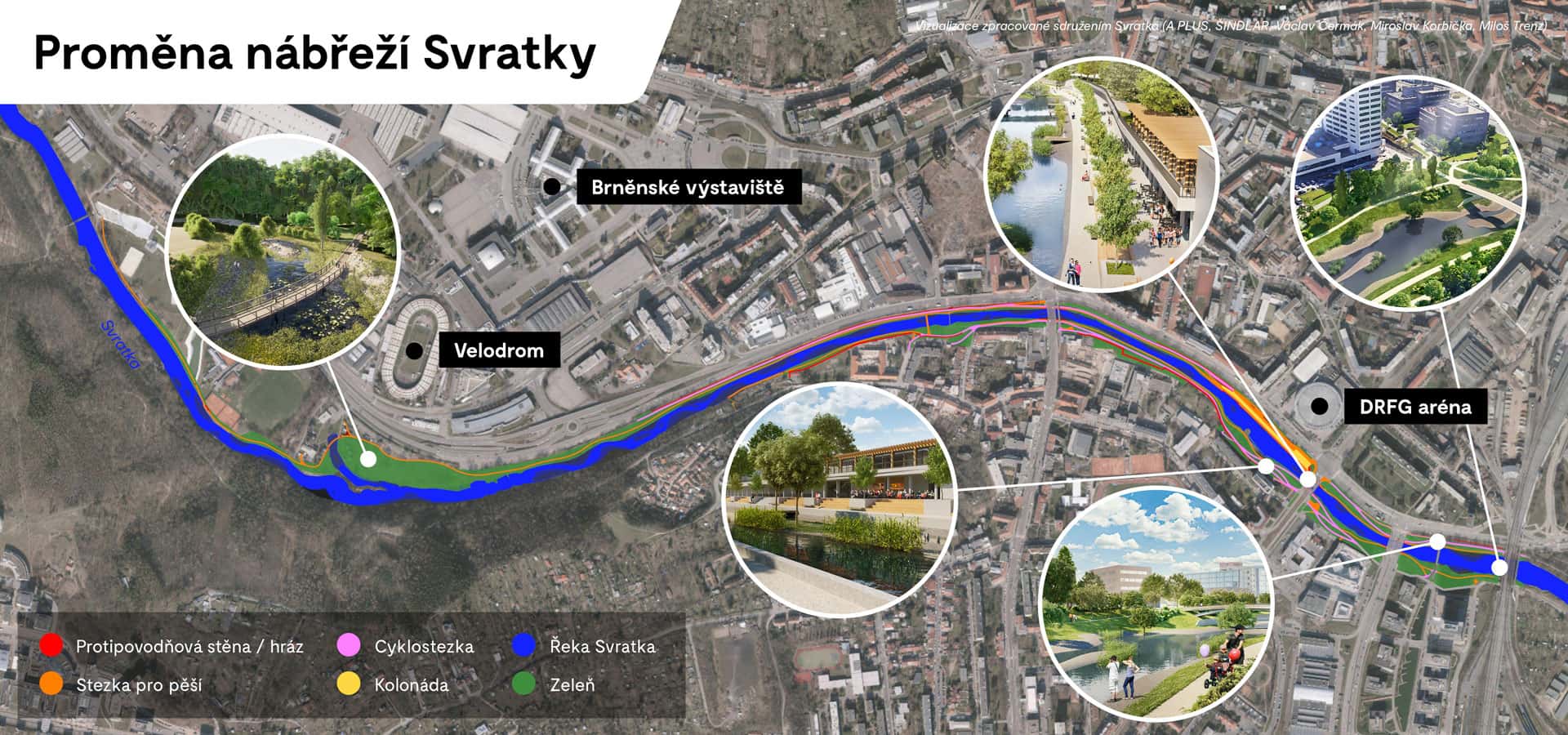 A map of the planned changes (Source: City of Brno)
To appeal to the area's residents, the city will add 3 kilometres of paths for pedestrians and cyclists. Taking this further, it will install footbridges over reservoirs, ponds, and wetlands as well as underpasses for cyclists under the bridges at Vídeňská and Renneská.
In addition to installing the necessary infrastructure for cyclists and pedestrians, the city will plant over 600 new trees in the area. Commenting on the project, the Minister of the Environment Anna Hubáčková explained:
"It is a unique project focused on nature-friendly flood control measures, which has no equivalent in the Czech Republic. This revitalisation, thanks to the widening of the riverbed and also thanks to the quiet zones for the inhabitants of Brno and the living nature, gives space to the green landscape and is a good example of what the elements of blue-green infrastructure should look like in cities."
It is important to note that the city will carry out the transformation of the embankment based on Ivan Ruller's designs. As Ruller was a renowned architect who brought many remarkable buildings to Brno, the city's First Deputy Mayor Petr Hladík notes that the embankment will be named Rullerovo nábřeží (Ruller's Embankment).
To see the design plans for the future waterfront, view the gallery above.
Belgium / Development
And it will also advise you on the right way to do this
Ireland / Growing City
Despite the good news, preliminary data from the national census reveals a dire shortage in the housing market that will not go away anytime soon
France / Development / Public Spaces
The innovative project received funding from the participatory budget in Lille, France
Croatia / Digital transformation
The town of Makarska has recently launched a new mobile service, aiming to cut down on paper use and stimulate citizens to go contactless
Finland / Vantaa / Green City / Innovation and Research
The invention promises to be revolutionary as it can decouple food production from agriculture and its environmental impacts
Spain / Innovation and Research / Mobility
Commercial unmanned aerial vehicles will far outnumber their crewed counterparts by the end of the decade and solutions are urgently needed
Italy / Turin / Public Spaces / Social City
The property, together with others that have been confiscated, will be converted for social welfare uses
Portugal / Braga / Education and Sport / Green City
The city also led awareness-raising actions to show the impressionable youths how circularity is created first-hand
Finland / Vantaa / Green City / Innovation and Research
The invention promises to be revolutionary as it can decouple food production from agriculture and its environmental impacts
Italy / Turin / Public Spaces / Social City
The property, together with others that have been confiscated, will be converted for social welfare uses
Portugal / Braga / Education and Sport / Green City
The city also led awareness-raising actions to show the impressionable youths how circularity is created first-hand
Spain / Barcelona / Social City
This is just one of many measures that the municipal authorities have taken to tackle this social ailment
New European Bauhaus
These will be spread across 11 EU countries and will serve to support the EU Missions
New European Bauhaus
The European Commission has accepted to develop the idea
Portugal / Matosinhos / Interviews / New European Bauhaus
An interview about AYR, one of the 2021 New European Bauhaus Prize winners

Portugal / Matosinhos / Interviews
A conversation with the Mayor of Matosinhos, Portugal's first UN Resilience Hub

Interviews
An interview with Nigel Jollands and Sue Goeransson from the European Bank for Reconstruction and Development

Greece / Athens / Interviews / Welfare and Health
An interview with the President of the City of Athens Reception & Solidarity Centre