Bojan Šrot, Source: Celje Municipality
Celje is becoming greener and sustainable, just big enough to offer a lot, and small enough to be adorable and cozy
Interview with Bojan Šrot, Mayor of Celje, Slovenia
Bojan Šrot was born in 1960. He studied law and graduated in 1985. He has his own law office. He worked as a judge, lawyer, became state secretary at the Ministry of Justice and covered the field of judicial administration as deputy minister. For two years he was the chairman of Slovenska ljudska stranka (The Slovenian People's Party).
Bojan Šrot was elected as mayor for the first time in 1998. At the local elections in 2018 he was trusted with his 6th mandate. The projects that marked the city's development, since Bojan Šrot has been the mayor of Celje, were primarily focused on ecology, protection of natural and cultural heritage, development of tourism and other investment and development of city areas.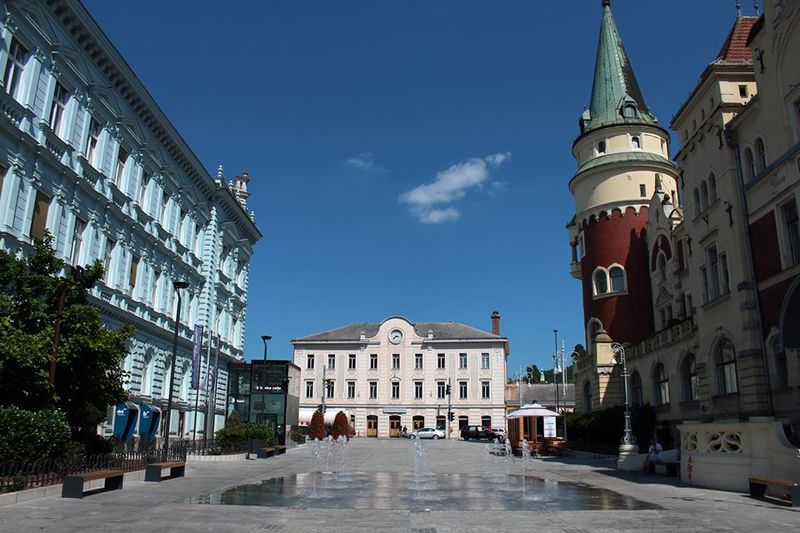 Celje is the third-largest town in Slovenia. Photo by Celje Municipality
Mayor Šrot, please describe the picturesque municipality of Celje in a few sentences.
With a population of 50,000, Celje is Slovenia's third largest city. Located on the confluence of rivers Savinja and Voglajna in the Spodnja Savinjska dolina (Lower Savinja Valley), it is a major business, educational, cultural, and healthcare hub of the Savinja region.
Appreciating its magnificent history which includes the rule of the Counts of Celje, the city today is proud of its artists, top athletes, its tradeshows and fairs, enterprises with long-standing tradition, talented youth, carefully cultivated green areas, and environmental investments.
With projects for a sustainable future in all areas of the community, Celje will become even friendlier. The city is recently building a network of city and regional bicycle connections. We established a public transport service, Celebus, and a public bike rental system, KolesCE.
The City of Counts is becoming ever greener and sustainable, just big enough to offer a lot, and small enough to be adorable and cozy.
What is the reason for your long, successful and impressive career in local politics?
I love Celje, the city where I was born and raised. I wouldn't want to live anywhere else. I think that this is one of the most important reasons. I wish to live in a healthy, prosperous and friendly environment. Also, I have always been very ambitious, interested in people and society and wished to make a difference in life … leave this world a better place, if I may be a little poetic.
What are the main achievements and initiatives completed since you assumed the post of Mayor of Celje?
The projects that marked the city's development in the last 20 years were primarily focused on matters of ecology, protection of natural and cultural heritage, development of tourism and other investments and development of city areas.
Among the most recognizable projects are: the construction of a Central Wastewater Treatment Plant with the upgrade of the secondary sewage system, the construction of the Regional Waste Management Centre and the Heating Plant Celje, revitalization of the Old Castle Celje and lake Šmartinsko jezero, building of sports infrastructure and construction of Hotel Celjska koča, a complete renovation of the old city centre and others.
A lot of effort was invested in obtaining funds from the European Union, through which the Municipality of Celje managed to realize some of the most important investments. Over the past decade, Celje acquired over 51 million European funds in total, through which the city restored some of the existing road infrastructure or invested in the construction of a new one, renovated the old town, provided flood protection at the Savinja river basin, revitalized lake Šmartinsko jezero and other areas of the city.
In the last three years we established public urban passenger transport and bike sharing system, invested in energy efficiency of public buildings, constructed Tehno park Celje (a scientific, entertaining and educational centre for all generations, which will be opened this summer), and many more. We are now realizing investments worth over 60 million EUR, with more than 12 million EUR in European funding (as already mentioned ,we are establishing Tehno park Celje, building city and regional bicycle connections, building 142 new apartments).
What is the municipality doing to attract new investors and strategic projects?
We have a very good strategy for the economic development of the city. We co-fund new investments, encourage new employments, support the promotion of local businesses at Slovenian and foreign trade fairs and co-fund private tourist infrastructure.
We support start-up ideas and offer them a working space in the business incubator of the Savinjska region. Entrepreneurs are also supported by the Chamber of Craft and Small Business.
As it is of great importance for the companies to find employees in the local environment, we support the promotion of shortage career choices in schools. The city offers a part of its real estate at favourable prices. The rents in the old city centre are subsidized.
Celje is a good place to invest, work and live also because of its geo strategical position. We are a business trade fair centre of Slovenia.
Celje is also a cultural centre of the area. What is the municipality planning for 2020 in this sphere?
Yes, it is indeed. We are especially proud of the rich cultural heritage from the Roman and Medieval period.
Last year we received the Europa Nostra Award in the field of conservation for the Pavilion for Presentation of Archaeological Remains, as the first and only city in Slovenia. We have a theatre with 70 years of tradition, very good museums and galleries, a rich (especially in winter and summer) cultural vibe and outstanding artists and performers.
Some of the plans for this year are further renovations of important historical buildings and the theatre, and supporting various cultural festivals.
How would you evaluate the necessity of a portal that brings together the best practices of European municipalities and aims to keep the citizens informed about the latest developments in local policies, such as TheMayor.eu? How can our platform be useful to your administration?
I think this is a very good initiative, an informative and useful platform. Europe is our home and the website is a good way to connect city administrations and our people.
What will be your main goals for the near future intended to make Celje a better place to live?
We wish to become even greener and more sustainable, to make our city a good place to live, work and raise a family in. With many projects already underway and many yet to come, we will be successful. I am looking forward to the future of Celje.
To find out more about Celje, visit the profile of the municipality.