Illustration of Lynetteholm, Source: By & Havn
Construction of Lynetteholm proves more expensive than anticipated
Work on the development of Copenhagen's man-made island began only a few weeks ago
Last month, after numerous political discussions and environmental studies, the construction of Copenhagen's man-made island Lynetteholm officially began. Now, just a few weeks later, the developer of the island, By & Havn, has revealed that the project will be much more expensive than originally planned.
An ambitious vision
With the development of Lynetteholm, the Danish capital envisions the creation of a peninsula that will act as a storm surge protection and landfill. In a press release, Adm. Director Anne Skovbro from By & Havn commented on the idea behind the artificial island, noting:
"Lynetteholm will be formed from surplus soil from the city's construction projects. It is a smart and CO2-friendly way to recycle the soil locally, so you do not have to drive it far away. In addition, Lynetteholm will, in the future, have a coastal landscape facing Øresund, where Copenhageners will be able to exercise, get fresh air and enjoy the nature close to the city."
Beyond this, Lynetteholm will house a new, sustainable district with thousands of new homes, which would alleviate the current housing issues in the capital.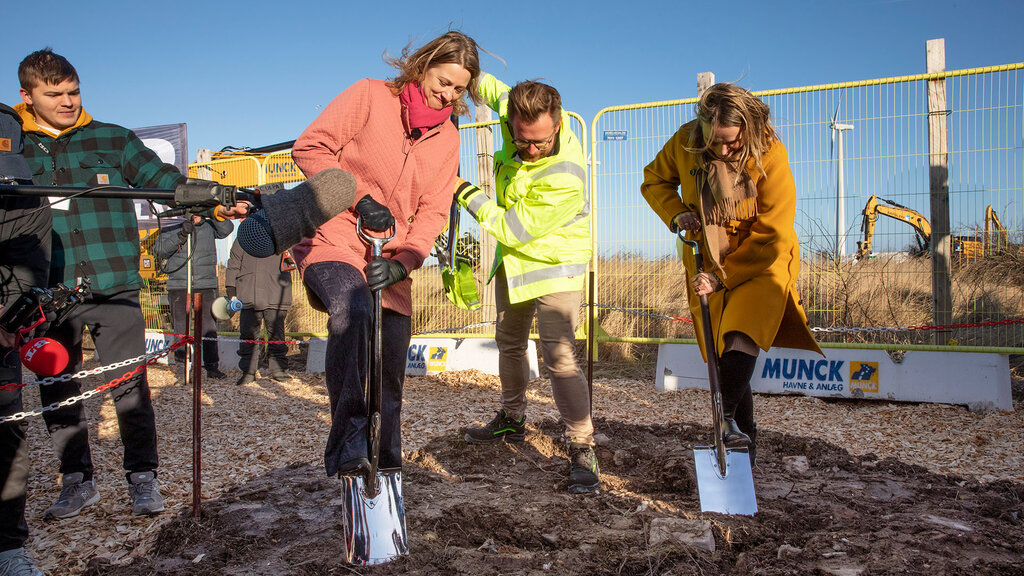 Construction began on 18 January (Source: By & Havn)

Going over budget
Speaking to local media, the Director of Development and Sales at By & Havn Ingvar Sejr Hansen now reveals that the original budget for the construction of the outer outline of the island will not be enough.
The total cost for the outer outline was originally anticipated to be DKK 2.5 billion (over EUR 335 million), with Phase 1 costing DKK 300 million (over EUR 40 million). Discussing the contract By & Havn signed with the construction company Per Aarslev, Hansen told the newspaper BT that the cost for Phase 1 is actually DKK 497 million (over EUR 66 million).
Explaining why there is such a significant difference between the estimated and actual costs, Hansen pointed to the rising prices of materials and the uncertainty surrounding quantities.
Criticism
It is important to note that the City of Copenhagen has reportedly set aside a deficit guarantee of DKK 400 million (over EUR 53 million) to ensure that unanticipated costs can be covered. This, however, has received criticism from citizens, as the project was initially said to be self-financed.
Professor of Transport Economics at the University of Copenhagen, Mogens Fosgerau, discussed this with BT, sharing that if the deficit guarantee is activated, the construction of Lynetteholm will not be self-financed but supported using taxpayers' funds.
Netherlands / Amsterdam / Development / Public Spaces
It involves all the five senses, apparently
Germany / Mobility / Politics and Reforms
Germany's new approach has convinced hundreds of thousands of people to start using public transport for the first time
Bulgaria / Sofia / Mobility / Politics and Reforms
Drivers will be legally required to push their scooters manually in pedestrian areas and parks
Bulgaria / Greece / Athens / Sofia / Thessaloniki / Digital transformation / Mobility
Greece and Bulgaria are set to build one of the first 5G cross-border corridors in Europe
Finland / Digital transformation / Welfare and Health
The feline registry is expected to start operating in 2026
Luxembourg / Culture and Tourism / Innovation and Research
The team presented the final report about a year, which was supposed to put the Luxembourgish city on the cultural map of Europe
Netherlands / Amsterdam / Development / Public Spaces
It involves all the five senses, apparently
France / Lyon / Public Spaces / Social City
What you pay for having your car resting in the city will now depend on several different factors
Germany / Mobility / Politics and Reforms
Germany's new approach has convinced hundreds of thousands of people to start using public transport for the first time
France / Lyon / Public Spaces / Social City
What you pay for having your car resting in the city will now depend on several different factors
Denmark / Mobility / Social City
Fredensborg Municipality is inviting residents to take the bikes for a spin…lasting up to 3 months
Culture and Tourism / Mobility
After all, sleeping carriages are basically hotels on wheels
Estonia / Tallinn / Green City / New European Bauhaus
The practical art objects are competing for one of the 2023 New European Bauhaus Prizes
New European Bauhaus
Cast your vote before 24 May and do your part in promoting the NEB values
New European Bauhaus
The new itineraries are part of the DiscoverEU programme, which lets 18-year-olds travel by train between important European sites

Interviews / Read Twice
An interview with the president of the European Federation of Journalists

Interviews
A talk with the head of Mission Zero Academy on the benefits for municipalities if they go the zero waste way

Romania / Cluj-Napoca / Digital transformation / Interviews / Politics and Reforms
A talk with Nicolae Urs, one of the key figures behind the city's new data platforms and online services strategy