disappearing walls with quotes, Source: EU 2020 Disappearing wall by Natalia Cheban
"Disappearing walls" spring up around Europe
They can be seen in 10 countries
Disappearing walls with hidden messages have taken over public spaces in 17 EU cities. The interactive installations are placed by Goethe-Institut on the occasion of the German EU Council Presidency. Everyone who sees one of them can take home a part of the wall and thus bringing with them a piece of European culture and history.
Taking down walls together
On around 6,000 wooden blocks, the disappearing walls carry quotes from famous representatives of European culture and put on display the diversity of Europe in the form of sensual experience for visitors. The first installation was placed on August 24th in Poznan (Poland) and a couple of days later was followed by another one in Gdansk. Installations in 9 other countries will appear before November 2020.
The list of quotes is more than varied – from philosophy to movie quotes to parts of famous speeches. The selections were made through local competitions initiated by the Goethe Institute and are engraved on around 6,000 wooden blocks in the original language and in translation.
The idea of the installations, which are an integral part of the culture programme of EU 2020, goes beyond literature. It is meant to symbolically overcome borders as after the unveiling of the installation, every visitor has the opportunity to take blocks of quotations with them.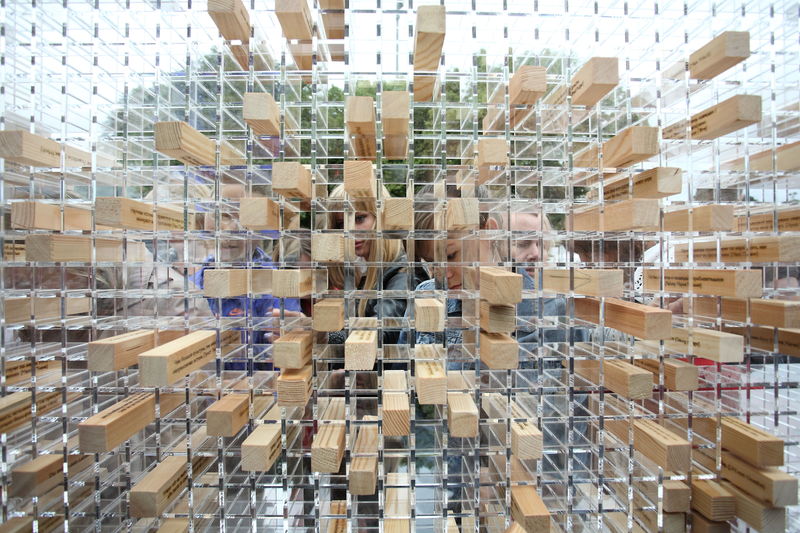 Little by little visitors make the walls disappear and leave a transparent Plexiglas grille in which they were located. Photo by Natalia Cheban
After having been put on display in two Polish cities, the installations will spring up in Belgium, Germany, the Netherlands, Great Britain / Northern Ireland, Poland, Lithuania, Spain, Italy, Greece and Cyprus. Here is the list of dates and locations where the "Disappearing Walls" could be seen this autumn (subject to change):
August 24-27: Poznan, Poland
August 30th - September 1st: Gdansk, Poland
September 18: Segovia, Spain
September 18-20: Warsaw, Poland
September 20: Antwerp, Belgium
September 25: Vilnius, Lithuania
September 28th - October 19th: Belfast, Northern Ireland, UK
October 2nd: Madrid, Spain
October 1-10: Turin, Italy
October 3: Brussels, Belgium
October 10-11: Nicosia, Cyprus
October 10-21: The Hague, Netherlands
October 24th-1st November: Rotterdam, Netherlands
November 5-8: Namur, Belgium
November 11-15: Milan, Italy
November 14th: Barcelona, Spain
The installation was born as the idea of Maria Jablonina during a workshop carried out by the architect and engineer Werner Sobek and was turned into a reality by the Goethe Institut. The "Disappearing Wall" is one of several projects that the institution is carrying out on the occasion of the German EU Council Presidency and as part of the German government's cultural program in Europe.
With different themes and target groups, the projects address the overarching question of what will Europe make of its future and how the European community and cohesion can be strengthened.