Farm the City project, Source: Farm the City
Farm the City teaches students in Malta how to grow their own crops
To implement their objectives, the project partners have created an informative website and downloadable app
It is a regrettable fact that modern city dwellers and especially the young generations are so alienated from nature that they know little about the food they eat every day, where it comes from, how crops are grown etc. This is also true for students in Malta.
Due to the industrialization and urbanization of the archipelago environment, Maltese students are in the dark about the nature of their daily food which leads to their low appreciation of Nature all around us. As they live in extensively urban areas, they lack the awareness, knowledge and skills on how to use the space around them to produce basic crops.
Training young farmers in the city
Correcting these deficiencies is what a new project, dubbed Farm the City and funded under the Erasmus+ programme, is attempting to do. Among the project partners are PRISMS MALTA, the Malta College of Arts, Science and Technology, and two Romanian participants – "Dr. Alexandru Safran" Secondary School and the non- profit Association for Education and Training (ASEF), both based in the city of Bacau.
The main aim of Farm the City project is to make the young people aware that they can make use of urban spaces to grow their own crops and to show them how to do this.
The objectives of the project
To achieve the main aim, the project partners have set the following objectives:
Equip students with basic skills that will enable them to make better use of the space that they have.
Provide basic information on how to plant seeds, water plants, harvest, prune etc.
Help students realize that they can further their studies in agriculture.
Increase environmental awareness.
Help them appreciate more the job of the farmer and the local fresh products.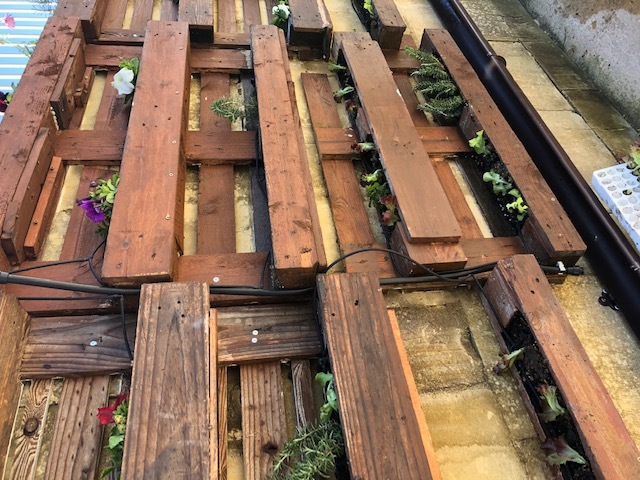 An easy way to grow plants using drip irrigation. Photo by Farm the City
If you are interested to learn more on urban farming, visit the website of the project or download the farm the city app from IOS or Google Play. And do not miss the Recipes section – it shows what your painstaking efforts will lead to in the long run: preparing food that is healthy, mouth-watering and worthy of sharing with real and social media friends.