Electric cars make up a 41% share of all newly registered vehicles in Vienna-Ottakring
Flood of new electric cars in Austria
New research, however, shows large disparities in e-car ownership among the country's regions
Last week, the VCÖ (Austrian Traffic Club) published a report on the state of new electric cars in Austria. According to the research, the number of newly registered electric vehicles in 2021 doubled in comparison to 2020, however, there is a very pronounced disparity between different regions.
While 41% of new vehicle registrations in Vienna-Ottakring were electric, the proportion in the Tyrolean Reutte and Vienna-Simmering sat at around 4%.
Outside of Vienna, the small rural district of Rohrbach had the highest share of new electric vehicles registration, at 20.4%. Rohrbach is a small town in the federal state of Upper Austria, close to the Czech border.
The VCÖ is an Austrian non-profit organisation, dedicated to making an ecologically compatible, economically efficient and socially equitable transport system.
Electric vehicles are a growing trend
Despite the uneven spread of electric vehicles, citizens seem to be buying more and more, gradually increasing these vehicles' share in the country's fleet. In 2020, only 6.4% of all newly registered vehicles in Austria were electric, while in 2021, that number more than doubled and hit 13.9%.
According to the VCÖ, when comparing the data by state, Salzburg and Vorarlberg have the highest share of new registrations at 17%, while Carinthia is the lowest, with just 11.8%.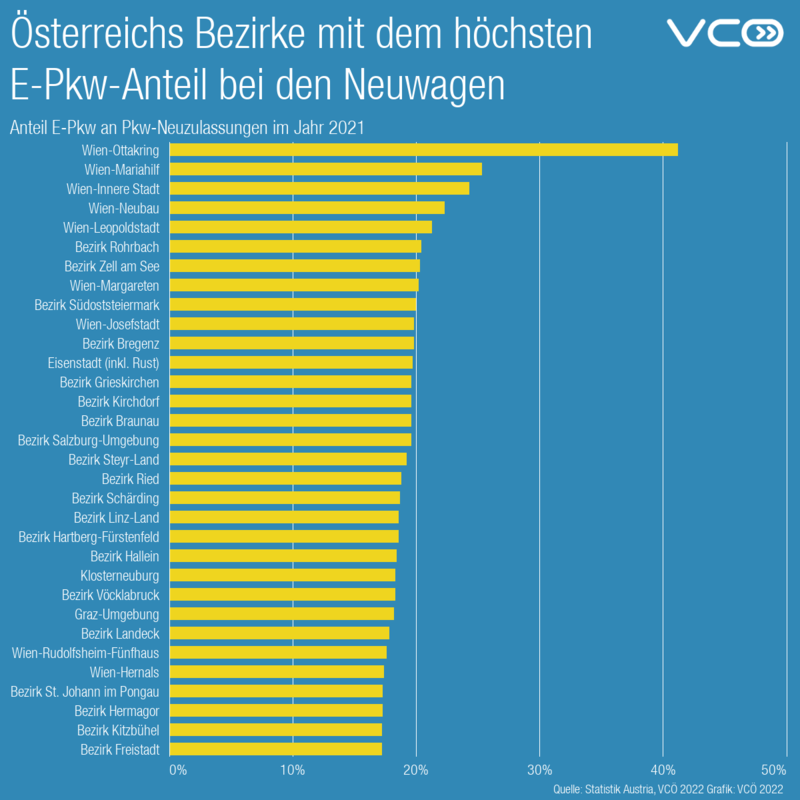 'Austria's districts with the highest share of e-cars in new cars',
Source: VCÖ
Subsidies for electric cars, tax breaks for internal combustion engines
Furthermore, Michael Schwendinger, an expert from the VCÖ, explained that much of the recent rise is due to successful government policy of subsidies. However, he claims that certain tax incentives put indirect barriers to further expansion.
Schwendinger explained that cars with diesel-fueled, internal combustion engines are tax-privileged when it comes to company purchases. This indirect subsidy to fossil fuels, in turn, puts a break on Austria's climate goals.
Indeed, two-thirds of all passenger cars in Austria are registered to companies or other legal entities. With electric cars, that proportion is even higher, though it varies from 79% in Burgenland to 89% in Salzburg in Vienna.
While Schwendinger said that private entities play a crucial role in the electrification of passenger cars, he also stressed that removing tax privileges for internal combustion engines would help.
According to the Federal Environment Agency in Austria, electric vehicles are on average 59% less CO2-intensive than their fossil-fueled counterparts. This figure includes battery production. Moreover, if an electric car is fueled by renewables that figure jumps to 77%.