Birgit Hansen, Source: Frederikshavn Municipality
Frederikshavn welcomes businesses, new settlers and tourists to the place in Denmark we love the most
An interview with Birgit Hansen, Mayor of Frederikshavn Municipality in Denmark
Since 2014, Mayor of Frederikshavn is Birgit Stenbak Hansen, the first female mayor of the municipality. She was born in 1967 in the town of Sæby. Member of the Social democratic party, several boards and foundations.
By profession Birgit Stenbak Hansen is a nurse with several years of experience. Mother of two and married to René, a paramedic.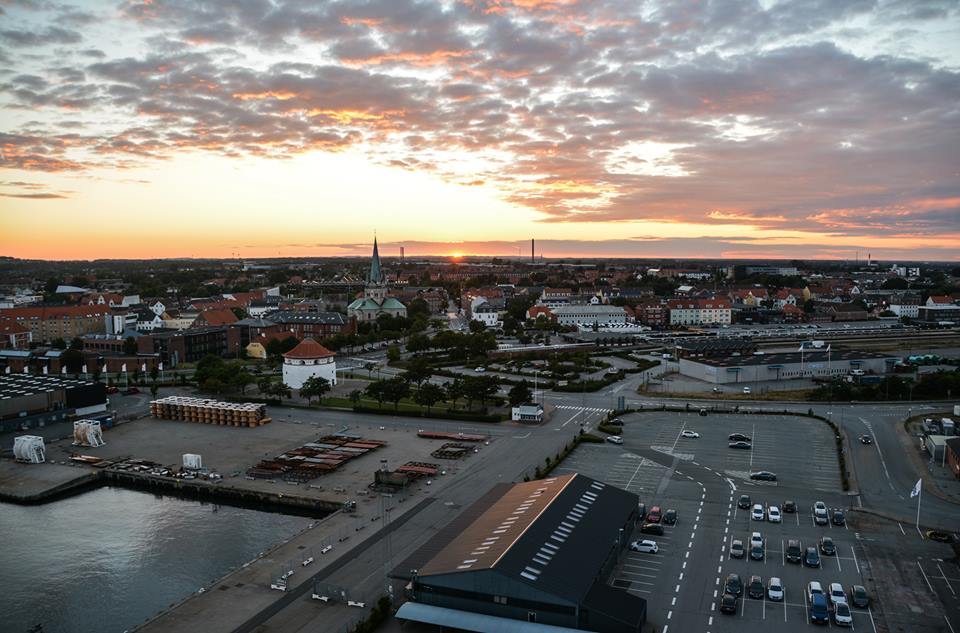 Mrs. Hansen, please describe Frederikshavn in a few sentences. What is your favourite spot?
The Municipality of Frederikshavn is a maritime center with 12 ports, two of which are major commercial ports. We have 105 kilometers of coastline and a highly developed infrastructure and transport structure. We go out into the world, and we greet the world via the sea, the railway and the motorway. We welcome the business world, new settlers and tourists to the place in Denmark we love the most. Our home.
My favorite spot in our municipality is Gærumbakken, a hill I pass on my way to work at City Hall. From the top of the hill, I can see the town of Skagen, the city of Frederikshavn and the town of Sæby – our three largest urban areas. I can see almost all of our municipality in all its beauty in the fantastic morning light, which is a known feature of Northern Denmark. And this view always grabs me by the heart.
Do you think that women's voices in politics are sufficiently valued in today's critical conversations? What are the biggest challenges in your everyday work?
Yes, I do think so. There are many strong female local, national and international politicians right now. And luckily, the number of female politicians is rising. For us women it is important to claim our space in the public debate. We must raise our voices to be heard. This has been my own drive. My approach. If I were to name a strong and impressive female international politician, I would mention the Danish EU commissioner Margrethe Vestager.
My biggest challenges - I would say economy. It may be an unexciting answer, but a reality for our municipality. As a provincial municipality, we have some quite comprehensive economic challenges. Young people are leaving us, among other reasons because we have limited educational opportunities. We have a falling birth rate. In addition, we have a demographic development with a rising number of seniors. Hence, our great challenge is to manage rising expenditures and a declining revenue. An ongoing challenge which we deal with every day.
You have been mayor of Frederikshavn since 2014. How has the municipality changed over this period?
Looking at the municipality as an administrative unit, we have experienced economic recovery. We have consolidated and achieved stability. We live as we can afford to live. We usually say that we are part of 'production Denmark' (the national industrial production sector), and we aim to follow four growth tracks: the maritime track, the food production track, the energy production/facilitation track and the tourism track. I have witnessed positive development on all tracks. Many of our companies understand how to adapt and are switching from black energy (oil and coal) to green energy. More jobs are created in our ports – and today we have more jobs there than we had when we still had two major shipbuilding yards (now closed). Today, the workplaces in the maritime sector are distributed among many small and medium-sized companies rather than a few large companies, and thus we have greater resilience as regards business closures. We have gained more stability, I believe. And we have utilized our geographical position, near the ocean highways and between Scandinavia and the rest of Europe, very well in recent years as well as strengthened our international position.
Frederikshavn has been very successful in attracting and integrating new citizens from Eastern Europe and beyond. Please, tell us more about the social programme of the Municipality.
Actually, it is first and foremost our many local businesses who employ our new citizens and thereby help us keep them as residents in our municipality. However, we also do our part. We have what we call our settlement staff, a group of specialized employees, who help new citizens establish social circles, get their children enlisted in schools, find meaningful leisure activities, etc. All this to make the choice to become a permanent resident more attractive. Among other things, we also have information leaflets in many different languages and multilingual staff.
What other measures have you taken to fulfil the aim of improving the quality of life in Frederikshavn?
Quality of life is many things. A good work-life balance helps. A good social life is important. But other things also matter a lot. Art and culture matters for many people. And I have worked to establish our largest city, Frederikshavn, as a poetry city. Around town you will find 14 artworks displaying beautiful pieces of poetry. Poetry, which is meant to inspire, to provoke new thoughts, to put smiles on people's faces. Poetry which can cast a softer light on our fairly raw industrial city. I experience a lot of pride locally in this.
Frederikshavn's oldest buildings, Fiskerklyngen, are originally from the mid-16th century. How do you preserve and promote them?
Fiskerklyngen is a very important piece of local and national history. It is protected by our municipal regional plan. The restoration and maintenance of the buildings is the responsibility of the private owners of the buildings. They are bound by rules and regulations, which specify what they can and cannot do when they do restoration work. As regards promotion, we collaborate with our local tourist office, Turisthus Nord.
How would you evaluate the necessity of a portal that brings together the best practices of European municipalities and aims to keep the citizens informed about the latest developments in local policies, such as TheMayor.eu? How can our platform be useful to your administration?
It is interesting, relevant and important to be able to read about current events, challenges and solutions in the various municipalities in the EU. There is a saying I once heard and which has stayed with me: Lift your head and look up, look out. We must turn our gaze away from our own world to learn about the world around us. We must let ourselves be inspired and enriched. TheMayor.eu can help us achieve this.
You could help us get in touch with peers in other municipalities across the EU. You could create an online network where you can search for special competencies such as waste management, conversion to green energy, maritime business life, etc. A database where you can search for peers with expertise. In this way, you could support cooperation across the EU, and you could step beyond inspiration and help us find collaborators. I believe that this would be a valuable effort to all the municipalities in the EU.
Find out more about Frederikshavn here