Leuven stray cats shelter, Source: Shelter for feral cats installed in Leuven. Photo by City of Leuven
Leuven installs shelters for stray cats
They are expected to protect them in bad weather
As of last week, feral cats in Leuven have been feeling a little more comfortable in the cold. This was made possible thanks to the placement of 22 shelters destined for stray cats, installed throughout the territory of the city, announced the municipality. The locations were selected based on the places where stray cats often reside and each of them can fit up to four cats.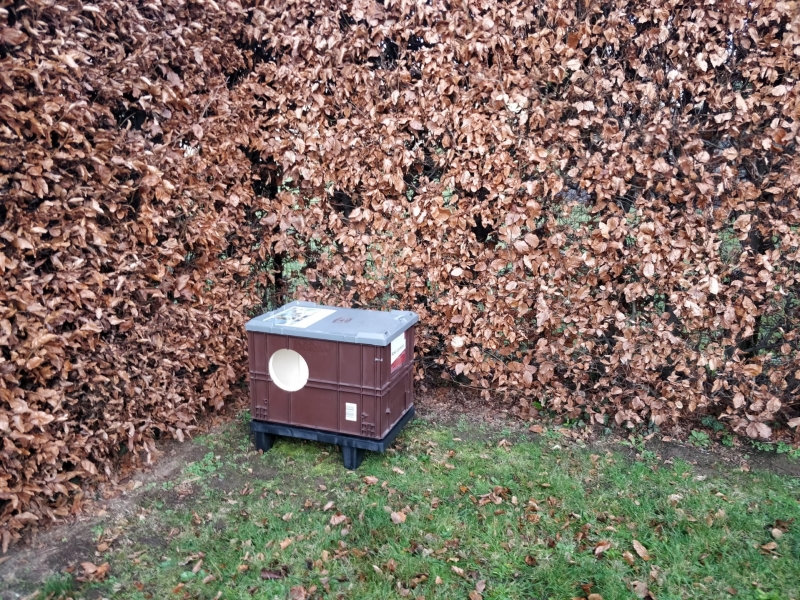 One of 22 stray cat shelters installed in Leuven. Photo by City of Leuven
In bad weather or in cold temperatures, it is important that stray cats can stay in a draft-free, isolated loft and shelters will certainly benefit the well-being of the cats, explain city representatives. Furthermore, as animal welfare officer Thomas Van Oppens clarified for the municipal portal, their cost was significantly lower than what it could have been, had they been purchased from the Flemish government. The chosen alternative, he says, provides at least 87% economy at an acceptable quality.
Do not feed the animals
The Belgian city is committed to tackling the problems caused by stray cats in an animal-friendly manner. For this, the authorities of Leuven work closely with a local non-profit organization that catches stray cats and sterilizes them. Afterwards, they release the stray cats - who are often shy and therefore have no chance of adoption - back in their familiar outdoor environment. Thanks to this cooperation, the stray cat population remains under control and causes less trouble.
Finally, the city authorities ask residents not to interact with the cats and caution against getting close to the cages, bringing other cats to the shelters or taking stray cats home. This is because the stray cats that were not adopted are rather shy and cannot get used to living in a house. Also, the animals should not be fed by citizens as there are already volunteers at the police department who are tasked with the job. Currently, the process is not formalised, but once this happens, more enthusiasts can register as a volunteer to feed the cats, explains Thomas Van Oppens.