Waving the rainbow flag
Malta is Europe's most LGBTI-friendly country for seventh year in a row
ILGA-Europe published its annual Rainbow Europe Map, ranking the LGBTI policies of European countries
Today, the European Region of the International Lesbian, Gay, Bisexual, Trans & Intersex Association (ILGA-Europe) published its annual Rainbow Europe Map. Since 2009, the map has marked the International Day Against Homophobia, Transphobia, Biphobia, and Intersexphobia (17 May) by ranking the legal and policy situation of LGBTI people in European countries.
Taking this further, ILGA-Europe analyses and maps the work of 49 European countries, ranking them on a scale from 0% to 100% (with 0% indicating a gross violation of human rights and 100% signifying respect for human rights).
Which countries performed best in 2022?
For the seventh year in a row, Malta has performed best, earning a whopping 92% in the 2022 Rainbow Europe Map. This country's success is followed by that of Denmark (74%), which has jumped from ninth to second place due to its efforts to fill in the anti-discrimination gaps in its current legislation. Belgium has come third this year, earning 72%.
Taking these scores into consideration, the 2022 Rainbow Europe Map has found that more and more European countries are pushing for the rights of LGBTI people to give them the recognition and protection that they deserve. According to a press release, the countries that have had the biggest jump in their scores this year are Denmark, Iceland, France, Greece, and Latvia. Commenting on the efforts of these European governments, ILGA-Europe's Executive Director Evelyne Paradis shared:
"It is encouraging to see that several governments actively chose to take real action over the past 12 months to progress LGBTI equality, and as a result, that the Rainbow Map looks positively different compared to this time last year."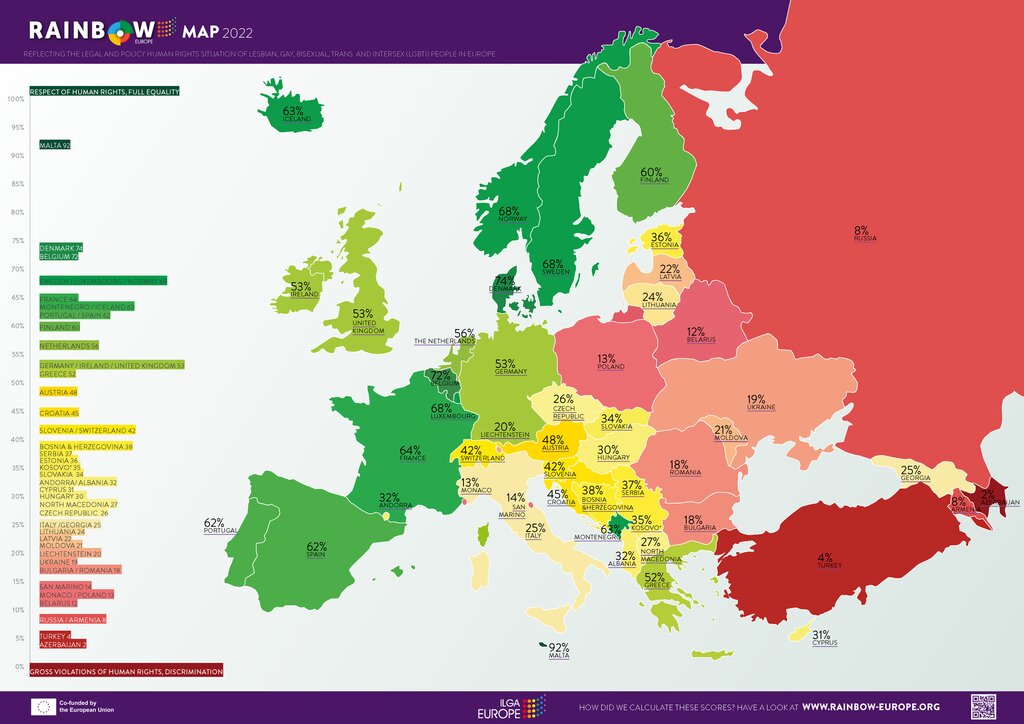 Rainbow Europe Map 2022 (Source: ILGA-Europe on Facebook)
Poland has the lowest ranking in the EU
While it is true that several governments have strengthened their efforts to progress LGBTI equality, many countries have also scored extremely low – or lower than in 2021. In a press release, ILGA-Europe reveals that the countries with the lowest scores are Azerbaijan (2%), Turkey (4%), and Armenia/Russia (8%).
Taking this further, Poland holds the lowest ranking of the EU countries, having earned only 13%. Bulgaria and Romania have both received a score of 18% and are the second/third lowest-ranking countries in the EU. This, according to the Rainbow Europe Map, is due to a rise in official anti-LGBTI sentiment in the two countries.
The United Kingdom has also witnessed a significant drop in its score, falling from 14th to 10th place (53%). This drop, IGLA-Europe explains, is owed to the "widespread political and media anti-trans sentiment" and the government's refusal to follow through on LGBTI reforms such as banning "conversion therapy".
Similarly, Hungary (33%) has also fallen three places in the 2022 Rainbow Europe Map as its parliament reportedly adopted amendments that directly discriminate against LQBTI people. Paradis discussed these low scores and the need for change, sharing:
"As ILGA-Europe have been warning for years, recent events in Europe prove that we cannot be complacent when the political targeting of minorities is being used by anti-democratic forces. The antidote to complacency is action. It is imperative at this time that we proactively advance equality by creating ever-more robust policies and practices to make sure our societies are truly fair, inclusive and respectful of everyone."
View the full report on rainbow-europe.org.
Netherlands / Amsterdam / Development / Public Spaces
It involves all the five senses, apparently
Germany / Mobility / Politics and Reforms
Germany's new approach has convinced hundreds of thousands of people to start using public transport for the first time
Bulgaria / Sofia / Mobility / Politics and Reforms
Drivers will be legally required to push their scooters manually in pedestrian areas and parks
Bulgaria / Greece / Athens / Sofia / Thessaloniki / Digital transformation / Mobility
Greece and Bulgaria are set to build one of the first 5G cross-border corridors in Europe
Finland / Digital transformation / Welfare and Health
The feline registry is expected to start operating in 2026
Luxembourg / Culture and Tourism / Innovation and Research
The team presented the final report about a year, which was supposed to put the Luxembourgish city on the cultural map of Europe
Netherlands / Amsterdam / Development / Public Spaces
It involves all the five senses, apparently
France / Lyon / Public Spaces / Social City
What you pay for having your car resting in the city will now depend on several different factors
Germany / Mobility / Politics and Reforms
Germany's new approach has convinced hundreds of thousands of people to start using public transport for the first time
France / Lyon / Public Spaces / Social City
What you pay for having your car resting in the city will now depend on several different factors
Denmark / Mobility / Social City
Fredensborg Municipality is inviting residents to take the bikes for a spin…lasting up to 3 months
Culture and Tourism / Mobility
After all, sleeping carriages are basically hotels on wheels
Estonia / Tallinn / Green City / New European Bauhaus
The practical art objects are competing for one of the 2023 New European Bauhaus Prizes
New European Bauhaus
Cast your vote before 24 May and do your part in promoting the NEB values
New European Bauhaus
The new itineraries are part of the DiscoverEU programme, which lets 18-year-olds travel by train between important European sites

Interviews / Read Twice
An interview with the president of the European Federation of Journalists

Interviews
A talk with the head of Mission Zero Academy on the benefits for municipalities if they go the zero waste way

Romania / Cluj-Napoca / Digital transformation / Interviews / Politics and Reforms
A talk with Nicolae Urs, one of the key figures behind the city's new data platforms and online services strategy