Prefect of Međimurje Matija Posavec giving a speech, Source: Međimurje County
Međimurje County raises its 'European Region of Sport 2022' flag
1 out of every 18 residents is an athlete in the Croatian county
On 31 December, Croatia's Međimurje County celebrated its new prestigious title "European Region of Sport 2022". More specifically, Međimurje's athletes and coaches came together to watch the Croatian gymnast and silver medalist Filip Ude raise the European Region of Sport flag in front of the county building, where it will remain until the end of the year.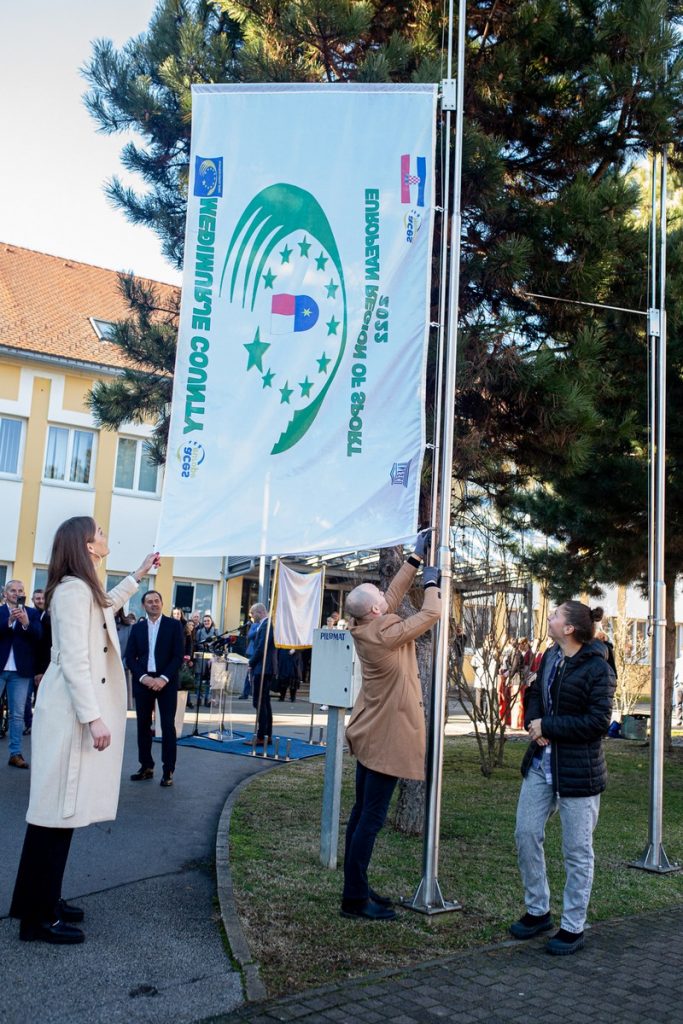 Filip Ude raising the flag (Source: Međimurje County)
Međimurje: one of the sportiest counties
According to a press release, Međimurje is the first Croatian county to apply for and win this title. What is more, it reported that the non-profit organisation ACES Europe rated its application with the highest marks. Prefect of Međimurje Matija Posavec commented on the county's new title, sharing:
"Every city, municipality and village has at least one sports association, and a large number of Međimurje's residents are involved in sports. Thanks to all of you, sports lovers, Međimurje deserved to win the title of European Region of Sport.
Almost 430 associations and more than 15,000 registered athletes operate across an area of 730 square kilometres. We are the county with the most active athletes in relation to the number of inhabitants, and for every 18th resident in Međimurje, there is one football player."
On its website, Međimurje revealed that it is one of the sportiest counties in the country, highlighting that the City of Prelog won the European City of Sports title in 2019 followed by the City of Čakovec in 2020. Commenting on these titles, the Mayor of Čakovec Ljerka Cividini explained that they raise awareness of the importance of movement, recreation, and sports activities.
Now, the European Region of Sport 2022 title will enable the county to invest in the further development of the region's sports infrastructure. These investments, according to the country, will consist of new and improved athletics tracks, sports camps, and halls, among others.
Ireland / Growing City
Despite the good news, preliminary data from the national census reveals a dire shortage in the housing market that will not go away anytime soon
France / Development / Public Spaces
The innovative project received funding from the participatory budget in Lille, France
Denmark / Copenhagen / Development / Social City
This was decided after an unprecedented agreement between the national and city governments
Croatia / Digital transformation
The town of Makarska has recently launched a new mobile service, aiming to cut down on paper use and stimulate citizens to go contactless
Finland / Vantaa / Green City / Innovation and Research
The invention promises to be revolutionary as it can decouple food production from agriculture and its environmental impacts
Spain / Innovation and Research / Mobility
Commercial unmanned aerial vehicles will far outnumber their crewed counterparts by the end of the decade and solutions are urgently needed
Finland / Vantaa / Green City / Innovation and Research
The invention promises to be revolutionary as it can decouple food production from agriculture and its environmental impacts
Finland / Energy efficiency
The country wants to become a leader in hydrogen production and export
Italy / Milan / Green City
The arid weather phenomenon is affecting the agricultural sector in Northern Italy to almost unprecedented levels
Lithuania / Vilnius / Culture and Tourism / Public Spaces
The splendid initiative that turns advertising spaces into art canvases is back for its third edition
Finland / Helsinki / Green City / Welfare and Health
Dust particle concentrations can still present a tough challenge to beat, though
Germany / Munich / Culture and Tourism / Mobility
The cancellation hits in the middle of the travel season and is caused by serious labour shortages coupled with a sudden rise of Covid cases
New European Bauhaus
These will be spread across 11 EU countries and will serve to support the EU Missions
New European Bauhaus
The European Commission has accepted to develop the idea
Portugal / Matosinhos / Interviews / New European Bauhaus
An interview about AYR, one of the 2021 New European Bauhaus Prize winners

Portugal / Matosinhos / Interviews
A conversation with the Mayor of Matosinhos, Portugal's first UN Resilience Hub

Interviews
An interview with Nigel Jollands and Sue Goeransson from the European Bank for Reconstruction and Development

Greece / Athens / Interviews / Welfare and Health
An interview with the President of the City of Athens Reception & Solidarity Centre